NH Auctions
New Hampshire Auctions & Auctioneers

Find your next bargain at a New Hampshire Auction. New Hampshire Auctions, NH Auctioneers, and New Hampshire Estate Sales Events are an entertaining way to spend a few hours. Any trip to the Granite State will be enhanced greatly by attending a NH live auction or otherwise seeking the services that auction houses offer. Auctions are fun, exciting, and can often result in an outstanding find.  Contact the auction services below for more information. NH auctions include; collectibles, real estate, automobiles, antiques, commercial matter, estate sales, antique furniture, seized and surplus property, heavy equipment, vehicles and electronics. Ask us about NH Auctions or share your NH Auction reviews and comments. To feature your auction service, contact us.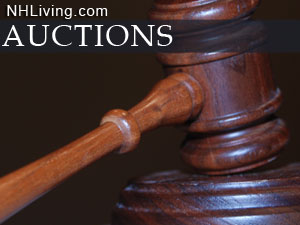 James R. St. Jean Auctioneers
Manchester, NH 03101
Ph: 603-624-1818
Property Auctions: residential and commercial
Amoskeag Auction Company, Inc.
250 Commercial Street #3011
Manchester, NH 03101
Ph: 603-627-7383
Specializing in sporting and military collectibles, especially firearms.
RR Auction
5 New Hampshire 101A
Amherst, NH
Ph: 603-732-4280
Northeast Auctions
93 Pleasant Street
Portsmouth, NH
Ph: 603-433-8400
NH Lodging Guide | Weddings
Products | NH Town Guides
Free World Mall

Country Weddings | New England Recipes
NH Inns | Boston Red Sox Gifts | Travel Destinations