New Hampshire Blueberry Picking
NH Blueberry Farms – You Pick – Berry Picking Tips

It is fairly obvious how the blueberry received its name, but just for the record, it's due to the blue coloring of the fruit. Blueberries were first appreciated by the Native Americans, who would dry them for much-needed nutrition in the long, hard winter months. They were also used to heal various maladies such as morning sickness, headaches, and coughs. The first time these precious little berries were commercially harvested was during the Civil War when they were canned and sent to Union soldiers. Find NH Blueberry Farm by following the links below. Share your NH Blueberry comments and reviews. Thank you for helping to support New Hampshire products and farms. To feature your NH business, contact us.
New Hampshire Blueberry Picking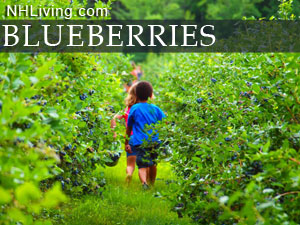 The domestication of the blueberry was accomplished by Dr. Coville, who was a USDA researcher experimenting on wild blueberries in an attempt to cultivate them. The first blueberry plants that he chose to experiment on were from Greenfield, New Hampshire.
Wild blueberries are smaller than their cultivated counterparts and have a more intense, tangy-sweet flavor. The wild crops have the advantage of a broad range of variations that provide their distinctive flavor. Wild blueberries are often referred to as lowbush blueberries, while cultivated berries are referred to as highbush blueberries. Cultivated blueberries are mostly hybrids, thus allowing more successful growth in other parts of both the United States and the rest of the world.
Blueberry production in the Granite State has been growing steadily over the last two decades. Some of this production is being achieved by tree, fruit, and vegetable growers wanting to diversify. However, there are some small farms that grow only highbush blueberries. The majority of New Hampshire's blueberry farms are located in the state's southern three counties, where the population is denser. However, blueberry farms can be found in all counties of New Hampshire.
While blueberries are grown everywhere in the state, different varietals are grown in different areas. Which ones are grown where depends entirely upon the weather. The soil is also an important factor in a blueberry bush's health because blueberries need highly acidic soil to survive. Some varieties require more acidic conditions than others, and the blueberry farmer makes the final decision on what type to grow in his region.
Blueberry harvesting season starts in early or mid-July and runs through mid-September each year. Exactly when the berries will be ripe depends upon several factors, including weather conditions, rainfall, and seasonal temperature averages. Before heading out to your nearest blueberry farm, be sure to call the farm and verify that the blueberries are indeed ripe and ready to pick.
For Blueberry Recipes visit New England Recipes.com.
NH Lodging Guide | Weddings
Products | NH Town Guides
Free World Mall

Country Weddings | New England Recipes
NH Inns | Boston Red Sox Gifts | Travel Destinations