New Hampshire Blueberry Tips
Useful Information For Storing & Picking Blueberries

Going blueberry picking is a common summer outing for many people wanting to enjoy as much of the summer months as possible. Blueberry picking is an activity that can be enjoyed by a wide range of people so it is ideal for larger groups. In order to better enjoy the day and get the most out of your berries there are some tips to keep in mind. To feature your favorite New Hampshire business, please contact us.
New Hampshire Blueberry Tips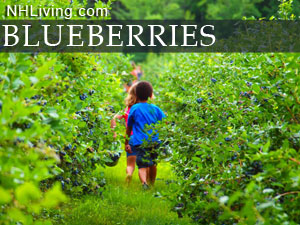 Choose only the berries that are completely blue with no hint of red. This is because blueberries do not continue to ripen after they have been picked. The shimmery silver coating on the blueberries is a good thing as it is their natural protection. Avoid any blueberries that are soft, moldy, or watery. A container that is stained or leaking are signs of berries that are past their prime.
Once you have the blueberries at home there are a few things that can be done to keep them fresh longer. First, do not wash them until you are ready to eat them. This is because water on the berries will cause deterioration to occur faster. Keep them refrigerated and in a rigid container that is covered with plastic wrap. By taking these steps the blueberries should keep for about two weeks. Blueberries are also a great candidate for freezing, since they keep the majority of their nutritional value. Just do not wash them before hand as this will cause the skins to become tough. What you should do is rinse after thawing and before eating. In a freezer that is set at 0 degrees Fahrenheit the blueberries should keep for about a year.
~ Megin K for nhliving.com
Blueberry Picking Guide | Blueberry Information

Try Some Great Blueberry Recipes: