New Hampshire US Canada Border Crossing
Canadian Border Crossing Passport Requirements

Requirements to cross the border between the U.S. and Canada are tightening up. To help ease your trip, make sure you have one of these forms of identification mentioned below. Ask us about NH – Canada border crossings or share comments.
NH Border Crossing into Canada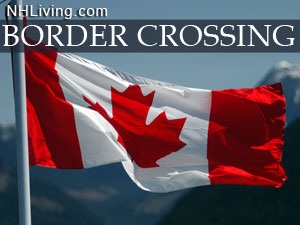 US / Canada Border Crossing Requirements
You will need one of the following forms of ID: a passport, trusted traveler cards such as NEXUS, U.S. Military identification with military travel orders, US Merchant Mariner Document, Native American Tribal photo ID card or a US passport card.
Passport Requirements – If you are 19 or older and don't have a passport or one of the other above mentioned forms of ID you need BOTH a: Government-issued photo ID, such as a driver's license with photo, name and date of birth or a military ID card, AND proof of citizenship, such as a US or Canadian birth certificate issued by a federal, state, provincial, county, territory or municipal authority; or US Consular report of birth abroad; or US Certificate of Citizenship; or US Citizen ID card.
Traveling with children – For US and Canadian citizens age 18 and older a passport or a birth certificate or a naturalization certificate must be present when crossing the border.
Not from here- If you are a US lawful permanent resident you must present a Permanent Resident Card (I-551) or other valid evidence of lawful permanent residence. Travelers other than Canadian and US citizens must abide by all existing passport and non-immigrant visa requirements.
Plan before you head out on the road to have the required documents and your trip will go much smoother. A US Passport paperwork is available at most US Post Offices. A valid Passport is the perferred way to identify yourself at US Customs.
NH Lodging Guide | Weddings
Products | NH Town Guides
Free World Mall

Country Weddings | New England Recipes
NH Inns | Boston Red Sox Gifts | Travel Destinations