NH Camping Safety Checklist
Safe Camping at Campgrounds RV Parks

New Hampshire has some of the best campgrounds and RV Parks in the nation. At times, there can be nothing better than being alone with nature. Ask us about NH Camping or share your NH Campground reviews and comments. To feature your NH campground, contact us.
Safe Camping & RV Vacations


Silver Lake Park Campground & Cabins, 389 Jamestown Road, Belmont, NH 03220 | 603-524-6289
Located in the Heart of the Lakes Region, Silver Lake Park Campground offers lakeside camping with spectacular sunset views. Specializing in seasonal camping with gated access, Cabin Rentals, Traditional Camping, Boat Rentals, Planned Activites, and affordable rates. Call direct for bookings and updates.
Visit Silver Lake Park Campground - Belmont, NH
---


Twin Mountain Campground, 100 US Route 302 East, Twin Mountain, NH 03595 | 603-846-5513
If you like the feeling of clean, quiet, and secure, then you will enjoy our pleasant, wooded setting surrounded by the panoramic beauty of New Hampshire's White Mountains. The Ammonoosuc River borders the campground providing trout fishing and scenic beauty for our campers. Facilities include RV and Trailer Sites (full Hook up), Custom Built Log Cabins, Restrooms, Playground, Tent Sites, Inground Pool, and more. Experience the difference at New Hampshire's most unique campground. Formerly Living Water Campground.
Visit Twin Mountain Campground - Twin Mountain, NH
---


Celli's Pizzeria, 100 Route 302, Twin Mountain, NH 03595 | 603-846-5510
Hot Pizza, Artisan Sandwiches, Panini's, Fresh Salads. Welcome to Celli's Pizzeria! We offer a large selection of deli subs & sandwiches. Fresh breads baked on location, homemade dough hand tossed pizza. Gelato , ice cream, cheese cakes, tiramissu, cannolli, daily specials, great soups, and salads.
Visit Celli's Pizzeria - Twin Mountain, NH
---


Lake Forest RV Resort, P.O. Box 713, Wolfeboro Falls, NH 03896
Located on Great East Lake with 100 wooded acres and plenty of room for well spaced sites. A unique camping opportunity for couples. Scenic grounds and a sunny shorefront are tranquil backdrops for the weekend or the season. An executive golf course, a clubhouse for social events, a field for picnics and rallies. Our winding roads offer a mile of shady walking to the swimming area and docks. Ride your bike or walk another path to find the Clubhouse for golf, a dinner, Bingo or other event. 130 sites have water, electricity, sewer and the option of telephone service, or cable. Internet service is available in the Clubhouse.
Visit Lake Forest RV Resort Wolfeboro Falls
---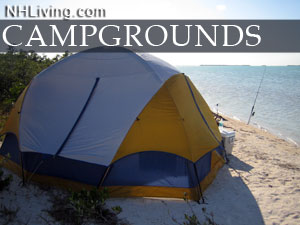 Planning is the most important aspect of a camping trip, whether your destination is a secluded deep woods location or a paid camping lot at a campground. Mother Nature can deal up a large variety of challenges and obstacles, so it is best to be overly prepared.
Packing is essential to an enjoyable camping excursion. Comfort is important, so make sure to bring apparel for all weather conditions.
It is best to bring non perishable food items that are high in energy. Remember that water is easy to come by at home, but out in the wilderness it might be a challenge, so pack plenty of water.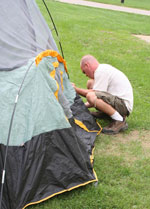 Pack emergency items such as a first aid kit, sunscreen, pain relievers, and bug spray. You should also bring a map and compass, flashlight, waterproof matches, a knife, and nylon cord. More importantly, learn how to use these items in the event of an emergency.
Before departing, check the weather report! This will help you plan what you need to do when you first arrive. Try and plan on arriving early. It can be very difficult to setup a tent in the dark, especially in inclement weather.
Choose your campsite location carefully. Try and find a site that is free of natural hazards such as low lying areas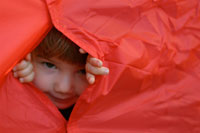 that are prone to becoming wet. An ideal location would be level, free of debris, soft ground, and sheltered by some trees.
If you choose to have a fire at your campsite, make sure it is away from trees and far from your tent. Never leave a fire unattended. When extinguishing a fire, use plenty of water, and or dirt, and stir up all hot coals to prevent the fire from reigniting.
Properly dispose of all garbage and waste products. Improperly disposing of garbage can result in conflicts with bees, other insects, and often times wild animals.
Do not approach wild animals. A wild animal can become extremely unpredictable when provoked. Keep your campsite and yourself clean at all times to help avoid conflict with wildlife.
~ Erik T for nhliving.com
Great North Woods NH Campgrounds
Berlin, Colebrook, Errol, Dixville, Lancaster, Pittsburg
White Mountain NH Campgrounds
North Conway, Lincoln, Woodstock, Littleton, Franconia, Gorham, Jackson, Sugar Hill, Whitefield, Waterville Valley
Lakes Region NH Campgrounds
Laconia, Rochester, Plymouth, Ossipee, Meredith, Ashland, Wolfeboro, Bristol, Winnipesaukee
Dartmouth Lake Sunapee NH Campgrounds
Lebanon, Hanover, Claremont, Newport, Tilton, Lyme, Plainfield, Newport
Monadnock NH Campgrounds
Keene, Peterborough, Fitzwilliam, Westmoreland, Chesterfield
Merrimack Valley NH Campgrounds
Manchester, Concord, Nashua, Salem, Derry, New London, Merrimack, Loudon
Seacoast NH Campgrounds
Portsmouth, Dover, Durham, Hampton, Exeter, Rye, Hampton Beach
NH Lodging Guide | Weddings
Products | NH Town Guides
Free World Mall

Country Weddings | New England Recipes
NH Inns | Boston Red Sox Gifts | Travel Destinations