New Hampshire Chamber of Commerce Offices
NH Relocation Travel & Tourism Visitor Resources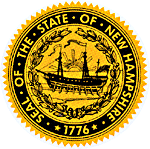 New Hampshire Chamber of Commerce offices will mail you travel and tourism information about New Hampshire lodging, real estate, vacations, and business travel. Relocation information is also available, some New Hampshire Chamber of Commerce offices will send information for free, other chamber offices may charge for New Hampshire relocation packages. Call or visit the Chamber of Commerce Office in the area9s) you are interested. Ask us about NH Chamber of Commerce info or share reviews and comments. To add a link your NH Chamber of Commerce or local business, contact us.
New Hampshire Chamber of Commerce Offices


Great Falls Regional Chamber of Commerce, 17 Depot St., Bellows Falls, VT 05101 | 802-463-4280
The Greater Falls Regional Chamber of Commerce can help you with information on the Vermont Towns of Bellows Falls, Rockingham, Athens, Grafton, Putney, Saxton's River, and Westminster, along with the New Hampshire towns of Alstead, Charlestown, Walpole and North Walpole. Please visit this wonderful area of the Connecticut Valley for your next getaway.
Visit Greater Falls Regional Chamber of Commerce Website
---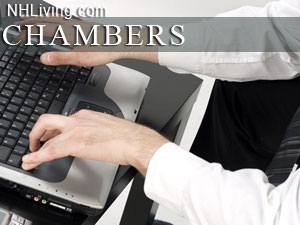 Androscoggin Valley Chamber Of Commerce
961 Main Street
Berlin, NH 03570
Ph: 603-752-6060
Includes the towns of Berlin, Dummer, Gorham, Jefferson, Milan, Randolph, and Shelburne

Baker Valley Chamber of Commerce
PO Box 47
Rumney, NH 03266
Towns include Ashland, Plymouth, Rumney, Warren, and Wentworth

Barrington Chamber of Commerce
PO Box 363
Barrington, NH 03825
Ph: 603-664-2200

Bethlehem Chamber of Commerce
PO Box 748
2182 Main St. (Rt. 302)
Bethlehem, NH 03574
Ph: 1-888-845-1957

Center Harbor Chamber of Commerce
Center Harbor, NH 03226
Ph: 603-253-4582 (seasonal)

Claremont Chamber of Commerce
24 Opera House Square
Claremont, NH 03743
Ph: 603-543-1296

Concord Area Chamber of Commerce
40 Commercial Street
Concord, NH 03301
Ph: 603-224-2508
Includes the towns of Concord, Bow, Canterbury, Chichester, Epsom, Henniker, Hopkinton, Loudon, Pembroke, Pittsfield, Warner, and Webster

Conway Chamber of Commerce
250 Main Street
P.O. Box 1019
Conway, NH 03818
Ph: 603-447-2639

Derry Chamber of Commerce
29 W. Broadway
Derry, NH 03038
Ph: 603-432-8205

Dover Chamber of Commerce
299 Central Ave.,
Dover, NH 03820
Phone: 603-742-2218

Exeter Chamber of Commerce
120 Water St.
Exeter, NH 03833
Ph:603-772-2411

Franconia Notch Chamber of Commerce
Main Street, PO Box 780
Franconia, NH 03580
Ph: 603-823-5661
Includes the towns of Easton, Franconia, and Sugar HIll

Franklin Chamber of Commerce
PO Box 464
340 Central St.
Franklin, NH 03235
Ph: 603-934-6909
Includes the towns of Andover, Boscawen, Franklin, Hill, Northfield, Salisbury, Sanbornton and Tilton

Hampton Area Chamber of Commerce
1 Park Ave Suite 3G
PO Box 790
Hampton, NH 03842
Ph: 603-926-8718

Hampton Beach Chamber of Commerce
22 C Street
Hampton Beach, NH 03842
Ph: 603-926-8717

Hanover Chamber of Commerce
47 S. Main Street, #53
PO Box 5105,
Hanover, NH 03755
Ph: 603-643-3115

Hillsborough Chamber of Commerce
25 School St. P.O. Box 541
Hillsborough, New Hampshire 03244
Phone: 603-464-5858
Includes the towns of Antrim, Deering, Hillsborough, Washington, and Windsor.
Hudson Chamber of Commerce
71 Lowell Road
Hudson, NH 03051 (inside Citizen's Bank)
Ph: 603-889-4731

Jackson Chamber of Commerce
Rte.16 PO Box 304
Jackson, NH 03846
Ph: 603-383-9356

Jaffrey Chamber of Commerce
7 Main St.
PO Box 2
Jaffrey, NH
Ph: 603-532-4549

Keene Chamber of Commerce
48 Central Square
Keene, NH 03431
Ph: 603-352-1303

Laconia – Weirs Beach Chamber of Commerce
383 S. Main Street
Laconia, NH 03246
Ph: 603-524-5531
Includes the towns of Alton, Belmont, Canterbury, Center Harbor, Gilford, Gilmanton, Holderness, Laconia, Meredith, Moultonborough, Sanbornton, Tilton

Lake Sunapee Region Chamber of Commerce
PO Box 532
New London, NH 03257
Ph: 603-526-6575
Includes New London, Newbury, and Mount Sunapee

Lebanon Chamber of Commerce
Village House, 1 School St.
PO Box 97
Lebanon, NH 03766
Ph: 603-448-1203

Lincoln-Woodstock Chamber of Commerce
Rte. 112 / Kancamagus Scenic Highway
PO Box 1017
Lincoln, NH 03251
Ph: 603-745-6621

Lisbon Chamber of Commerce
6 South Main Street
Lisbon, NH 03585
Ph: 603-838-6673

Littleton Chamber of Commerce
111 Main St. (Historic Thayers Inn)
PO Box 105
Littleton, NH 03561
Ph: 603-444-6561

Manchester Area Chamber of Commerce
54 Hanover Street
Manchester, NH 03101
Phone: 603-666-6600
Includes the towns of Auburn, Bedford, Candia, Derry, Goffstown, Hooksett, Litchfield, Londonderry, Manchester and Merrimack

Meredith Area Chamber of Commerce
272 Daniel Webster Highway (D.W. Hwy / Route 3)
P.O. Box 732
Meredith NH 03253-0732
Ph: 603-279-6121
Includes the towns of Center Harbor, Ashland, Moultonborough, Meredith, Holderness, Laconia, Center Sandwich, Bristol, New Hampton

Merrimack Chamber of Commerce
301 Daniel Webster Hwy
PO Box 254
Merrimack, NH
Ph: 603-424-3669

Mount Washington Valley Chamber of Commerce
PO Box 2300
North Conway, NH 03860
Ph: 800-367-3364
Includes the towns of North Conway, Conway, Bartlett, Jackson, Gorham, Tamworth, and Eaton

Nashua Chamber of Commerce
151 Main St.
Nashua, NH 03060
Ph: 603-881-8333
Newfound Region Chamber of Commerce
PO Box 454
10 N Main St
Bristol, NH 03222
Ph: 603-744-2150
Includes the towns of Alexandria, Bristol, Bridgewater, Danbury, Hebron, Groton, and New Hampton

Newport Chamber of Commerce
2 N. Main Street
Newport, NH 03773
Ph: 603-863-1510

North Country Chamber of Commerce
PO Box 1
Colebrook, NH 03576
Phone: 603-237-8939
Includes the towns of Clarksville, Colebrook, Columbia, Dixville Notch, Errol, Stratford, Pittsburg, and Stewartstown
Northern Gateway Regional Chamber of Commerce
PO Box 537
Lancaster, NH 03584
Ph: 603-788-2530
Includes the towns of Dalton, Groveton, Jefferson, Lancaster, Northumberland, Randolph, Stark, Twin Mountain, and Whitefield


Ossipee Area Chamber of Commerce
127 Rte. 28
Ossipee, NH 03864
Ph: 603-539-6201
Includes the towns of Effingham, Freedom, Madison, Ossipee, Sandwich, Tamworth

Peterborough Area Chamber of Commerce
PO Box 401
10 Wilton Rd. Rte 101
Peterborough, NH 03458
Ph: 603-924-7234
Fax: 603-924-7235
Includes the towns of Bennington, Dublin, Fitzwilliam, Francestown, Greenfield, Greenville, Hancock, Harrisville, Jaffrey, Mason, New Ipswich,Peterborough, Rindge, Sharon, and Temple.

Plymouth Chamber of Commerce
144 Route 175A
PO Box 65
Plymouth, NH 03264
Ph: 603-536-1001
Includes the towns of Plymouth, Campton, Thornton, Waterville, Valley, Holderness, Ashland, Bristol, Rumney, Hebron, Bridgewater, New Hampton.
Portsmouth Chamber of Commerce
500 Market St.
PO Box 239
Portsmouth, NH 03802
Ph: 603-436-3988
Includes the towns of Greenland, New Castle, Newington, North Hampton, Portsmouth, and Rye.

Greater Raymond Area Chamber of Commerce
58 Main Street
Raymond, NH 03461
Ph: 603-895-2254
Includes the towns of Raymond, Deerfield, Candia, Chester, Fremont, Epping, and Nottingham.

Rindge Chamber of Commerce
PO Box 911
Rindge, NH 03461
Ph: 603-899-5051

Rochester Chamber of Commerce
18 S. Main St.
Rochester, NH 03867
Ph: 603-332-5080

Salem Chamber of Commerce
224 N. Broadway, 1st Floor.
PO Box 304
Salem, NH 03079
Ph: 603-893-3177
Includes the towns of Atkinson, Hampstead, Pelham, Salem & Windham
Somersworth Chamber of Commerce
58 High St.
PO Box 615
Somersworth, NH 03878
Ph: 603-692-7175
Includes Rollinsford and Somersworth

Souhegan Valley Chamber of Commerce
89 Route 101A
Amherst, NH 03031
Ph: 603-673-4360
Including the towns of Amherst, Brookline, Greenville, Hollis, Lyndeborough, Mason, Milford, Mont Vernon, New Boston, New Ipswich, and Wilton
Squam Lakes Chamber of Commerce
Box 665
Ashland, NH 03217
Ph: 603-968-4494
Includes the towns of Ashland, Holderness, and Sandwich

Twin Mountain Chamber of Commerce
P.O. Box 194
Twin Mountain, NH 03595
Ph: 1-800-245-TWIN (8946)

Umbagog Chamber of Commerce
PO Box 113,
Errol, NH 03579
Ph: 603-482-3906
Includes the towns of Cambridge, Dummer, Errol, Millsfield, Wentworth Location

Wakefield Chamber of Commerce
Route 109,
PO Box 111
Wakefield, NH 03872
Ph: 603-522-6106
Waterville Valley Area Chamber of Commerce
RFD #1, Box 1067
12 Vintinner Rd.
Campton, NH 03223
Ph: 603-726-3804
Includes the towns of Campton, Ellsworth, Plymouth, Thornton, and Waterville Valley

Weare Area Chamber of Commerce
PO Box 61
Weare, NH 03281
Ph: 603-726-3804
Serving the towns of Henniker, New Boston & Weare
Wolfeboro Chamber of Commerce
32 Central Ave.
PO Box 547
Wolfeboro, New Hampshire 03894
Ph: 603-569-2200
NH Lodging Guide | Weddings
Products | NH Town Guides
New England Living Magazine
Free World Mall

Country Weddings | New England Recipes
NH Inns | Boston Red Sox Gifts | Travel Destinations