NH Colleges & Universities
NH Higher Education Admissions Offices

New Hampshire's colleges range from liberal arts, to culinary, to law. The fifteen plus colleges that call New Hampshire their home include private colleges such as Rivier College, state colleges such as Plymouth State University and Keene State College, the New Hampshire Community Technical College System, Catholic Colleges, and the University of New Hampshire College system. Ask us about NH Colleges or share education comments. To feature your business, contact us.
New Hampshire Colleges & Universities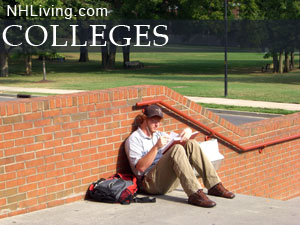 Antioch New England
Office of Admissions
40 Avon Street
Keene, NH 03431-3516
Ph: 603-357-6265
Email: admissions@antiochne.edu
Career Services Fax #: 603-357-0178
Antioch New England offers practice-oriented, values-based graduate studies. Graduate degree programs are offered in five disciplines, with master's degrees in applied psychology, education, environmental studies, and managemment, and doctoral degrees in clinical psychology and environmental studies.
Atlantic Culinary Academy
at McIntosh College
Office of Admissions
23 Cataract Ave.
Dover, NH 03820
Ph: 1-800-624-6867
Colby-Sawyer College
Office of Admissions
100 Main Street
New London, NH 03257
Ph: 1-800-272-1015
Email: csadmiss@colby-sawyer.edu
For over 160 years, Colby-Sawyer College has offered students what they call "an innovation curriculum" – a liberal arts education that provides a solid base in the classic academic disciplines as well as valuable professional preparation.
Chester College of New England (formerly White Pines College)
Office of Admissions
40 Chester Street
Chester, New Hampshire 03036
Ph: 603-887-4401 or 1-800-974-6372
Email: admissions@chestercollege.edu
Career Services Fax #: 603-887-1777
Chester College of New England is a private, coeducational, accredited 4- year college, offering Bachelor of Arts degrees in Photography and Media Arts, Graphic Design and Illustration (including web design), Studio Art, Creative and Professional Writing and Arts and Humanities.
Daniel Webster College
Office of Admissions
20 University Drive
Nashua, New Hampshire 03063-1300
Ph: 1-800-325-6876
Email: admissions@dwc.edu
Career Services Fax #: 603-577-7701
Established in 1965, this is a small institution with an emphasis on experiential learning with individual attention in Business, Computer Science, Engineering, Social Science, and Aviation.
Dartmouth College
Office of Admissions
McNutt Hall
Hanover, NH 03755
Ph: 603-646-1110
Email: admissions.office@dartmouth.edu
Career Services Fax #: 603-646-1360
Franklin Pierce College
Office of Admissions
20 College Road
Rindge, New Hampshire 03461-0060
Ph: 1-800-437-0048
Email: admissions@fpc.edu
Franklin Pierce Law Center
Office of Admissions
Two White Street
Concord, NH 03301
Ph: 603-228-1541
Email: admissions@piercelaw.edu
Granite State College
Office of Admissions
8 Old Suncook Road
Concord, NH 03301
Ph: 603-228-3000
Email: ask.granite@granite.edu
Admissions Fax #: 603-513-1387
Hesser College
3 Sundial Avenue
Manchester, NH 03103
Ph: 603-688-6660
Fax: 603-666-4722
Email: admissions@hesser.edu
Keene State College
Office of Admissions
Elliot Hall
Main Street
Keene, New Hampshire 03435-2604
Ph: 603-358-2276 or 1-800-572-1909
Email: admissions@keene.edu
Career Services Fax #: 603-358-2458
Magdalen College
511 Kearsarge Mountain Road
Warner, NH 03278
Ph: 877-498-1723 or 603-456-2656
E-mail: admissions@magdalen.edu
The Program of Studies here is rooted in the classical and Christian views of liberal education. juniors spend six weeks in Norcia and Roma, Italy.
McIntosh College
23 Cataract Avenue
Dover, NH 03820
Ph: 800-624-6867
E-mail: info@mcintoshcollege.edu
Associate degrees and certificate programs are offered here.
New England College
Henniker, NH 03301
Ph: 800-521-7642
E-mail: admission@nec.edu
New England College offers 30 undergraduate majors in the Arts, Sciences, Education, Social Sciences, and Business. Also; Graduate Programs in Creative Writing (poetry), Education, Public Policy, and Management.
Plymouth State University
Office of Admissions
17 High Street
Plymouth, NH 03264
Ph: 603-535-5000
Email: pscadmit@mail.plymouth.edu
Career Services Fax #: 603-535-2528
Plymouth State offers a variety of degree, certification, and certificate programs designed for the busy working professional. Graduate level courses are offered on-campus and in satellite locations throughout the state.
Rivier College
Office of Admissions
420 S. Main Street
Nashua, NH 03060
603-897-8507
Email: admissions@rivier.edu
Career Services Fax #: 603-897-8882
Students work with professors on an individualized education. M.B.A. in Organizational Leadership, M.B.A. in Marketing, Quality Management, or Healthcare Management, Med in Early Childhood, Elementary, Secondary Education or Guidance Counselling or an M.S. in Computer Science or nursing.
Saint Anselm College
Office of Admissions
100 Saint Anselm Drive
Manchester, New Hampshire 03102
Ph: 1-888-4ANSELM
Email: admission@anselm.edu
Career Services Fax #: 603-641-7550
Southern New Hampshire University
Office of Admissions
2500 North River Rd
Manchester, NH 03106
603-668-2211
Ph: 800-642-4968
Email: admission@snhu.edu
Career Services Fax #: 603-644-3130, 603-645-9718
Southern NH University is a private, co-educational institution, offering undergraduate degrees in business, culinary arts, hospitality, the liberal arts and teacher education. The main campus is located on 280 acres of beautiful countryside, minutes from downtown Manchester.
Thomas More College of Liberal Arts
Office of Admissions
Merrimack, NH 03054
Ph: 800-880-8308
Email: admission@thomasmorecollege.edu
Cited as one of the top 100 colleges in the nation in ISI's guide. Sophmore students spend the semester in Rome, Italy.
University of New Hampshire (UNH)
Office of Admissions
Grant House
4 Garrison Ave
Durham, NH 03824
Ph: 603-862-1360
Career Services Fax #: 603-862-2612
University of New Hampshire at Manchester
Office of Admissions
400 Commercial Street
Manchester, NH 03101
Ph: 603-641-4150
Email: admissions@unh.edu
Students will find the best of both worlds at this affordable, commuter campus.
NH Technical Community Technical College System
26 College Drive
Concord, NH 03301
E-mail: info@nhctc.edu
New Hampshire Community Technical Colleges offers associate degrees, certificates, and transfer programs that provide the opportunity for a college education that is both accessible and affordable. NHCTCS includes eight campuses as well as several satellite locations across the state – campuses are loated in Berlin, Claremont, Concord, Laconia, Manchester, Nashua, Pease International Tradeport or Stratham.
New Hampshire Institute of Art
16 Concord Street
Manchester, NH 03104-4858
Ph: 866-241-4918
E-mail: info@nhia.edu
The New Hampshire Institute of Art is a nationally accredited independent college of art, granting a Bachelor of Fine Art degree with concentrations in photography, illustrations, painting, and ceramics. A small, affordable college located in downtown Manchester. Student housing available minutes from campus.
---
New Hampshire is a great state in which to study. Many students and visitors hike in the spring and summer months and ski in the winter throughout New Hampshire's many mountains, especially in the White Mountain Region of the state. Sportsmen go fishing and boating in the remarkable lakes, streams, and rivers. Golfers may find various courses and country clubs to take a few swings at. For those who like camping, there are numerous campgrounds, state parks, and state forests to set a tent up.
The multitude of students that attend the colleges of New Hampshire also get to share in the beauty of the Granite State. The differences in the colleges are as different as their locations. College missions and degree programs may differ, but all are proud to be a part of New Hampshire.
Scroll through the listings below to view admissions office and contact information on New Hampshire Colleges, Universities, and Schools of Higher Education.
NH Lodging Guide | Weddings
Products | NH Town Guides
Free World Mall

Country Weddings | New England Recipes
NH Inns | Boston Red Sox Gifts | Travel Destinations