NH Destination Weddings
NH Second Weddings ~ Intimate Weddings & Honeymoon Locations

New Hampshire is a beautiful state to hold your wedding ceremony or visit for your honeymoon. Whether you want a religious ceremony in one of the many large churches or a civil ceremony in the great outdoors, New Hampshire offers you many options to find the perfect wedding location. Ask us about NH Destination Wedding Sites or share comments. To feature your business, contact us.
Love Destinations: Wedding & Honeymoon Venues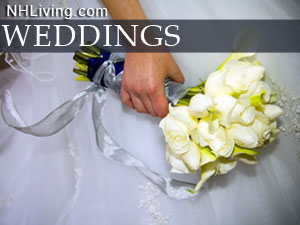 Owl's Nest Resort, 40 Clubhouse Lane, Thornton, NH 03285 | 603-726-3076
We've got it all in the heart of the White Mountains. We'll help plan your wedding from beginning to end - catering, music - and our wedding planners are in the business of making memories. Golf, fine dining, 5-star accommodations, tennis, tubing & 10 minutes to major ski resorts.
Visit Owl's Nest Resort - Thornton, NH
---


Mystic Sugar Bakery, 2386 White Mountain Highway, North Conway, NH 03860 | 603-383-3067
Mystic Sugar Bakery specializes in hand-crafted treats made from high-quality, fresh, seasonal, and local products whenever possible. Mystic Sugar Bakery is the lifelong dream and creation of Proprietor Christy Skinner. Originally from Virginia Beach, Christy has spent her life traveling the United States exploring the sweet regional variations on culinary classics, only to add her own touch to these timeless treats. Inquire about Special Orders.
Visit Mystic Sugar Bakery - North Conway, NH
---


Country Weddings |
Country Weddings is your guide to planning the perfect Country Wedding or romantic honeymoon vacation getaway. Discover sensational wedding destinations and lodging venues in New Hampshire and across the country.
Visit NH Country Weddings
---
More and more couples are making a weekend or more out of their upcoming nuptials. Why not? Planning a wedding outside of a metropolis area can be far more cost-efficient. Many engaged couples are finding that they can plan the whole weekend of activities for less money. How do you ask? Take over a NH inn or part of a lodging facility. You can often get discounted room rates. Plan a rehearsal dinner, more people oftentimes means a discount of per-person costs. Plan a NH activity. Ask for the group rate.
If your guests are coming from a distance away it is often much more affordable for them to stay at a local establishment rather than a larger chain in the City. Guests get to mingle and reconnect or connect for the first time and this can make your wedding a more relaxed occasion for all. Guest can also make a mini-vacation of your wedding; this allows you and your fiancé to enjoy your guest for longer than just the short reception.
Destination weddings can take on the theme of the destination that you choose. Favors can be tailored to the state and the seasons. Maple syrup, blueberry jam, something cranberry, local wine or cheese, even suntan lotion or a beach ball. Flowers also can take on the flavor of the season. Wild daisies, black-eyed Susan's, local wild roses, tropical bird of paradise, or poinsettias to name a few.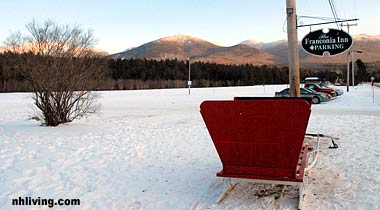 Make sure that you ask many questions of the wedding coordinator at the venue you choose. An experienced wedding consultant can often fill you in on local transportation, possibly a horse-drawn carriage or antique car owner.
They may know the perfect cake decorator or have one on staff. Ask about room amenities for your guests. Does your lodging venue do a social hour in the afternoon, wine and cheese, or lemonade and cookies?
Please visit our NH Wedding Section and contact our wonderful wedding venues to plan your upcoming New Hampshire wedding. In need of a marriage proposal idea? Check out these wedding proposals. New Hampshire has the Great North Woods and Northern NH Weddings and White Mountains region, where you can find a peaceful spot in the woods or in the luxury of an "NH Grand Hotel Wedding", Mt. Washington Wedding, or Lakefront Wedding. The White Mountain National Forest and Mount Washington Valley offer spectacular scenery for your MWV NH wedding. The NH Lakes Region provides more scenic wedding locations at lakeside inns and resorts.
NH Lodging Picks | Weddings
Products | NH Town Guides
Free World Mall

Country Weddings | New England Recipes
VT Inns | Red Sox Gifts | Travel Destinations