New Hampshire Family Vacations
NH Inns, Hotels & Resorts with Children's Programs

New Hampshire is an outstanding vacation destination for families with children of all ages. New Hampshire Inns, Hotels, and Resorts offer some of the finest children's programs in the country. Ask us about NH Family Vacation Resort, Inns & Hotels or share your NH travel questions. To feature your business, contact us.
New Hampshire Family Vacations


Franconia Inn, 1300 Easton Rd., Franconia, NH 03580 | 603-823-5542
"In the Land of Big Mountains and Small Villages." Nestled in the heart of the beautiful White Mountains of New Hampshire, The Franconia Inn is a full service country inn, where casual elegance and exquisite cuisine are just waiting to welcome you. Please visit our website for more information.
Visit Franconia Inn - Franconia, NH
---


Four Seasons Motor Inn, Route 3, Twin Mountain, NH 03595 | 800-228-5708
New Hampshire White Mountains - we offer spotless, comfortable, relaxing non smoking rooms. We have a generous play area for kids, picnic area, AM coffee, Game Room, 5 golf courses and ski areas, and attractions surround us! Great views! You will be back! Visit our web site for information.
Visit Four Season Motor Inn Website
---


Best Western White Mountain Resort, 87 Wallace Hill Road, Franconia, NH 03580 | 603-823-7422
A distinct New Hampshire hotel where great accommodations and low discounted hotel rates are always found! Unique and charming, this White Mtn lodging facility is guest friendly, clean, comfortable and affordable. For Leisure, Holiday, Vacation, Business, Conference, or for Tour Bus operators this Franconia - Littleton New Hampshire hotel is the place for you and your family to stay for your White Mountain vacation.
Visit Best Western White Mountain Resort - Franconia, NH
---


Cabot Inn & Suites, 200 Main Street, Lancaster, NH 03584 | 603-788-3346
A four-season family resort located in the heart of the White Mountains, over-looking the Presidential Range. 60+ acres, breathtaking views of the mountains. Bretton Woods, Cannon, Wildcat, Attitash, Loon, Black Mountain, Cranmore ski areas nearby. Family restaurant and lounge. Indoor heated pool, game room, outdoor playground, video game hook-ups. Santa's Village, Six Gun City, Story Land, Whale's Tale Water park a short drive away.
Visit Cabot Inn & Suites Website
---


Eastern Inn & Suites, Rt 16, 2955 White Mountain Hwy, North Conway NH 03860 | 800-628-3750 or 603-356-5447
Located close to North Conway Village and all valley attractions, and resorts. Offering a variety of rooms and suites. Free Wi-Fi, Indoor Pool/Hot Tub, Game Rooms, and Free Cont. Breakfast. Special Storyland packages available. On site hiking and mountain biking trails. Affordable, Clean, Comfortable.
Visit Eastern Inn & Suites- North Conway, NH
---


Swiss Chalet Village Inn, 457 Intervale Resort Loop, Intervale, NH 03845 | 800-831-2727
The Swiss Chalet Village Inn offers comfortable lodging at an affordable price. Choose from a wide variety of rooms to meet your needs. Wheather you are here for a family outing, wedding, business or pleasure, you will find clean, comfortable White Mountain lodging. Pet Friendly Rooms available. Please inquire.
Visit Swiss Chalet Village Inn - Intervale, NH
---


Windrifter Resort, 337 South Main Street, Wolfeboro, New Hampshire 03894 | 603-569-1323
Our family-oriented resort has a well-known tradition of outstanding service and hospitality. We offer the best of two worlds for relaxation--vacation ownership or lodging rentals. We are a four season vacation destination nestled among the mountains of New Hampshire's beautiful Lakes Region in Americaís Oldest Summer Resort town of Wolfeboro. Enjoy time on one of Wolfeboro's incredible lakes, play golf, shop, or relax by our heated indoor pool. Our units are fully equipped so your family has all it needs to enjoy a short visit or an extended getaway. Contact us to purchase an annual week of time or book one of our rental units. See you around the resort!
Visit Windrifter Resort - Wolfeboro, NH
---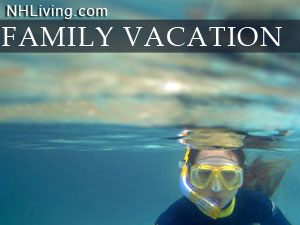 One of our favorite family-friendly New Hampshire destinations is Lincoln. With Loon Mountain Ski Area and a virtual smorgasboard of year-round family activities, it's no surprise that this little town 'south of the Notch' draws visitors like it does.
With 180 acres of stunning scenery, kids shows, supervised nightly kids activities, a stocked fishing pond and paddle boats, Indian Head Resort was recently awarded Best Family Friendly Resort in NH by New Hampshire Magazine. Indian Head offers both indoor and outdoor swimming pools, hot whirlpool spas, live entertainment in the Thunderbird Lounge and mountain biking trails. Kids' activities include ice cream socials, bingo games, magicians, clowns and karaoke.
While visiting the Lincoln/ Woodstock area, be sure to visit Whale's Tale Waterpark for a memorable day of slipping and sliding with the kids. Whale's Tale features countless slides and thrilling water rides, a lazy river and a splash lagoon for the wee ones. For the more adventurous, stop by Alpine Adventures and take a ride on one of their 1,700 foot zip lines or go on an off-road tour in one of their Pinzgauers. Another great zip line adventures is now open in the White Mountains, Bretton Woods Canopy Tour is part of the Mt. Washington Resort and offers zip line rides atop tree level Рa spectacular way to see the White Mountains.
Many other New Hampshire lodging properties are family oriented, meaning they cater to families by offering supervised children's activity programs, day care services, or baby sitting service. Purity Springs Resort in East Madison offers multiple family programs and activities. Their Summer Family Camp is exactly what it sounds like Рa week-long summer camp for the whole family, complete with all of the camp activities you would expect to see. From archery, riflery, and softballl to tennis, watersports, and nightly family games, this camp will create lasting memories for all. Purity Springs also offers a winter ski camp for boys and girls, a summer boys camp and childcare.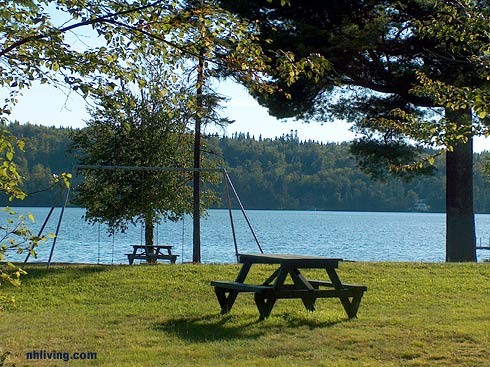 For families visiting the Monadnock region of New Hampshire, The Inn at East Hill Farm offers a truly unique family vacation experiece. This authentic working farm hosts family vacations, senior programs and many other group activities. Located in Troy, The Inn at East Hill Farm was recently awarded Best Family Getaway by New Hampshire Magazine. Children are able to collect their breakfast eggs from the coops, milk the cows and help feed the farm animals. Other activities include crafting projects, games, campfires, waterskiing, horseback riding, hay rides, fishing and so much more!
New Hampshire is a four-season family vacation destination offering a multitude of indoor and outdoor activities. In winter, many lodging properties work cooperatively with nearby ski resorts that offer extensive children's activities and educational programs. These programs are geared toward teaching your children about nature and the environment, while training them in the sports of alpine and cross country skiing, snowboarding, snowshoeing, and ice skating.
In summer, New Hampshire's beautiful countryside offers families with children the opportunity to learn about nature and the environment with unlimited hiking and mountain biking trails, golfing, fishing, nature walks, and so much more…
Visit our Events Section for a complete listing of Annual New Hampshire Events that are fun for the entire family. Read more about Planning a Family Reunion for ideas of how to plan for a fun family gathering. New Hampshire is also a great location to hold a Family Reunion.
NH Lodging Guide | Weddings
Products | NH Town Guides
New England Living
Free World Mall

Country Weddings | New England Recipes
NH Inns | Boston Red Sox Gifts | Travel Destinations