Seasonal NH Produce at NH Farmers Markets
NH Grown Produce – Fruits & Vegetables Guide

NH Farmers grow some great produce. New Hampshire farm markets are a great place to meet and socialize as well as purchase locally-grown produce. Below is a list by month of what you should expect to be in season at a local NH farmers market. Keep in mind that this is only what is typical. Weather and when a crop was planted may cause it to ripen earlier or later. Some NH growers also use greenhouses to lengthen the growing season. Ask us about NH Farm Markets or share your comments. To feature your NH business, contact us.
New Hampshire Farm Produce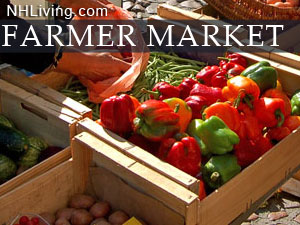 Thank you for shopping local at a Farmers Market. Visit all NH Farmers' Markets.
NH Apple Orchards. New Hampshire Blueberries
Learn all about New Hampshire Strawberries
June
Strawberries: mid June – mid July
Asparagus: late May – mid July
Beets: June – late Oct
Cabbage: June – late Oct
Lettuce, Greens: June – late Sept
Radishes: June – early Oct
Rhubarb: June
Spinach: mid June – mid Nov
Winter Squash: mid June – late Oct
Turnips: mid June – late Oct
July
Blueberries: mid July – late Sept
Raspberries: July – late Sept
Strawberries: mid June – mid July
Asparagus: late May – mid July
Beans: July – late Sept
Beets: June – late Oct
Cabbage: June – late Oct
Carrots: July – late Sept
Cauliflower: mid-July – late Oct
Chinese Cabbage: mid July – late Oct
Sweet Corn: July – mid Sept
Cucumbers: mid July – late Sept
Escarole & Endive: July – early Oct
Lettuce, Greens: June – late Sept
Onion: mid July – mid Oct
Peas, Green & Snap: July – late Sept
Radishes: June – early Oct
Scallions: July – late Sept
Spinach: mid June – mid Nov
Summer Squash, Zucchini: mid July – late Sept
Winter Squash: mid June – late Oct
Tomatoes: mid July – late Sept
Turnips: mid June – late Oct
August
Apples: Aug – mid Oct
Blueberries: mid July – late Sept
Cantaloupe: Aug – Sept
Grapes: Aug – early Sept
Peaches: Aug – late Sept
Raspberries: July – late Sept
Beans: July – late Sept
Beets: June – late Oct
Cabbage: June – late Oct
Carrots: July – late Sept
Cauliflower: mid-July – late Oct
Celery: mid Aug – late Sept
Chinese Cabbage: mid July – late Oct
Sweet Corn: July – mid Sept
Cucumbers: mid July – late Sept
Eggplant: Aug – late Sept
Escarole & Endive: July – early Oct
Lettuce, Greens: June – late Sept
Onion: mid July – mid Oct
Parsnips: mid Aug – late Sept
Peas, Green & Snap: July – late Sept
Peppers: Aug – mid Sept
Potatoes: mid Aug – late Oct
Radishes: June – early Oct
Scallions: July – late Sept
Spinach: mid June – mid Nov
Summer Squash, Zucchini: mid July – late Sept
Winter Squash: mid June – late Oct
Tomatoes: mid July – late Sept
Turnips: mid June – late Oct
September
Apples: Aug – mid Oct
Blueberries: mid July – late Sept
Cantaloupe: Aug – Sept
Cranberries: Sept – early Nov
Grapes: Aug – early Sept
Peaches: Aug – late Sept
Raspberries: July – late Sept
Beans: July – late Sept
Beets: June – late Oct
Cabbage: June – late Oct
Carrots: July – late Sept
Cauliflower: mid-July – late Oct
Celery: mid Aug – late Sept
Chinese Cabbage: mid July – late Oct
Sweet Corn: July – mid Sept
Cucumbers: mid July – late Sept
Eggplant: Aug – late Sept
Escarole & Endive: July – early Oct
Lettuce, Greens: June – late Sept
Onion: mid July – mid Oct
Parsnips: mid Aug – late Sept
Peas, Green & Snap: July – late Sept
Peppers: Aug – mid Sept
Potatoes: mid Aug – late Oct
Pumpkins: September – late Oct
Radishes: June – early Oct
Scallions: July – late Sept
Spinach: mid June – mid Nov
Summer Squash, Zucchini: mid July – late Sept
Winter Squash: mid June – late Oct
Tomatoes: mid July – late Sept
Turnips: mid June – late Oct
October
Apples: Aug – mid Oct
Cranberries: Sept – early Nov
Beets: June – late Oct
Cabbage: June – late Oct
Cauliflower: mid-July – late Oct
Chinese Cabbage: mid July – late Oct
Escarole & Endive: July – early Oct
Onion: mid July – mid Oct
Potatoes: mid Aug – late Oct
Pumpkins: September – late Oct
Radishes: June – early Oct
Spinach: mid June – mid Nov
Winter Squash: mid June – late Oct
Turnips: mid June – late Oct
November
Cranberries: Sept – early Nov
Spinach: mid June – mid Nov
Fruits
Apples: Aug – mid Oct
Blueberries: mid July – late Sept
Cantaloupe: Aug – Sept
Cranberries: Sept – early Nov
Grapes: Aug – early Sept
Peaches: Aug – late Sept
Raspberries: July – late Sept
Strawberries: mid June – mid July
Vegetables
Asparagus: late May – mid July
Beans: July – late Sept
Beets: June – late Oct
Cabbage: June – late Oct
Carrots: July – late Sept
Cauliflower: mid-July – late Oct
Celery: mid Aug – late Sept
Chinese Cabbage: mid July – late Oct
Sweet Corn: July – mid Sept
Cucumbers: mid July – late Sept
Eggplant: Aug – late Sept
Escarole & Endive: July – early Oct
Lettuce, Greens: June – late Sept
Onion: mid July – mid Oct
Parsnips: mid Aug – late Sept
Peas, Green & Snap: July – late Sept
Peppers: Aug – mid Sept
Potatoes: mid Aug – late Oct
Pumpkins: September – late Oct
Radishes: June – early Oct
Scallions: July – late Sept
Spinach: mid June – mid Nov
Summer Squash, Zucchini: mid July – late Sept
Winter Squash: mid June – late Oct
Tomatoes: mid July – late Sept
Turnips: mid June – late Oct
New England Living Magazine
NH Lodging Picks | Weddings
Products | NH Town Guides
Free World Mall

Country Weddings | New England Recipes
VT Inns | Red Sox Gifts | Travel Destinations