The Importance of NH Small Farms
Buy Local NH – It Supports the Economy & Overall Health
Recently, the "Buy Local" movement has taken hold in New England. The energy and fuel issues have the price of food rising. Economical issues have consumers and farmers more than a little worried. And America's weight problem has been the topic of much recent debate. Buying local seems to be at least part of the solution in all these areas. To feature your favorite business in NHLiving.com – New Hampshire's Internet Magazine, please contact us.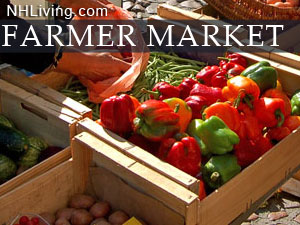 Buying local provides healthier produce to consumers. Most store-bought produce is picked unripe four to seven days before it is shipped and then travels an average of 1,500 miles before it reaches a supermarket shelf. Add this to the genetically modified seeds, chemical bug repellants and growth stimulant, and today's store-bought food looks less appetizing and is less healthy. Locally grown New Hampshire produce does not carry the same problems. Most small farmers do not use chemicals on their crops. Produce is ripened on the plant and is often picked the day it is bought. This means that the produce is fresh, fully developed and contains more nutrients.
The price of fuel that powers farm equipment and is used to ship is still on the rise. This production cost will soon be evident in the prices on store shelves. But these price increases will be less evident in the cost of local meat and produce that are farmed on a much smaller scale, with less equipment and no shipping.
The third largest reason that people are buying local is to support the small farmer. Farming is more of a way of life than an occupation. It is also important to the sight, smell and taste of New Hampshire culture. Over the last 100 years large scale industrial farming has taken over the industry and put many small New Hampshire farmers under. But the buy local movement has given farmers a reason and the opportunity to stay in business.
New Hampshire Farmer's Markets have become a common summer event in most communities throughout the state. Most markets are held once a week at the same time and place. They provide a venue for area farmers and crafters to get together and sell goods. Consumers can buy a wide variety of fresh, seasonal produce and meet the farmers that grow it. New Hampshire has a few unique "Buy Local" opportunities, as well. The town of Amherst has an indoor farmers market that is open year-round and the state also has a virtual farmers market online at www.nhfarms.com.
New Hampshire CSAs, or Community Supported Agricultures, are a new way to "Buy Local". People buy a membership from one or more farms involved in the CSA. The membership fees guarantee that the farmer has an income and in return, members receive a weekly delivery of seasonal produce at an affordable price. There are over 1,000 documented CSA farms in America with at least 20 certified in New Hampshire.
New Hampshire also has organizations that focus on buying local. Some of these groups include NH Sustainability at the University of New Hampshire, and New Hampshire Made, which is a state-wide marketing organization that advertises New Hampshire made products.
New Hampshire Restaurants have also caught on to the movement. Chefs have realized that there is nothing more mouth-watering than the thought of a home cooked meal. The way to achieve this homegrown flavor is to use the freshest ingredients possible. So, to do this, they have gone back to the farmer. Restaurants such as The Clement Room Grille at the Woodstock Inn, and the Galley Hatch in Hampton serve incredible food using as many local ingredients as possible.
Through direct contact with farms, restaurants and consumers are able to get fresh, healthy, locally raised meat and produce, and they are supporting their local economy in the process.
By Tabitha Fitzgerald
Great North Woods NH Farmers Markets
Berlin, Colebrook, Errol, Dixville, Lancaster, Pittsburg
White Mountains NH Farmers Markets
North Conway, Lincoln, Woodstock, Littleton, Franconia, Gorham, Jackson, Sugar Hill, Whitefield, Waterville Valley,
Lakes Region NH Farmers Markets
Laconia, Rochester, Plymouth, Ossipee, Meredith, Ashland, Wolfeboro, Bristol, Winnipesaukee
Dartmouth Lake Sunapee NH Farmers Markets
Lebanon, HaNover, Claremont, Newport, Tilton, Lyme, Plainfield, Newport
Monadnock NH Farmers Markets
Keene, Peterborough, Fitzwilliam, Westmoreland, Chesterfield
Merrimack Valley NH Farmers Markets
Manchester, Concord, Nashua, Salem, Derry, New London, Merrimack, Loudon
Seacoast NH Farmers Markets
Portsmouth, Dover, Durham, Hampton, Exeter, Rye, Hampton Beach
NH Lodging Picks | Weddings
Products | NH Town Guides
Free World Mall

Country Weddings | New England Recipes
VT Inns | Red Sox Gifts | Travel Destinations