New Hampshire Gardening
NH Local Gardening Planning Tips and Hints

Just as blueprints are necessary for the proper construction of a home, planning your garden on paper is a crucial first step in creating a successful garden area. One great way to look at such an approach is to compare it to decorating a room. It's a good idea to think of your outdoor space as if it were another room in your home – you'll want to make it comfortable, beautiful and easy to maintain. Instead of color swatches and flooring samples, your palette will be composed of hardscape and softscape options, from slate and river rock to vegetable and perennial plants.  Ask us about gardening in NH or share comments. To feature your business, contact us.
NH Gardening & Garden Planting Tips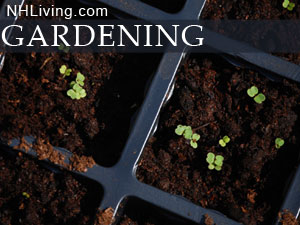 By taking the time to assess what already exists and plan what is to be added, you are able to create a new livable space at your home while increasing property value at the same time. With a little time and effort in the beginning, it will make all the difference in the end result. You will end up with a well-planned, integrated scheme.
There are several important factors to consider when planning your landscape. You will first want to assess what already exists in your space. Here's a few factors to pay attention to:
Size of workable space
Privacy factors
Ease of ongoing maintenance
Climate zone & length of growing season
North and South facing areas
Which direction the winds come from
Drainage factors
Children or pets
Elements that may need to be screened from view
Location of house, driveway, fences and external buildings
And now for the fun part! What theme will you choose? This is where you decide what you want the overall look of your garden to be. Whether formal or casual, your personal style will directly affect the features you choose to bring intoyour space.
Here are some gardening themes to tickle your imagination:
Formal Garden
The key elements of a formal garden are symmetry, geometric forms, straight lines, and uniform textures and colors. Formal gardens are usually marked by a straight path running through the center with identical landscaping on either side. Hedges and walls are important features of the formal garden as well.
Woodland Garden
An ideal garden type for northern New England, the woodland garden blends seamlessly with the nature around it, so as to not really appear like a garden at all. The focus here is attracting wildlife. Key elements include tree groves, tree circles, clearings, meandering paths and water features that appear natural. Spreading random sculptures along the woodland path at random intervals provides visual interest to any who stroll the path.
English Garden
Although the English garden allows for a great deal of flexibility in its layout, one key feature common to all English gardens is the "kitchen garden", which provides edibles and culinary herbs throughout your growing season and are located near the home. These gardens usually incorporate gravelled walkways surrounded by tall hedges, grass, perennial and rose gardens, and resting benches nestled into nooks and crannies.
Container Garden
Most often seen in urban settings, the container garden is ideal when space and/or time is limited. It's very easy to fill a patio, roof or doorstep with pots full of herbs, annuals and perennials. Because of it's mobility, the container garden is ideal for those with problem soil or limited to no space. If space or soil is not an issue, container gardens are very often incorporated into many of the other themes described here.
Wildflower Garden
Of all gardening styles, the wildflower garden offers the most longevity and the best resistance to disease, pests and challenging climates. Because you're working with species of flowers that are by their very nature hardy and will return year after year, this is a wonderful option for people who may have the space for gardens but not the time needed for a high level of maintenance. A wonderful perk of the wildflower garden is the number of birds and butterflies it will bring to your home!
Asian/ Zen Garden
Noted for its minimalism, the Asian garden aims to be a serene place of tranquility. Think of the natural elements when planning your Zen garden – water, air, rock and reed. Bamboo or rush fencing will create an intimate setting for the Zen garden, and the sound of tinkling water and low-pitched wind chimes add to the multi-sensory experience. The focus here is creating balance through asymmetrical features. Flagstone paths, rock gardens, interesting boulders, unusual shrubbery and asian sculptures all come together to give you a meditative space you will cherish.
Country Cottage Garden
Highly useful as well as beautiful, the cottage garden traditionally envelops the home and is sprinkled with arches, trellises and arbors. Because this is an adaptable and incredibly informal style, the most important factor to keep in mind when planning your cottage garden is that it should look as undesigned as possible. Be sure to avoid linear or symmetrical patterns in your flower beds and walkways, and mix it up when choosing the location of your plants.
Cutting Garden
The cutting garden is ideal for people who love to fill their home with fresh floral arrangements. Because a standard flower arrangement is composed of focal flowers, filler flowers and foliage, it's important to include all three in your cutting garden. It's good to have a balance of annuals, perennials, bulbs and shrubs. However, the low cost and quick growth time of annuals fosters a bountiful harvest at a lower price point than a perennial cutting garden.
Mediterranean Garden
Perfectly balancing vivid splashes of color with rustic earth tones and an overall sun-bleached look, the Mediterranean garden often has an opulent outdoor pergola with soft cushions and crisp, flowing curtains. Because summers are hot and dry in the Mediterranean, this garden style incorporates little to no grass into it's design. Walled courtyards are popular and create a natural spot for entertaining or relaxing. Water features are kept simple and hardscaping takes more focus than plants with this design. What plants that are used tend to be hardy. Good examples of this are olive, rosemary, cypress and lavender.
NH Lodging Guide | Weddings
Products | NH Town Guides
New England Living
Free World Mall

Country Weddings | New England Recipes
NH Inns | Boston Red Sox Gifts | Travel Destinations