NH Green Business
NH Eco-Friendly, Earth Friendly & Natural Living & Lodging

Welcome to NH Living Magazine's New Hampshire Green – A guide to Green NH Businesses. We are proud of the efforts that many New Hampshire lodging properties are making to help save and protect the environment. Ask us about NH Green or Eco-Friendly business or share comments. To feature your eco-business, contact us.
New Hampshire Green Business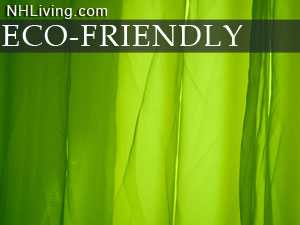 Going Green in the Granite State
Green is more than the color of money. The new green is earth-friendly, eco-conscious and signifies that you care about the environment. Green businesses care about the planet (Mother Earth) and are taking proactive measures. You – as a New Hampshire native or a visitor to New Hampshire – can do your part by seeking out eco-friendly businesses and NH green lodging accommodations.

 What is New Hampshire Green Lodging?
The basic premise is that Green Hotels and Green Inns are taking action to help save energy and minimize their carbon footprint on Mother Earth. Not all Green Hotel and Green Inns practice green living equally. Some lodging properties are more committed than others. Many are part of a green state or national organization but many businesses that follow green lodging practice simply do it out of respect for the environment and as a responsible way to help trim costs and contribute to a worthwhile cause.

 Eco Friendly Practices / Making Your Lodging Property Green
Some of the more common green lodging practices include;
Using all flourescent and LED lighting
Allowing guests to use their towels and/or sheets for more than one day before being laundered
Using the same towels and sheets for a three night stay can save more than 50% of a hotel's laundry emissions
Using Eco-friendly cleaning products that are healthier for the environment
Using recycled products when available
Using refillable toiletry dispensers
Using timed thermostats
Keeping the temperature cooler in hallways
Turning down heating / air conditioning in non-occupied rooms
Using energy-efficent heating and cooling systems
Installing solar or wind powered energy sources
Recycling waste
Learn about NH Green Restaurants
If you have a suggestion on how a lodging property can save energy, please share it. If your lodging property would like to be included on this page about New Hampshire Green Friendly Lodging, please contact us.
NH Living thanks you for supporting New Hampshire's Green Hotels, Inns and other Green Businesses. If you have questions about an individual property's Green Lodging programs, contact the inn or hotel directly and inquire in advance of your stay. Many hoteliers and innkeepers are proud of the their efforts to help save the environment and are happy to discuss their efforts with you.