New Hampshire Hiking Safety Tips
NH Hikers Stay Safe – Hike Safe – Backwoods Tips

Play it safe while hiking. The White Mountains of New Hampshire can be a dangerous place. Ask about NH hiking or share trail comments. To feature your business in NHLiving, contact us.
Staying Safe in the White Mountains


Franconia Inn, 1300 Easton Rd., Franconia, NH 03580 | 603-823-5542
"In the Land of Big Mountains and Small Villages." Nestled in the heart of the beautiful White Mountains of New Hampshire, The Franconia Inn is a full service country inn, where casual elegance and exquisite cuisine are just waiting to welcome you. Please visit our website for more information.
Visit Franconia Inn - Franconia, NH
---


Partridge Cabins, 3 Partridge Road, US Route 3, Pittsburg, NH 03592 | Ph: 603-538-6380
Visit Partridge Cabins and Lodge - the four season place to be. We have 600 feet of lake frontage, and offer housekeeping cabins situated amidst the shade of sheltering spruce and fir trees. Completely winterized cabins with gas heaters, private baths, with hot and cold running water, electricity, and full kitchen facilities. All cabins are attractively furnished, and accommodate 4-8 people. Snowmobile, cross-country ski, hike, moose watch, and let's not forget fishing and hunting! Summer, fall, winter, and spring, you will find Partridge Lodge & Cabins most pleasing.
Visit Partridge Cabins - Pittsburg, NH
---


Cabot Inn & Suites, 200 Main Street, Lancaster, NH 03584 | 603-788-3346
A four-season family resort located in the heart of the White Mountains, over-looking the Presidential Range. Cabin Inn & Suites features a fitness center, indoor pool, banquet hall, and 60+ acres, with breathtaking views of the mountains. Bretton Woods, Cannon, Wildcat, Attitash, Loon, Black Mountain, Cranmore ski areas nearby. Family restaurant and lounge. Indoor heated pool, game room, outdoor playground, video game hook-ups. Santa's Village, Six Gun City, Story Land, Whale's Tale Water park a short drive away.
Visit Cabot Inn & Suites - Lancaster, NH
---


Inn at Ellis River House B&B Inn, 17 Harriman Road, Jackson, NH 03846 | 603-383-9339
Enchanting Country Inn offering "Romance & Rejuvenation" on the river in the heart of the White Mountains. 20 rooms and cottage are beautifully appointed with period and modern amenities. Many have Jacuzzis for two and/or balconies, most have fireplaces. Gourmet country breakfast and afternoon refreshments included. Enjoy the cozy game room/pub, hot tub, sauna, and outdoor heated pool. Relax, re-discover lifes simple pleasures, hike, fish, golf nearby, cross country or downhill ski, outlet shop and more. Let the Inn at Ellis River rejuvenate your spirits!
Visit Inn at Ellis River - Jackson. NH
---


Swiss Chalet Village Inn, 457 Intervale Resort Loop, Intervale, NH 03845 | 800-831-2727
The Swiss Chalet Village Inn offers comfortable lodging at an affordable price. Choose from a wide variety of rooms to meet your needs. Wheather you are here for a family outing, wedding, business or pleasure, you will find clean, comfortable White Mountain lodging. Pet Friendly Rooms available. Please inquire.
Visit Swiss Chalet Village Inn - Intervale, NH
---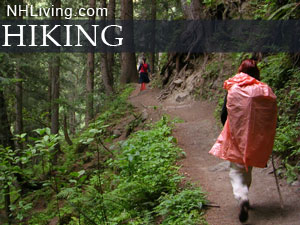 Hiking in New England is a lot of fun. However, it can also go from fun to dangerous very quickly. Being prepared and knowing what to do in a given situation is very important. Some good general advice is to make sure to plan a route and stick to it. Stay on marked trails and make sure that someone who is not going knows the route and when you should be returning. Do not overexert yourself. Conditions can change in a matter of seconds and you want to be able to handle whatever they may be.
There are a few items which every hiker should have. A whistle can carry farther and last longer than the human voice. It will come in handy if you get lost or separated from the group. A first aid kit is always a good idea, even on short hikes because you never know what may happen. If you do not have a first aid kit, make sure to grab some band aids and antibiotic. Extra clothes, especially sox, often come in very handy. Wear layers, even in the summer. It is important to wear proper footwear such as hiking boots, especially the kind that protects your ankles. A map and compass are good to have, especially if you don't know the area very well.
Food and water are extremely important items when hiking. Make sure to bring way more water than you think you will need. It is better to have extra left over than to run out halfway through the hike. For extended trips bring water purification tablets or boil the water before drinking. When it comes to food there are a few suggestions to keep in mind. First of all remember that it is a hike, so what you bring you carry. Avoid anything that would need a cooler or food that would spoil on the trail. Also keep in mind that the food will be stored in a backpack and so may get smushed while on the trail. Keep your packs as light as possible by bringing foods that are lightweight, such as dehydrated foods or trail mix. Also keep in mind that animals are attracted to the smell of food so if you are camping out overnight elevate the food and most definitely do not keep it in the tent with you.
Being able to see an animal firsthand can be very exciting. It may be tempting to get closer to the animal but that would be inviting trouble. Stay at a safe distance and enjoy from afar. Even if an animal appears to be passive or almost friendly, keep in mind that it is in fact wild and could become aggressive very quickly.
Never feed a wild animals! This interferes with their natural activity and is also the most common way that animal-related injury or death occurs. It also may cause trouble for future hikers if the animal decides it wants more human food. Stay away from bear cubs and other young animals. They are cute and it is tempting to get closer, but most likely mommy is nearby and if she believes her young is being threatened she will protect it, at your expense.
While bears and mountain lions get the most press, the majority of incidents actually involve other wild animals. All animal's that live in the woods are in fact wild, no matter how cute they are. An animals "fight or flight" response is extremely strong. If you do encounter a potentially dangerous animal try to avoid sudden movements, but make your presence felt and show no fear. The best thing to do is make a lot of noise during your hike. Most animals are afraid and will stay away, thus preventing an encounter. Just keep in mind that most trouble is caused by inappropriate human behavior. ~ Megin K for nhliving.com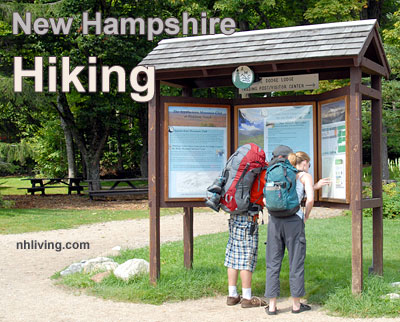 NH Lodging Guide | Weddings
Products | NH Town Guides
New England Living Magazine
Free World Mall

Country Weddings | New England Recipes
NH Inns | Boston Red Sox Gifts | Travel Destinations