New Hampshire Hunting
NH Hunting Guides | NH Game Hunting Publications & License Information

New Hampshire offers some outstanding upland game hunting. New Hampshire is a good choice for your destination hunting vacation. The White Mountain Region and Great North Woods offer thousands of acres of woodland. Wild Turkey, Bear, Moose, Deer, and Game Birds like Pheasant, Duck, Turkey, and Grouse roam the woods and fields. Experienced hunters know that early planning often makes for success and fewer problems.
A wealth of information may be gathered from visiting the areas you plan to hunt well in advance of the hunting season. Get to know the "lay of the land", procure your NH hunting license, receive the permission of cooperative landowners, and pick up advice and recommendations from local residents. Don't forget to follow NH state hunting laws and regulations. Duck hunting is increasing in popularity in NH. Be sure to wear proper clothing and consider a special duck hunting face mask for the best results. Professional quality footwear is vital to your Duck Hunting safety. Many duck hunters suggest quality neoprene waders from Decoy Pro.
The State of New Hampshire offers a variety of hunting licenses, it is even possible to buy renew your NH Hunting license online, check with the State of NH Wildlife website for more information about obtaining your NH Hunting license. Feature your NH business or ask us about NH Hunting Vacations, contact us.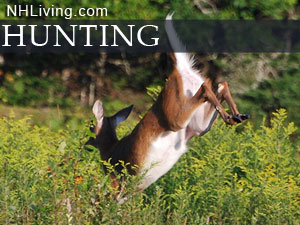 New Hampshire Hunters look forward to the latest issue of Hunting Digest. Hunting Digest is published by the New Hampshire Fish and Game Department and is an excellent overview of hunting in the Granite State.
Hunting Digest
As summer fades and autumn winds blow the last of the clinging maple leaves down, hunting season begins. This is an excellent time to think about joining a New Hampshire Fishing or Hunting Club. New Hampshire Fish and Game Clubs are located throughout the state and many provide superb resources and camaraderie.
Hunting Gear Apparel & Accessories
Hunting Jackets
Hunting Gear

Hunting Caps

Not sure where to go? Check out a guided tour.
NH Lodging Guide | Weddings
Products | NH Town Guides
New England Living Magazine
Free World Mall

Country Weddings | New England Recipes
NH Inns | Boston Red Sox Gifts | Travel Destinations