NH Hunting Season Safety Tips
Hike Safe During NH Hunting Season

Safe Hunting in New Hampshire. With the departure of the NH fall foliage tour season, the forests lose most of their splendid colors but gain a new one, hunter orange. Hunter orange, also known as blaze orange is a very important color from late October into early December (see exact dates at the bottom of the article).
Hunters are not the only ones who should sport this fiery eye-catching color. Browse for more NH Visitor Information or feature your business in NH Living, contact us.
Hunter Orange: Safe Hiking, Safe Hunting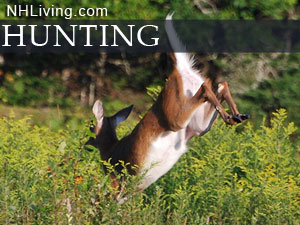 Anyone venturing into the woods, hikers especially, should wear at least one article of hunter orange coloring viewable from all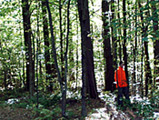 directions such as a hat, jacket, or vest. Make sure not to forget about your pet! It is very easy to retrofit a dog with a vibrantly colored tee shirt. Simply arrange the shirt so the front legs go through the arm holes and the head through the collar, and you'll be doing your pet a great service. Your pet might even become excited over the routine of getting dressed, knowing they are headed out for an adventure.
If you have horses, there are some extra precautions you should be aware of. During the hunting season, you should keep your horses as close to your house and stables as possible. Before you go out riding, try to plan on avoiding known hunting areas, riding in open fields, and avoid riding during peak hunting times such as early morning. If you do come across a hunter inform them of your planned route. While riding it is best to ride with a buddy. Wear a hunter orange vest and a brightly colored helmet cover. You should also get a brightly colored rump sheet for your horse.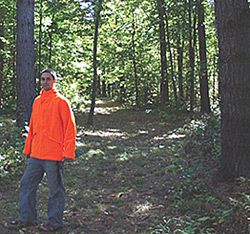 There are also some items of clothing you should stay away from. Avoid wearing light brown, and especially avoid wearing white. A glimpse of white clothing through the trees can resemble a deer's tail. White mittens and hats are especially bad choices during hunting season.
Deer Hunting in NH
Deer hunting season is a particularly busy time to be in the woods of New Hampshire. Deer hunters and urged to use caution and wear brightly colored clothing. The same may be said for anyone walking in the woods. Invest in a hunter orange vest or sweater for your dog for added safety.  These tips for hunters are valuable reminders for staying safe during hunting season.
You should not be afraid to venture out during hunting season. The cool air and lack of leaves in the late fall offer great views and few bugs, making hikes very enjoyable. Most hunters are familiar with the location of well-known hiking trails so try to stay on established trails. Keep in mind that not all hiking trails are good hunting grounds. You can talk to someone at a local sports shop, or the fish and wildlife department for a better idea of where to find a quiet location.
~Erik T. for nhliving.com
Hunting Apparel on Sale and in Stock at Free World Mall.
---
NH Lodging Guide | Weddings
Products | NH Town Guides
New England Living Magazine
Free World Mall

Country Weddings | New England Recipes
NH Inns | Boston Red Sox Gifts | Travel Destinations