New Hampshire Maple Sugaring Facts
NH Maple Syrup – Maple Products – Maple Producers
Get the facts about NH Maple Syrup, Maple Products and Harvesting of Maple. The NH maple sugaring season usually starts about mid-February and ends around mid-April. How well and long the season is depends greatly on the weather. New Hampshire Maple Producers usually produces about 90,000 gallons of maple syrup in a given season. Ask us about NH Maple Products or share your comments. To feature your local products or business, contact us.
New Hampshire Maple Sugaring Facts


Polly's Pancke Parlor, 672 Route 17, Sugar Hill, NH 03585 | 603-823-5575
Polly's Pancake Parlor has been serving yummy home cooked meals for over 75 years. Enjoy a stack of Oatmeal Buttermilk, Buckwheat or Whole Wheat pancakes. Sit back and savor a waffle of your choice smothered in real New Hampshire maple syrup or come for lunch and have a slice of quiche made with local Harman's cheese. Shop for gifts, pancake mixes and NH Maple Syrup. Reservations taken on weekends.
Visit Polly's Pancake Parlor
---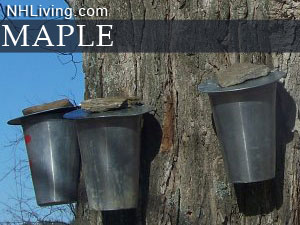 Maple Sugaring is a fascinating tradition in Northern New England. Here are some fun facts about maple sugaring.
It takes one gallon of maple syrup to produce eight pounds of maple candy or sugar
A gallon of maple syrup weighs 11 pounds
The sugar content of sap averages 2.5 percent; sugar content of maple syrup is at least 66 percent or more
Usually a maple tree is at least 30 years old and 12 inches in diameter before it is tapped
As the tree increases in diameter, more taps can be added – up to a maximum of four taps
Tapping does no permanent damage and only 10 percent of the sap is collected each year. Many maple trees have been tapped for 150 or more years.
Each tap will yield an average of 10 gallons of sap per season, producing about one quart of syrup.
Sap flow is heaviest for about 10-20 days in the early spring.
Maple Syrup is a 100 % natural and organic product.
Maple Syrup has the same calcium content as whole milk.
Maple Syrup has only 40 calories per tablespoon, unlike corn syrup which has 60 calories per tablespoon.
Maple Syrup is rich in minerals such as calcium, potassium, manganese, magnesium, phosphorus, and iron.
Maple Syrup is good for you! Vitamins B2, B5, B6, niacin, biotin, and folic acid are present in Maple Syrup.
Maple Syrup even contains trace amounts amino acids – the building blocks of protein!
Great North Woods NH Maple Products
Berlin, Colebrook, Errol, Dixville, Lancaster, Pittsburg
White Mountain NH Maple Products
North Conway, Lincoln, Woodstock, Littleton, Franconia, Gorham, Jackson, Sugar Hill, Whitefield, Waterville Valley
Lakes Region NH Maple Products
Laconia, Rochester, Plymouth, Ossipee, Meredith, Ashland, Wolfeboro, Bristol, Winnipesaukee
Dartmouth Lake Sunapee NH Maple Products
Lebanon, Hanover, Claremont, Newport, Tilton, Lyme, Plainfield, Newport
Monadnock NH Maple Products
Keene, Peterborough, Fitzwilliam, Westmoreland, Chesterfield
Merrimack Valley NH Maple Products
Manchester, Concord, Nashua, Salem, Derry, New London, Merrimack, Loudon
Seacoast NH Maple Products
Portsmouth, Dover, Durham, Hampton, Exeter, Rye, Hampton Beach
NH Lodging Guide | Weddings
Products | NH Town Guides
Free World Mall

Country Weddings | New England Recipes
NH Inns | Boston Red Sox Gifts | Travel Destinations