Nature's Sweetener: New Hampshire Maple Syrup
Enjoy This All-Natural Sweetener from Mother Nature
The NH maple sugaring season usually starts about mid-February and ends around mid-April. How well and long the season is depends greatly on the weather. New Hampshire Maple Producers usually produces about 90,000 gallons of maple syrup in a given season. Considering that it takes forty gallons of sap to make one gallon of syrup that is alot of sap.
Maple syrup grades vary depending on the tree and the time of season you are tapping. The tap made early in the season generally produces a Grade A Fancy Syrup – the lightest shade and most delicate flavored Maple Syrup. Sap gathered later in the season tends to produce a heartier Grade B Maple Syrup. Ask us about NH Maple Products or share your comments. To feature your local NH products or business, contact us.
Northern New Hampshire Maple Syrup – NH Maple Producers


Polly's Pancke Parlor, 672 Route 17, Sugar Hill, NH 03585 | 603-823-5575
Polly's Pancake Parlor has been serving yummy home cooked meals for over 75 years. Enjoy a stack of Oatmeal Buttermilk, Buckwheat or Whole Wheat pancakes. Sit back and savor a waffle of your choice smothered in real New Hampshire maple syrup or come for lunch and have a slice of quiche made with local Harman's cheese. Shop for gifts, pancake mixes and NH Maple Syrup. Reservations taken on weekends.
Visit Polly's Pancake Parlor
---
The production of New Hampshire maple syrup and other maple products is a thriving tradition that signals the arrival of spring. The sweet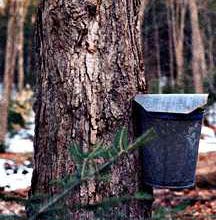 scent of boiling maple sap escaping area sugar shacks is just one of the many reasons visitors travel from around the world to experience springtime in New Hampshire!
The maple sugaring season usually begins in late February or early March in southern New Hampshire, and a little later in the northern part of the state. In order for the sap to flow, sugarmakers need a consistent period of warm, sunny days and cold nights. In New Hampshire about 90,000 gallons of maple syrup are made each season.
Don't forget to bring plenty of New Hampshire maple products home with you. Real New Hampshire maple syrup and maple candy make great gifts for friends, family, and, of course, yourself!
Maple Syrup Production
Many maple sugarmakers now use plastic pipelines and boil down the sap in modern stainless evaporators, but some still gather and boil the old fashioned way, with horse drawn wagons and wood fired evaporators. Steam rising from sugar shacks is a welcome sign of spring to come. 
For more information, visit our History and Production page.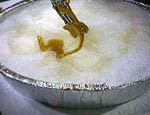 New Hampshire Maple Events
During the fourth weekend every March, over 50 sugar houses across New Hampshire open their doors to visitors. Take the opportunity to tour maple orchards and sugar houses and learn how maple syrup is made. Taste free samples of maple products and fill up on pancake breakfasts. So stop by one of the many maple sugar houses in New Hampshire to see first hand how maple syrup is made! Click on the links below to learn more. 
Great North Woods NH Maple Products
Berlin, Colebrook, Errol, Dixville, Lancaster, Pittsburg
White Mountain NH Maple Products
North Conway, Lincoln, Woodstock, Littleton, Franconia, Gorham, Jackson, Sugar Hill, Whitefield, Waterville Valley
Lakes Region NH Maple Products
Laconia, Rochester, Plymouth, Ossipee, Meredith, Ashland, Wolfeboro, Bristol, Winnipesaukee
Dartmouth Lake Sunapee NH Maple Products
Lebanon, Hanover, Claremont, Newport, Tilton, Lyme, Plainfield, Newport
Monadnock NH Maple Products
Keene, Peterborough, Fitzwilliam, Westmoreland, Chesterfield
Merrimack Valley NH Maple Products
Manchester, Concord, Nashua, Salem, Derry, New London, Merrimack, Loudon
Seacoast NH Maple Products
Portsmouth, Dover, Durham, Hampton, Exeter, Rye, Hampton Beach
NH Lodging Guide | Weddings
Products | NH Town Guides
Free World Mall

Country Weddings | New England Recipes
NH Inns | Boston Red Sox Gifts | Travel Destinations