Metallak – NH's Lone Indian of the Magalloway
Remembering A Native American Well Known In The North Country

According to legend, the last remaining member of the Androscoggin tribe of Native Americans, Metallak, died at the age of 120. Whether or not this was true, Metallk was no doubt famous and on friendly terms with Eurpoean settlers along the Canadian border of Northern New Hampshire and Maine. Today, there are two different mountain ranges named after him, as well as Metallak Island in Richardson Lake. Ask us about Metallak or share your comments. To feature your local products or business, contact us.
Metallak: Indian of Magalloway
Metallak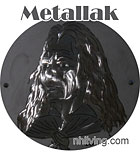 is name you will encounter in several place here in New Hampshire. The spelling may vary; Metalluc, Matalak, Metalak, but the reference is to one man.
The last survivor of a band of Native Americans known as the Androscoggin, Cowasuc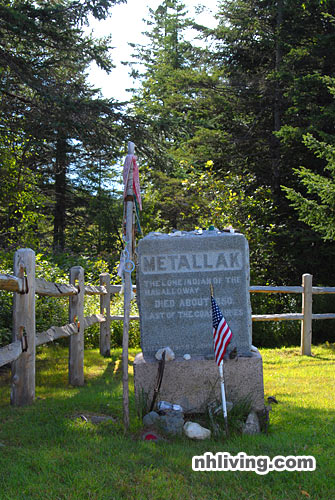 k or, more properly, the Arosaguntacook. The band was part of the Abenaki nation.
The Abenaki inhabited the upper Androscoggin and Magalloway rivers along the northern border of New Hampshire and Maine.
Metallak Island in Umbagog Lake and several mountains in the area are named after him. Metallak was the youngest son of Pial, chief of the tribe and was well known by early European settlers.
Metallak was on friendly terms with most. Metallak lived alone was partially blinded by an accident, in his later years. Metallak died a pauper in 1853 at the reputed age of 120.
New Hampshire Historic Market #47 is dedicated to Metallak. The Description on the plaque reads "Hunter, trapper, fisherman, and guide, well and favorably known by the region's early settlers. "The Lone Indian of the Magalloway" was the last survivor of a band of Abenaki inhabiting the Upper Androscoggin. Blinded by accidents, Metallak died a town charge in 1847 at the reputed age of 120."
If you would like to visit Metallak's grave site, he is buried in the North Hill Cemetery. The cemetary is about 10 south of Pittsburg, NH in the town of West Stewartston. Take New Hampshire Route 145, about one mile north of Stewartston Village. The North Hill Cemetery is on the right hand side of the road on a small knoll. This is a Native American sacred place, please leave any articles you find undisturbed.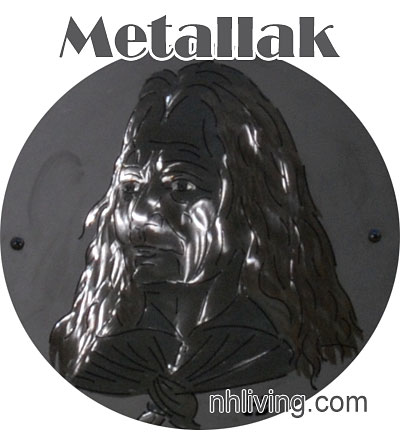 Metallak

Great North Woods NH


inns | hotels | resorts | rentals | attractions | dining | real estate


Partridge Cabins, 3 Partridge Road, US Route 3, Pittsburg, NH 03592 | Ph: 603-538-6380
Visit Partridge Cabins and Lodge - the four season place to be. We have 600 feet of lake frontage, and offer housekeeping cabins situated amidst the shade of sheltering spruce and fir trees. Completely winterized cabins with gas heaters, private baths, with hot and cold running water, electricity, and full kitchen facilities. All cabins are attractively furnished, and accommodate 4-8 people. Snowmobile, cross-country ski, hike, moose watch, and let's not forget fishing and hunting! Summer, fall, winter, and spring, you will find Partridge Lodge & Cabins most pleasing.
Visit Partridge Cabins - Pittsburg, NH
---


Cabot Inn & Suites, 200 Main Street, Lancaster, NH 03584 | 603-788-3346
A four-season family resort located in the heart of the White Mountains, over-looking the Presidential Range. 60+ acres, breathtaking views of the mountains. Bretton Woods, Cannon, Wildcat, Attitash, Loon, Black Mountain, Cranmore ski areas nearby. Family restaurant and lounge. Indoor heated pool, game room, outdoor playground, video game hook-ups. Santa's Village, Six Gun City, Story Land, Whale's Tale Water park a short drive away.
Visit Cabot Inn & Suites Lancaster
---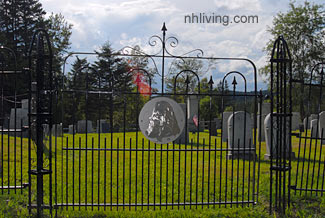 Metallak's grave site is located behind these gates in northern New Hampshire.
NH Lodging Guide | Weddings
Products | NH Town Guides
New England Living Magazine
Free World Mall

Country Weddings | New England Recipes
NH Inns | Boston Red Sox Gifts | Travel Destinations