NH Microbreweries
NH Beer, Ale & Stout Brewer's Provide Local Flavor

The New Hampshire microbrew industry has been gradually growing over the past several decades. This is due to the fact that New Hampshire has some wonderful microbrews. Browse our favorites below. Ask us about NE Pubs and Breweries or share your NH local brew reviews. To feature your NH Pub or Restaurant, contact us.
NH's Beer Ale & Stout Brewers


The Flying Goose Brew Pub & Grille, 40 Andover Road, New London, NH | 603-526-6899
The Flying Goose Brew Pub is a family run restaurant with 17 of our Handcrafted Brews on tap with panoramic views of Mt. Kearsarge in the quaint town of New London. Whether it be for a quick bite, a cold brew, or a place for family and friends to gather, we extend our "home" to you. Voted Best of NH Regional Favorite Restaurant for 3 years, we offer a relaxing environment to all who walk through our doors.
Visit Flying Goose Brew Pub New London
---


Woodstock Inn Station & Brewery, Rt. 3, No. Main, No. Woodstock, NH 03262 | 603-745-3951
Located in the quaint village of North Woodstock, the Inn's gracious and relaxed setting centers around 40 uniquely styled and cozy rooms and suites, located across 6 buildings on the property. All of our lodging options offer the comforts of home, including cable, free Wi-Fi access, air-conditioning and more. Many offer Whirlpool tubs and gas fireplaces. Includes free use of off-property indoor pool and health club. Voted a White Mountains favorite by NH Magazine, Hidden Gem award and "Worth a Journey" says Phantom Gourmet. Our famous country breakfast is included with your stay.
Visit Woodstock Inn Station & Brewery - No. Woodstock, NH
---


rek'•lis brewing company, 2085 Main Street, Bethlehem, NH 03574 | 603-991-2357
Tiny brewery, big beers! Enjoy Craft IPA's, Great Food, Entertainment, Special Events. Check the website for specials. Thursday night Trivia. The never ending quest to quench the 'thirst', whether it's on a bike, skis, or in a glass. This it where the passion comes from, it's what rek'•lis is, this is us, and now it's you... .
Visit rek'•lis brewing company - Bethlehem, NH
---


The Norwich Inn, 325 Main Street, Norwich, VT 05055
Vermont brewery tradition was revived at the Norwich Inn in 1993 when Jasper Murdock's Alehouse began producing traditional English-style ales in 5-gallon glass jugs. By 1995, an historic livery building was renovated and outfitted with a new four-barrel brew house, enabling 125-gallon batches. The vessels are now larger, but the Jasper Murdock Alehouse remains one of the smallest breweries in America. These hand crafted beers are sold only at the Inn. Call ahead and place your an order to pick up when you come to the Inn. The Norwich Inn offers an extensive, diverse and moderately priced menu incorporating traditional pub favorites with elegant dinner options. We have nightly dinner and wine specials that can be enjoyed in our pub or dining room 7 nights a week. An Inn has been on the site since 1797; the current Victorian Structure since 1890. We offer 38 guestrooms, Pub, Dining Room, and Microbrewery.
Visit Jasper Murdock's Alehouse
---


Wildcat Inn & Tavern, Rte 16A, Jackson Village NH 03846 | 603-383-4245
Through the Jackson covered bridge is a place that just might be perfect... a place where candle light dances and the love and laughter of a hundred years of happy travelers is as rich as the wide pine floors. We invite you to take a step back in time. Come prepared to laugh, love, and smile so hard you might just cry. After all, as brilliant stars twinkle in the clear night sky... you just might find that the Wildcat is almost perfect. Lunch, Dinner, Entertainment in the Tavern.
Visit Wildcat Inn & Tavern - Jackson Village, NH
---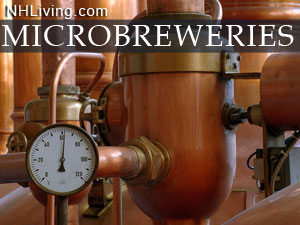 One of the best and most exciting features of the microbrew is how unique the brews often are. The various flavors are often given names fitting for the region in which it is sold, to go along with a theme that the microbrewery has, or the way in which the beer is brewed. Microbreweries tend to use local products to create unique regional flavors for their brews.
The Woodstock Inn Brewery in New Hampshire has several excellent examples of microbrews. Pig's Ear Brown Ale is an award winning brown that has a hearty nutty flavor and a sweet finish. In the spring they have the Kane Country Maple Porter, a full-bodied and smooth dark ale brewed with pure maple syrup. Another one of their creations worth mentioning would be their Autumn Brew. It is a nut-brown ale brewed with apples, cinnamon and nutmeg creating a taste similar to apple pie. A microbrew certainly provides the opportunity to enjoy some rather unique brews.

The term microbrewery was first coined to reflect the size of the brewery. Socially the definition has since come to reflect an unconventional approach and attitude toward brewing. The technical definition of microbrewery in the United States is a brewery that produces less than 15,000 barrels of beer annually.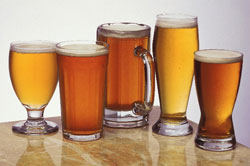 The way that microbreweries came to be so popular started with the prohibition. This caused many breweries to consolidate or shut down entirely. When prohibition was lifted their were only a few large companies that had survived and they were producing a mild lager. In order to get variety in their beer drinking many turned to brewing for themselves and some even grew into larger scale operations. These new microbrews quickly became popular and microbreweries sprang up rapidly. When a microbrewery and a bar are combined it is known as a brewpub. 
With the microbrewery industry steadily growing and new and interesting brews arriving each season finding one to please you palate should not prove problematic. Some of the more well known New Hampshire microbrews includes Redhook Ale, Smuttynose, Franconia Notch Brewing Company, and Nutfield. So, grab a microbrew sit back and enjoy.
NH Lodging Guide | Weddings
Products | NH Town Guides
New England Living Magazine
Free World Mall

Country Weddings | New England Recipes
NH Inns | Boston Red Sox Gifts | Travel Destinations