Mount Washington Valley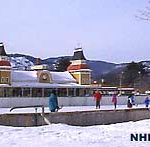 The NH Mount Washington Valley is the area near Mt. Washington, including the Saco river valley. The Mt. Washington Valley is sometimes referred to in print as MWV. NH's Mt. Washington Valley is a top vacation destination with many inns, resorts, ski areas, hiking trails, lakes and attractions. Ask us about the Mt. Washington Valley and let us help you plan the perfect vacation. Please share your comments. To feature your Mount Washington Valley business, contact us.
Mount Washington Valley Vacations
Places to Stay in the Mount Washington Valley


Inn at Ellis River House B&B Inn, 17 Harriman Road, Jackson, NH 03846 | 603-383-9339
Enchanting Country Inn offering "Romance & Rejuvenation" on the river in the heart of the White Mountains. 20 rooms and cottage are beautifully appointed with period and modern amenities. Many have Jacuzzis for two and/or balconies, most have fireplaces. Gourmet country breakfast and afternoon refreshments included. Enjoy the cozy game room/pub, hot tub, sauna, and outdoor heated pool. Relax, re-discover lifes simple pleasures, hike, fish, golf nearby, cross country or downhill ski, outlet shop and more. Let the Inn at Ellis River rejuvenate your spirits!
Visit Inn at Ellis River - Jackson. NH
---


Sugar Hill Inn, 116 Scenic Route 117, Sugar Hill Road, Sugar Hill, NH 03586 | 603-823-5621
Nestled into the hillside on 16 acres of woodlands, rolling lawns and well-tended gardens, you will find the beauty and tranquility of New Hampshire's White Mountains. The Sugar Hill Inn is a perfect place to relax, rejuvenate and re-discover lifes simple pleasures. A place where romance is virtually guaranteed. 5- star dining.
Visit Sugar Hill Inn - Sugar Hill, NH
---


Franconia Inn, 1300 Easton Rd., Franconia, NH 03580 | 603-823-5542
"In the Land of Big Mountains and Small Villages." Nestled in the heart of the beautiful White Mountains of New Hampshire, The Franconia Inn is a full service country inn, where casual elegance and exquisite cuisine are just waiting to welcome you. Please visit our website for more information.
Visit Franconia Inn - Franconia, NH
---


Woodstock Inn Station & Brewery, Rt. 3, No. Main, No. Woodstock, NH 03262 | 603-745-3951
Located in the quaint village of North Woodstock, the Inn's gracious and relaxed setting centers around 40 uniquely styled and cozy rooms and suites, located across 6 buildings on the property. All of our lodging options offer the comforts of home, including cable, free Wi-Fi access, air-conditioning and more. Many offer Whirlpool tubs and gas fireplaces. Includes free use of off-property indoor pool and health club. Voted a White Mountains favorite by NH Magazine, Hidden Gem award and "Worth a Journey" says Phantom Gourmet. Our famous country breakfast is included with your stay.
Visit Woodstock Inn Station & Brewery - No. Woodstock, NH
---


Wildcat Inn & Tavern, Rte 16A, Jackson Village NH 03846 | 603-383-4245
Through the Jackson covered bridge is a place that just might be perfect... a place where candle light dances and the love and laughter of a hundred years of happy travelers is as rich as the wide pine floors. We invite you to take a step back in time. Come prepared to laugh, love, and smile so hard you might just cry. After all, as brilliant stars twinkle in the clear night sky... you just might find that the Wildcat is almost perfect. Lunch, Dinner, Entertainment in the Tavern.
Visit Wildcat Inn & Tavern - Jackson Village, NH
---
Include Me shortcode: file not found
The towns and villages that comprise the Mount Washington Valley include: Jackson, Jackson Village, Gorham, Shelburne, Bartlett, Intervale, North Conway Village, Fryeburg Village (Maine), Conway Village, Snowville, Eaton Village, Chocorua and Tamworth Village. The Mt. Washington Auto Road, Storyland, The MWV Children's Museum, The Mount Washington Observatory, and the historic Omni Mt. Washington Resort are among the famous attractions located here. In addition to the Mt. Washington Valley inns and resorts, there is also a nice selection of Mt. Washington Valley
Vacation Rentals
homes and
Campgrounds
available.
NH Lodging Guide | Weddings
Products | NH Town Guides
Free World Mall

Country Weddings | New England Recipes
NH Inns | Boston Red Sox Gifts | Travel Destinations