New Hampshire Mountain Biking
NH Mountain Biking Extreme Sports & Outdoor Adventure Sports

One of New Hampshire fastest growing outdoor extreme sports is Mountain Biking. Mountain biking entails the sport of riding bicycles off-road – often over rugged terrain. This form of bike riding is usually done with specially equipped bikes – called mountain bikes. Mountain bikes or retrofitted street bikes are fitted with wide, knobby tires, large frame tubing, and dual suspension shocks. Ask us about NH Mountain Biking or share comments. To feature your business, contact us.
New Hampshire Mountain Biking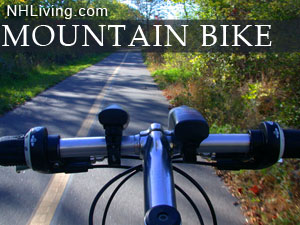 This individual sport requires endurance and self-reliance as a flat tire deep into the woods makes for a long walk home if you are not prepared and skilled enough to fix it yourself while out on the trail. There are four major categories of Mountain Biking; Cross Country, Downhill, Free Ride, and Trail / Sreet Riding. Most of the mountain biking in New Hampshire is done on wooded trails that are sometime used for other purposes so extreme caution should be used at all times.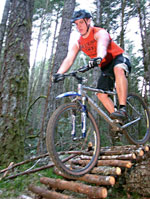 Bartlett Experimental Forest
Route 302
Bartlett, NH
This rural region is easy to get to and offers superb mountain biking, hiking, and scenic views. There are miles of trails in this region – primarily created by snowmobilers. These trails offer challenging back road biking. There are many bridges that cross the streams and brooks in the forest just south of Route 302.
Bear Brook State Park
Allenstown, N.H.
The old logging roads and newer trails here in Bear Brook have been well maintained by volunteers from several oganizations. The rollling Ferret Trail or Bobcat trail are great for easy mountain biking. Other trails here include; Carr Ridge, Bear Hill (a tough climb) , Pitch Pine. Bear Hill Pond provides a place to wash off the mud.
NH Lodging Picks | Weddings
Products | NH Town Guides
New England Living Magazine
Free World Mall

Country Weddings | New England Recipes
VT Inns | Red Sox Gifts | Travel Destinations