NH Lodging & Restaurant Association
Stars of the NH Hospitality Industry Awards

NHLRA (New Hampshire Lodging and Restaurant Association) is the state wide trade association for the hospitality and tourism industry in New Hampshire.  They actively lobby in Concord on behalf of the NH Lodging and Restaurant industry and focus on small business issues. The NHLRA offers programs and services designed to give small businesses greater buying power, and they market their members direct to consumers. Many of their programs include; ServSafe certification programs, Sustainable Programs and NH Restaurant Week, among other events. Ask us about NHLRA or your NH industry news and comments. To feature your business, contact us.
NH Lodging and Restaurant Association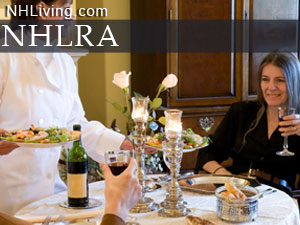 The annual New Hampshire Hospitality awards dinner is presented by the NHLRA (New Hampshire Lodging and Restaurant Association). The NHLRA is the states largest organization the represents the hundred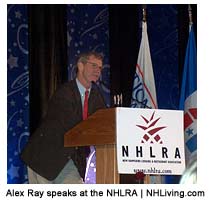 s of NH restaurants, inns, hotels and hospitality industry service businesses.
in Manchester presented the following awards at the Radisson Hotel Manchester at the Center of New Hampshire. NHLiving.com would like to congratulate all of the finalists.
The NHLRA was founded in 1914. It is a statewide, non-partisan trade organization whose mission is to promote, protect and educate the food service and lodging industries and ensure positive business growth for its members.
NHLRA strives to represent the best interest of its member on small business issues, hospitality and tourism concerns and towards the protection of New Hampshire's Quality of Life.
Some of the annual awards that are presented each year from the NHLRA include the following:
The New Hampshire Innkeeper of the Year
New Hampshire Restaurateur
New Hampshire Lodging Employees of the Year
New Hampshire Restaurant Employees of the Year
NHLRA Allied Member of the Year
Previous NHLRA Award Winners include:
Sunset Hill House – Nancy and Lon Henderson – 2004 Innkeepers of the Year
NH Dining – Top Restaurants By Region
NH Lodging Guide | Weddings
Products | NH Town Guides
New England Living
Free World Mall

Country Weddings | New England Recipes
NH Inns | Boston Red Sox Gifts | Travel Destinations