Northern Rail Trail System Expands
NH Hiking Trails: Danbury, Wilmot, Andover, Franklin

Located in Western NH, the Northern Rail Trail is a 48 mile, multi-use rail trail that travels from Lebanon to Franklin New Hampshire. Acquired by the state in 1996, this rail trail is currently maintained by the NH Bureau of Trails. Ask us about NH Rail Trails or share your reviews and comments. To feature your business, contact us.
One of the prettiest rail trails in New Hampshire has recently been extended from Merrimack County to Andover and on to East Andover village. The Northern Rail Trail goes through the towns of Danbury, Wilmot, Andover, Franklin, and Boscawen in Merrimack County
The Northern Rail Trail – a free to the public hiking trail along former railroad tracks – in Merrimack County now runs 3.4 miles from the quaint and historic Victorian railroad station and museum in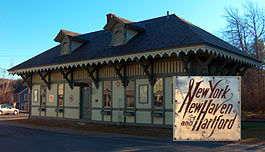 Potter Place to Switch Road in Andover. It crisscrosses the meanders of the Blackwater River through cornfields and wetlands with views of Mount Kearsarge to the south. By the end of August 2007, two more miles will be added, taking the rail trail to beautiful East Andover. Along the way, one passes by, through or over a classic wooden covered bridge, two old railroad trestle bridges, a swimming hole, a playground, ball field, Horseshoe Pond and the shores of picturesque Highland Lake.
This rail t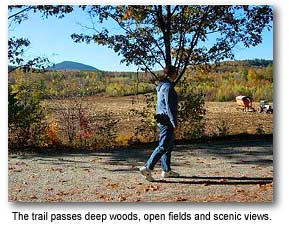 rail is the work of the Friends of the Northern Rail Trail in Merrimack County, a volunteer group working to resurface 35 miles of disused Northern Line rail bed from Danbury to Concord. Unpaved but with a smooth surface, it will ultimately connect with the 24-mile Northern Rail Trail in Grafton County that runs from Lebanon to Danbury. The combined rail trails will comprise 59 miles of continuous rail trail, the longest in New Hampshire, connecting the Connecticut River Valley with the Lakes Region.
This rail trail has been funded by state and federal funds as well as individual contributions. The Friends are working now to develop the administrative structure to take advantage of a $206,000 federal Transportation Enhancement grant to make 8.3 miles of surface rideable and walkable from Potter Place north to Danbury.
Like all rail beds, it is flat, with at most a 2% change in grade. It provides a pleasant ride for families with mixed levels of expertise and stamina. By adding a loop through Wilmot and other parts of Andover, one could experience a more challenging 12 to 20-mile ride. The rail trail traverses undeveloped land with wild life sightings.
Once a small mill center, East Andover is a tiny village on the shore of Highland Lake, where t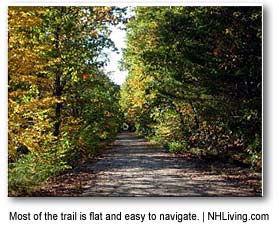 here is a town beach. The East Andover Post Office and East Andover Store are across from the rail trail. The old Grange Hall, church and Bachelder Library are clustered together on one hill. From another the European-toned Highland Lake Inn overlooks the channel exiting the lake as well as the rail trail. Those starting to walk or bike the rail trail in East Andover are welcome to park at Highland Lake Inn at 32 Maple Street.
Bikers, walkers, and horseback riders are all welcome on the rail trail in non-snow seasons. It is accessible to wheelchairs. Bring a bathing suit on a hot day, either to jump in the quiet waters of the Blackwater River or Highland Lake.
Getting There
FROM BOSTON or MANCHESTER, NH
I-93 north into NH to Exit 17.
Follow Route 4 west for approximately 16 miles. 
Turn right onto Route 11 east and continue for 3.5 miles. 
Directly before the Andover Congregational Church, you will see on the left a sign for Highland Lake Inn.
Turn left driving across a wooden bridge onto Maple Street. 
The Highland Lake Inn is the fourth house on the right side, 32 Maple Street.
FROM NYC, HARTFORD, SPRINGFIELD:
I-91 north to White River Junction.
Take I-89 south to Exit 11 to Route 11 east. 
Follow Route 11 east into East Andover (approximately 13 miles). 
Just before reaching the Andover Congregational Church turn left onto Maple Street, just after the sign for Highland Lake Inn. Drive across a wooden bridge.
The Highland Lake Inn is the fourth house on the right side, 32 Maple Street.
FROM QUEBEC or SHERBROOKE (Canada):
South on I-93 to NH to Exit 20 Tilton – Route 3 / Route 11.
Follow Route 3 / Route 11 west for approximately 12 miles through Tilton and Franklin. (Caution: In West Franklin Route 11 continues to the left just before Robert's Market and a gas station.
Directly after the Andover Congregational Church, turn right onto Maple Street, driving across a wooden bridge.
The Inn is the fourth house on the right side.
If you have a GPS system use: N 43º 27.614′ W -71º 45.019′ Elev. 706′
Walk down from the Highland Lake Inn to the East Andover Fire House and pick up the trail. Head west and you're on your way.
Where to Stay
The Dartmouth / Sunapee, Andover / Danbury area has several excellent inns and B&B lodging. The Northern Rail Trail can be accessed easily from several of these fine New Hampshire inns. Find our recommended inns and Bed and Breakfast Inns here. For more information on the Northern Rail Trail in Merrimack County and updates on the East Andover construction visit their web site. Contributions to the rail trail may be sent to FNRT, PO Box 154, Andover NH 03216.
More Dartmouth / Sunapee Area Hiking
– Special thanks to Myra, Friends of the Northern Rail Trail and Pecco Beaufaÿs of Highland Lake Inn from NHLiving.com

NH Dartmouth / Lake Sunapee Region
inns | hotels | resorts | rentals | attractions | dining | real estate
NH Lodging Guide | Weddings
Products | NH Town Guides
New England Living Magazine
Free World Mall

Country Weddings | New England Recipes
NH Inns | Boston Red Sox Gifts | Travel Destinations