Partridge Cabins & Lodge
Pittsburg, NH Vacations & Lakeside Housekeeping Cabins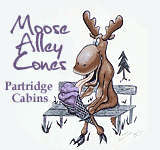 Why have I never stayed here before? My exact words when I was shown Moose our lodging accommodations at Partridge Cabins & Lodge on First Connecticut Lake in Pittsburg, NH. Partridge Cabins offer lakefront views and true luxury in the north country where fishing, birding, and snowmobiling is just steps from your front door. These wonderful housekeeping cabins, some salvaged from the US Army Core of Engineers and relocated here from a location farther north, have been completely restored and are all quite comfortable. Ask us about Partridge Cabins & Lodge or share your comments. To feature your business, contact us.


Partridge Cabins, 3 Partridge Road, US Route 3, Pittsburg, NH 03592 | Ph: 603-538-6380
Visit Partridge Cabins and Lodge - the four season place to be. We have 600 feet of lake frontage on First Connecticut Lake. We offer housekeeping cabins situated amidst the shade of sheltering spruce and fir trees. Completely winterized cabins with gas heaters, private baths, with hot and cold running water, electricity, and full kitchen facilities. All cabins are attractively furnished, and accommodate 4-8 people. Snowmobile, cross-country ski, hike, moose watch, and let's not forget fishing and hunting! Summer, fall, winter, and spring, you will find Partridge Lodge & Cabins most pleasing.
Visit Partridge Cabins, Pittsburg, NH
The first impression is how VERY clean and comfortable these housekeeping cabins are, secondly, how well-equipped the kitchens are, and last but not least, the mattresses and bedding are first rate and quite comfortable. Cabin amenities also include TV with Satellite, amazing views of First Connecticut Lake, and the newer cottages have unobstructed lake views and wireless internet for a fee (cell phones still do not work in the Connecticut Lakes region of New Hampshire).
Notice the beautiful glass door enhancements on many of the cabins; they are truly unique. The land where Partridge Lodge and Cabins sits was once part of a large farm that spread across both sides of US Route 3 and extended to the shore of First Connecticut Lake. The land included a natural pond which may still be seen today. It is located directly across the road from the main lodge and reception area. Partridge Lodge and Cabins has a newer man-made pond located directly beside the main lodge and now includes benches, chairs and a gazebo for guests to enjoy.

The pond is a nice place to practice your fly fishing or spin-casting techniques as well. Boat rentals, canoes and kayaks can be rented by guests on the premises.
A dock extends from the property shore into the lake. The property improvements have been a labor or love. Jerry has been in Pittsburg doing what he does with flair for more than 35 years. Cathy joined him 27 years ago and they have both been loving every minute since. In 1995 they openedMoose Alley Cones. Open to the public (just look for the stuffed moose, it's the only one you'll see on US Route 3), Moose Alley Cones is on my recommended good places to visit in Pittsburg.
A complimentary ice cream cone is offered to each guest that stays at Partridge Cabins. Just imagine FREE ice cream. Moose Alley Cones makes some awesome sundaes and frozen treats. They are famous for the "Banana Bucket".
Moose Alley has a growing legion of fans that make the long drive to Pittsburg for a hand-packed cone. One of Cathy's joys is watching the smiles that ice cream brings to her customers' faces.
Our stay at Partridge Cabins was over far too quickly.
This was a very delightful experience, and I would recommend contacting Cathy and Jerry to book your next Great North Woods vacation in the Connecticut Lakes Region of Northern New Hampshire. Tell them NHLiving sent you.

Partridge Cabins
3 Partridge Road, US Route 3
Pittsburg, NH 03592 Ph: 603-538-6380
www.partridgecabins.com
NH Attractions | Pittsburg, NH | NH Events

Great North Woods NH


inns | hotels | resorts | rentals | attractions | dining | real estate
NH Lodging Guide | Weddings
Products | NH Town Guides
Free World Mall

Country Weddings | New England Recipes
NH Inns | Boston Red Sox Gifts | Travel Destinations