NH Pet Pampering
Pet Products, Pet Travel – Pet Trends – Pet Friendly Hotels – Inns – Resorts

Dog and cat ownership has exploded in America in recent years. It's now estimated that two out of every three American homes not only have pets, but approximately 36 billion dollars are spent a year on pampering our fur kids. Today's American pet parents cover a wide demographic, from baby boomers and empty nesters to hip fashionistas and outdoor enthusiasts.Ask us about NH Dog-Friendly, Pet Friendly Lodging or share comments. To feature your business, contact us.
NH Dog Pampering Vacation Lodging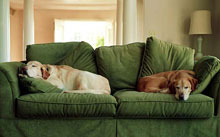 When you consider the well-documented health benefits of owning pets, many people say the amount of money spent is well worth every penny. Numerous studies indicate that pets not only fight depression and loneliness, but help to lower blood pressure, prevent heart disease and lower health care costs as well. Talk about the benefits of pet ownership!
With the increasing importance of pets as valuable members of the family, the pet care industry has exploded into a myriad of new directions. Gone are the days of simply kenneling your pooch when you travel away from home. Now we have luxury dog spas and decadent doggie hotels. Not only does my kennel care provider speak to her charges as if they're human, she allows my fur kid to sleep with her at what could be considered the perfect doggie slumber party, and hand-feeds my pup tiny morsels of perfectly grilled steak as a snack.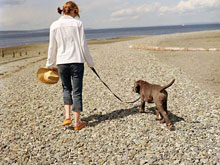 Dog groomers no longer stop at a wash and a trim. These days, pooches are coming out of the doggy salons sporting perfectly painted nails that coordinate with their designer duds, their hair swept into elaborate, bejewelled and beribboned up-dos, and even the occasional professionally colored hair dye job.
With each year that goes by, we are seeing an increase in the number of pet-friendly hotels, shopping centers and restaurants, as well as groomers, pet salons, pet massage services, pet daycares, pet insurance, pet hotels, pet funeral services, and even lawyers that offer pet trusts. New Hampshire businesses are seeing a dramatic increase in the number of pet owners who travel with their animals, and have begun to accommodate pet owner needs beyond just allowing animals on the premises.
TOYS

Pupperware Parties
A new twist on the old Tupperware parties, these direct-marketing events cater to both dogs and cats alike. Not only do they offer a diverse range of vet-approved products, but they're a great way to give your fur kids some playtime with their friends. < Shop Online >

Meat Flavored Bubbles
So much for the basic soapy bubble! Chicken, steak, bacon – all the smells you can choose to tantalize your critter's senses, keep them fascinated and really give them a reason to bite those bubbles they're chasing around the yard.< Shop Online >
Interactive & Indestructible Toys
Made of incredibly stong rubber, indestructible toys are perfect for the aggressive chewer. Interactive toys offer crevices to stash treats and encourage your pets to get rewards. < Shop Online >
Pet Videos & DVD's
Designed to entertain your pets, these pet DVD's are often designed by pet behaviorists and feature images and sounds of nature that will intrigue your critters for hours on end. < Shop Online >

TREATS

Gourmet Treats
The new breed of dog cookies may be frosted, but there's nothing sweet about them! Often baked fresh to order, gourmet dog treats use the finest available ingredients to create savory delicacies your pet will love. < Shop Online >
Organic & Holistic Pet Foods
The growing concern about the origins of pet food sources, and a concern for pet health, have led more and more companies to develop all-natural, certified organic pet food. Now our fur kids can eat as healthily as we do! < Shop Online >
Pet Ice Cream
Although dairy products can be bad for your dogs digestive system, many dog ice creams have come into existence, that are made from such healthy foods as yogurt, peanut butter and honey. Perfect for those hot doggy days! < Shop Online >
Neutraceuticals & Supplements
As our pet population ages, they become prone to many of the same ailments as humans do. By supplementing your pet's diet with pet vitamins, joint herbals and electrolyte waters designed just for pets, you help them live long, comfortable lives. < Shop Online >

CREATURE COMFORTS

Designer Totes/ Pet Fashion
From stunning Gucci dog totes to Swarovski crystal-laced sweaters, the sky's the limit for pet fashion! These days, it's rare to see a hollywood starlet without her micro-dog in matching fashion and, with entire boutiques dedicated to pet apparel, some dogs and cats are dressing quite well! < Shop Online >
Advanced Design Bedding
From orthopedic and memory foam mattresses to sleeping bags, elevated cooling pads and heated thermo beds, there is quite a range of pet bedding to choose from, and some companies are even producing top-line, hardwood sleigh beds. < Shop Online >
Pet Shoes
From Nikes to Adidas, there is wonderful selection of fashionable dog footwear to choose from these days. On a more practical side, all-terrain footwear is ideal for cold winter climates or outdoor enthusiast pups that hike frequently with their humans. Offering comfort, fashion and protection, all in one little package. < Shop Online >
Pet Furniture
From miniature divans and sofas to entire rooms dedicated to the art of climbing, there is a diverse array of pet furniture to fit even the most fickle feline's needs. Dogs and cats alike will enjoy their own furniture to lounge, sleep or play on. < Shop Online >

ATTENTION

Exercise Classes
Remember Astro in the Jetsons? Now you too can have a dog-size treadmill to guarantee your fur kid gets the exercise he needs. Looking for something more interactive? Check out "Doga", the latest version of yoga classes that are centered around human/ dog teamwork. < Shop Online >
Pet Resorts, Salons & Day Spas
Far beyond a shampoo and a clip, today's pet salons offer manicures and pedicures, hair (fur?) coloring, massages, ribbons and bows. Many of these modern pet facilities now offer boarding, grooming, boutique shopping, training, massage, playrooms and vet services – all at one place.
Massage Therapy
All of our pets respond quite positively to human touch. The next step is pet massage. From licensed massage therapists that specialize in pets, to home-study courses and training seminars, there are a few different options to keep your fur kid relaxed and peaceful. < Shop Online >
High End Fragrances & Beauty Products
From French pet perfume to bath salts, scented powders and massage lotions, the pet beauty market has pulled out all the stops. A popular new trend is pet gift baskets, filled to the brim with every form of aromatherapy-based scent and balm you can think of. Gone are the days when a dog smelled like a dog! < Shop Online >
Did we miss something?
NH Lodging Guide | Weddings
Products | NH Town Guides
New England Living Magazine
Free World Mall

Country Weddings | New England Recipes
NH Inns | Boston Red Sox Gifts | Travel Destinations