Plymouth NH Getaways
Plymouth NH Lakes Region & Gateway to the White Mountains



George's Seafood & More, 588 Tenney Mountain Hwy, Route 25, Plymouth, NH 03264 | 603-536-6330
George's Seafood and More restaurant is a great year round family eatery nestled in the foothills of the White Mountains in Plymouth NH. Serving fresh seafood, steaks, burgers and sandwiches. Clambakes, Fried Seafood, Chowders, Surf N' Turf, BBQ Ribs. Daily specials. Combo Baskets, Kid's menu available. Open 7 days a week for lunch and dinner.
Visit George's Seafood & More Restaurant - Plymouth, NH
---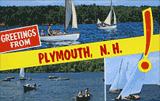 The NH Lakes Region town of Plymouth is looking and feeling better than ever. With a growing party atmosphere that includes a thriving art community, live music venue, popular Plymouth State University, great restaurants, unique shops and natural splendor, don't overlook Plymouth when planning your next escape. Ask us about Plymouth, NH or share comments. To feature your business, contact us.
NH Getaways: Visiting Plymouth, NH

Home of the Plymouth State University and Pemi the Panther (Plymouth State's Mascot).
Plymouth Vacation Getaways
Plymouth is a small town located just 20 miles south of Franconia Notch State Park. You might drive right by exit 25 or 26 on your journey up or down I-93, but I would recommend that you stop a while.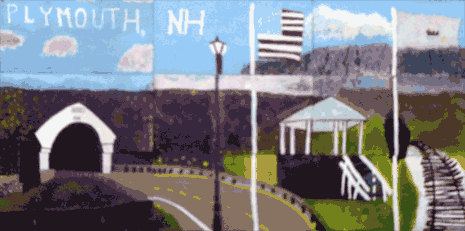 There are a few lodging establishments in the Plymouth proper area. Find our favorites below.
There are several good choices of places to dine in Plymouth. Topping our list is the Six Burner Bistro. Other good choices are George's Seafood and Ice Cream just out of town on the Tenney Mountain Hwy., the local and historic Plymouth Diner, Main Street Station, Lucky Dog Tavern (we've heard the wings are "the best"), Fosters, and The Italian Farmhouse, CMan Restaurant Group offerings are also on the list.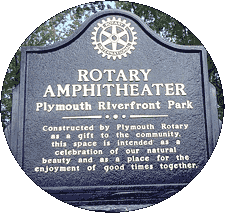 There are many reasons to visit Plymouth. The region's natural beauty includes Livermore Falls (see photo below). Plymouth is a busy college town. Plymouth State University is growing. The facilities have been upgraded and the school has earned a reputation as one of the nation's top party schools. The Pemi Valley scenery is fantastic, skiing, snowboarding, river rafting, and mountain adventures are right up the road and now there is a vibrant nightlife and art scene.
Downtown Plymouth
Downtown Plymouth includes the college, unique shops, delis and great bakery on the Main Street. The Flying Monkey Performance Center (formerly known as the Plymouth Movie Theatre) is bringing big venue entertainment to the town. We heard Leon Russell in concert from the fourth row. Great performances in a smaller venue and comfortable seats. A nice venue to hear live music and see concert performers upclose.
NH Lakes Region – Pemi Valley
The NH Lakes Region towns of Meredith, Ashland, Laconia, and Wolfeboro are just a few miles away which makes Plymouth a great stopping area and a bit less expensive.
Why not plan a Plymouth Getaway this year? Check out the schools, have dinner, enjoy a live show, and let them know NHLiving.com sent you. Safe driving!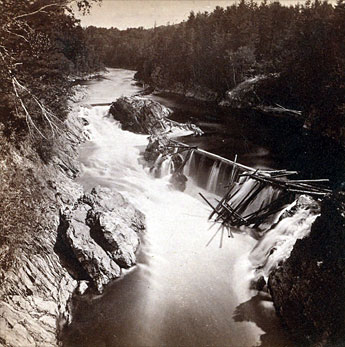 Historic Livermore Fall, Plymouth NH Photo | Click to Enlarge
Plymouth NH Photos | NH Dining Reviews
Plymouth NH Inns | Plymouth NH Lodging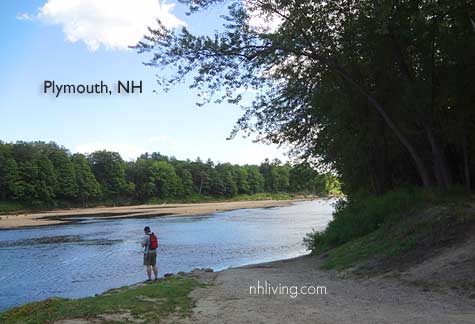 NH Lodging Guide | Weddings
Products | NH Town Guides
New England Living Magazine
Free World Mall

Country Weddings | New England Recipes
NH Inns | Boston Red Sox Gifts | Travel Destinations