NH Politics
New Hampshire Politicians & Elected Officials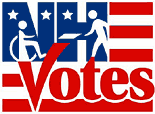 New Hampshire politics are as varied as the terrain. From sandy beaches to ragged mountains the Granite state is an interesting blend of Independents, Republicans, Democrats, Libertarians, and others. Until recent years New Hampshire usually voted Republican. Prior to 1992, New Hampshire had only strayed from the Republican Party for three presidential candidates – Woodrow Wilson, Franklin D. Roosevelt and Lyndon B. Johnson. NH voted for Presidents Richard Nixon and Ronald Reagan twice by overwhelming majorities. NH attracts millions of dollars during political campaigns due to the states first in the nation primary status. Please share your comments.
Live Free Or Die
New Hampshire's state motto "Live Free Or Die" is taken seriously. New Hampshire is the only state in the nation that operates without a sales tax. Broad-based taxes are limited and are opposed by most residents although there is a 9% sales tax on rentals (car rentals, vehicles and rooms)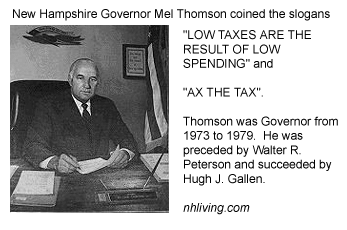 and meals, and a 5% income tax on dividends and interest. Governor John Lynch also signed a Business Enterprise Tax, which is essentially an income tax on sole proprietors. New Hampshire Politicians, however, are routinely asked to take "The Pledge" against broad-based taxes.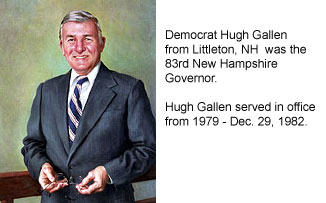 The two parties; Republican and Democratic make up most of the voters here. Many New Hampshire residents are registered as Independents and many others disregard party affiliation to vote for a favorite candidate. This has made for some surprising upsets in New Hampshire elections. Like most New Englanders, many New Hampshire residents tend to be wary of polls and pollsters. Many New Hampshire residents prefer to keep their political views and ideas to themselves. The first voting in New Hampshire takes place in the small, northern town of Dixville Notch, New Hampshire.
The New Hampshire North Country – that is the area north of the White Mountains tends to be much more politically conservative than the southern tier of the state.
New Hampshire State Political Parties
New Hampshire Democratic Party
www.nhdemocrats.org
New Hampshire Republican Party
www.nhgop.org
New Hampshire Libertarian Party
www.lpnh.org
New Hampshire Politicians
US Senate
Jeanne Shaheen (D) – Next election 2014
Kelley Ayotte (R) – Next election 2016
US Congress
Carol Shea-Porter (D) – 
Annie McLane Kuster (D) –
Governor
Maggie Hassan (D) –
New Hampshire State Election Office
Secretary of State's Office
William M. Gardner – Sec. of State – http://www.sos.nh.gov/
Senior Deputy Secretary of State – Robert P. Ambrose
Deputy Secretary of State – David M. Scanlan
Location: State House, Room 204
107 North Main Street
Concord, N.H. 03301-4989
Ph: 603-271-3242
Email: Elections@sos.state.nh.us
New Hampshire Presidential Primary
The date of the upcoming Presidential Primary has not yet been determined.
NH Lodging Guide | Weddings
Products | NH Town Guides
Free World Mall

Country Weddings | New England Recipes
NH Inns | Boston Red Sox Gifts | Travel Destinations