Six Burner Bistro Dining Review
Plymouth New Hampshire Lunch & Dinner at Six Burner Bistro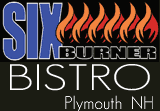 The NH Living Magazine New Hampshire Restaurant and Dining Guide presents Six Burner Bistro – from a quick lunch to a relaxed, complete dinner in Plymouth, NH. If you would like to feature your outstanding New Hampshire restaurant in NH Living.com, please contact us. Experience this amazing Plymouth, NH restaurant – when visiting, please tell them you found them online in NHLiving.com – New Hampshire's Internet Magazine. contact us.
Plymouth NH Restaurant Dining: Six Burner Bistro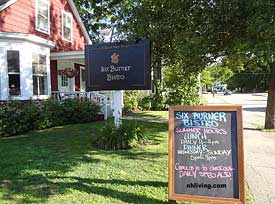 Along my explorations of Plymouth, New Hampshire I found a dining experience I need to share. The Six Burner Bistro. Although this is not a new establishment it is now under the management of the owner and we thoroughly enjoyed not just one meal here but returned two weeks later for lunch. Here are our results.
Lunch in Plymouth, New Hampshire
Lunch at the Six Burner Bistro is a casual affair. Lunch is ordered at the counter and they will bring it to you. Several specials daily along with soup(s) and a menu board that offer a wide variety from pulled pork, reubens, Thai salmon and vegetarian sandwiches and wraps (try the steak bomb or cheese steak).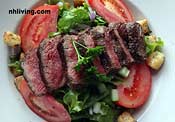 Many selections of salads and side dishes for those with smaller appetites or as an addition. The casualness at lunch is great, and lunch can be in a hurry if you need to go, or if not, you can choose to sit and converse. Fresh cookies tempted us on the counter for dessert. Who can resist fresh baked cookies still on the cookie tray?
Dinner at Six Burner Bistro
Compared to lunch, dinner is a completely different dining experience at the Six Burner Bistro.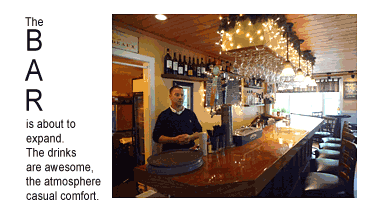 Dinner is full service with a great bar area, skilled, professional bartender, and a nice selection of wines. Several small but very comfortable dining rooms allow a bit more intimacy for diners.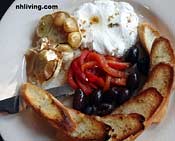 The best appetizer on the menu, in my opinion, is the Goat Cheese & Garlic – Whole roasted head of garlic, warm goat cheese, roasted red peppers, and black olives, served with toasted French bread. Definitely enough to share, but I didn't want to and so good. Everything is warm so it melts in your mouth. The Artichoke Heart Francaise, Crab Cakes, and the Pork Dumplings tempted me as well. A great array of choices for starters and salads were also plentiful on the menu including the Grilled Steak Salad.
Entrees we loved were Tenderloin of Beef – Cognac and peppercorn cream demi-glace, and a flavorful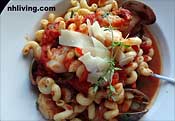 Seafood Fra Diablo (a bit spicier than most places but very good).
Dessert was Crème Brulee and me, the dessert Queen, struggled to eat this as I was so totally and happily filled. It was well worth it.
To say Six Burner Bistro had a focus on fresh food with great combinations would be quite accurate. I will be visiting them again. Include lunch and/or dinner at The Six Burner Bistro during your next Plymouth NH Getaway. The Six Burner Bistro is worth a special trip. Tell them NHLiving.com sent you.
– Debi G for NH Living Magazine. Click the food photos for an enlarged view.

Six Burner Bistro, 13 South Main Street, Plymouth, NH 03264 Ph: 603-536-9099.
The Six Burner Bistro is located located in an 1850's farmhouse on South Main Street in Plymouth, NH. Our dining room is intimate with a cozy wood burning fireplace and our pub is quaint with outdoor seating in nice weather. Chef Rob Kelley uses locally raised beef and shops daily for the freshest produce gathered from farms in the Plymouth area. Lunch: 7 days a week 11am – 4pm, Dinner: Wednesday – Sunday from 5pm. Reservations appreciated.
www.sixburnerbistro.com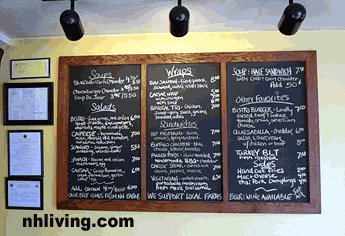 inns | hotels | resorts | rentals | attractions | dining | real estate
Free World Mall

Country Weddings | New England Recipes
NH Inns | Boston Red Sox Gifts | Travel Destinations