Rock Climbing in NH
A New Hampshire Outdoor Adventure

Looking for an outdoor sport that inspires, challenges, and moves you to new heights? Try rock climbing in New Hampshire! Rock climbing is a sport that requires both agility of mind and body where the chief ingredient for success is not the most expensive gear, but the bravery and determination of the participant. For its devotees, rock climbing is about accomplishment – rock climbers do not climb but conquer the mountain walls they call their playground. Using every muscle, climbers negotiate the rock faces to reach the summit where they receive the rewards of unparalleled views, an incredible sense of pride, and a feeling of unity with nature. Ask us about NH Adventure Sports or share comments. To feature your business, contact us.
White Mountain NH Rock Climbing & Outdoor Sports


Alpine Adventures, 41 Main St, Route 112, Lincoln, NH 03251 | 888-745-9911
Zipline canopy tours with 2 courses to choose from, with 14 total ziplines, ropes bridges and plenty of exhilaration. Professionally guided, 2 hour tours offered year round, winter gear provided. Check out the Safari tours in 6-wheel Pinzgauers and guided snowmobile tours.
Visit Alpine Adventures
---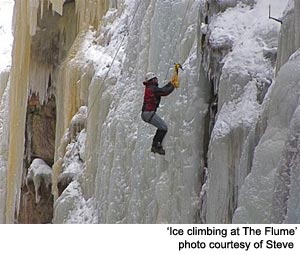 Rock Climbing Vocabulary:
Here are a few words and phrases you'll need to know.
YDS – Yosemite Decimal System. A difficulty rating system for climbs.
Free Climbing – climbing with hands and feet; the rope is used only to hold a fall.
Solo Climbing – climbing without a rope.
Belay – The person holding the other end of the rope.
Rappelling – sliding back down the rock with ropes.
Pitch – the distance between belay points.
Basic Equipment List:
Things that you will need to begin in the sport of rock climbing:
Climbing Shoes – These shoes have a special sticky rubber sole that help you get traction on the rock.
Climbing Ropes – Special rope with stretching action.
Harness – The key piece of equipment for performance and safety.
Belay Device – Provides a way to hold you during a fall
Beginning Rock Climbing:
When beginning rock climbing, you should always consult an expert who can give you instructions and encouragement. There is much to learn about safety, and a qualified instructor can show you the ins and outs on staying safe on the rocks.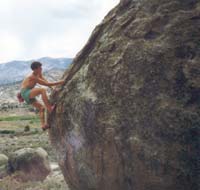 Where to Rock Climb in NH?
New Hampshire is a rock climber's paradise. From Mount Washington to the Franconia Notch there is much granite to conquer. The following is a short list of NH Rock Climbing hot spots:
Whitehorse – Near North Conway, NH
800′ of granite with climbs that can accommodate many different levels of climbers. 
Cathedral Ledge – In the White Mountains, Near North Conway, NH
The ledge offers four different climbing paths, the most popular being Thin Air, a multi-pitch climb that is the easiest for most beginners to negotiate.
Franconia Notch – Near Lincoln, NH
An intense experience that blends hiking and rock climbing. Cannon Mountain is located here with many choices for adventurous climbers.
NH Lodging Guide | Weddings
Products | NH Town Guides
New England Living
Free World Mall

Country Weddings | New England Recipes
NH Inns | Boston Red Sox Gifts | Travel Destinations