Creative Proposal Ideas
Unique Ways to Pop the Question

Sometimes the setting is everything. Find the ideal place to pop the big question or share a pleasant surprise. Ask us about Weddings in NH or share your comments. To feature your business, contact us.
Proposal Ideas & Romantic Places
So you've been dating for awhile and you know this is it, she's the one, you want to spend "forever" with her. But how to pop the big question? 
Asking your partner's hand in marriage is one of the most significant life events you will experience together. Of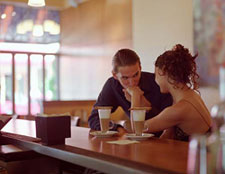 course you want it to be a moment she'll never forget, and the element of surprise will most definitely work in your favor. With a bit of research, planning and the recruitment of help, you can make asking her hand for marriage a truly amazing event.
If you're looking for a more traditional approach, proposing at a restaurant is one of the most popular methods. Put a new spin on it by ordering a bottle of champagneand arranging for the engagement ring to be floating at the bottom of her glass. When she notices it, bend on knee and ask her to be your wife. Or if you prefer Chinese food, have a custom fortune cookie made with the big question printed inside and arrange for the staff to deliver it to her plate at the end of your meal.

If the traditional approach is not your style, consider a few of these ideas:
Using glow in the dark stars, spell out "Will You Marry Me?" on the bedroom ceiling, let them charge up shortly before bedtime, then watch her surprise!
Buy a small book and cut a hole large enough to hold the engagement ring through several of the pages, tape the ring inside and casually offer the book as a gift. If she's an avid reader, she will no doubt start peeking inside the cover as soon as you present it to her.
Plan a weekend getaway at a romantic country inn or B&B. Arrange ahead of time for the bed to be covered in loose rose petals, spelling "Will You Marry Me?". Imagine her surprise when you walk into the room and turn on the lights!
If you've arranged a weekend getaway that involves air travel and you can't wait until you arrive at your destination, solicit the help of your flight attendants and see if the pilot will announce your proposal mid-flight.
The hustle and bustle of a city is a great place to involve your family and friends in a proposal. Plan ahead for everyone to blend into the crowds and go unnoticed by your unsuspecting partner until the big moment. An ideal location to pull this off is the front steps of a New Hampshire museum or historic site. Have everyone in place at the designated time, take your partner to one of these hubs of activity and just after you bend on knee to ask her hand, have all loved ones come forward from the crowds to share in your joy.
If your partner loves puzzles, have a picture taken of yourself holding a
 sign that says "Will You Marry Me?" and send it out to a custom puzzle company. There are many companies that can convert your image into a jigsaw puzzle. To guarantee she's completely surprised, make sure the puzzle is packaged either in a blank box or a box with another image on it.
Using a video or DVD recorder, create a custom movie with you as the star asking for her hand. Be creative with how you deliver the message. You could film a walking tour of places that are significant or memorable to you both, with the last stop being the front door of her home and the last thing you say being the big question. Draw on the help of friends and family to make your film, or even better, add them in as "cast members" and interview them about the two of you. Curl up one night to watch a movie together, making sure yours is already in the DVD player.
A great way to announce your love for your partner to the whole world is to make the proposal a very public event. Hire a skywriting plane to do a fly-over and write your question in the sky. This is particularly effective when hanging at the beach. If you are both sports fans, rent out the scoreboard for halftime at your favorite professional arena. Thousands will see it, as well as your significant other! Yet another public option is renting out some ad space at the local movie theater. You can pop the question before the feature film begins. Imagine her surprise to see her name on the big screen!
Great North Woods NH Bed & Breakfast Inns
Berlin, Colebrook, Errol, Dixville, Lancaster, Pittsburg
White Mountain NH Bed & Breakfast Inns
North Conway, Lincoln, Woodstock, Littleton, Franconia, Gorham, Jackson, Sugar Hill, Whitefield, Waterville Valley
Lakes Region NH Bed & Breakfast Inns
Laconia, Rochester, Plymouth, Ossipee, Meredith, Ashland, Wolfeboro, Bristol, Winnipesaukee
Dartmouth Lake Sunapee NH Bed & Breakfast Inns
Lebanon, Hanover, Claremont, Newport, Tilton, Lyme, Plainfield, Newport
Monadnock NH Bed & Breakfast Inns
Keene, Peterborough, Fitzwilliam, Westmoreland, Chesterfield
Merrimack Valley NH Bed & Breakfast Inns
Manchester, Concord, Nashua, Salem, Derry, New London, Merrimack, Loudon
Seacoast NH Bed & Breakfast Inns
Portsmouth, Dover, Durham, Hampton, Exeter, Rye, Hampton Beach
NH Lodging Guide | Weddings
Products | NH Town Guides
Free World Mall

Country Weddings | New England Recipes
NH Inns | Boston Red Sox Gifts | Travel Destinations