Sanborn's Fine Candies
Voted Seacoast NH's Best Candy Shop
Sanborn's Fine Candies is a one-of-a-kind shopping experience. Sanborn's is located on US Route One in Hampton, NH. Read about this top rated New Hampshire candy store.  Ask us about NH Made Candy or share your comments. To feature your local products or business, contact us.
NH Made: Sanbonrn's Fine Candies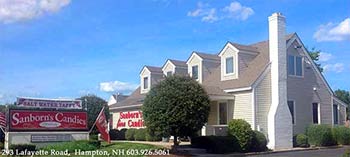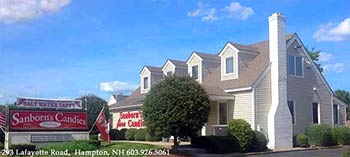 Sanborn's Fine Candies of Hampton NH voted "Seacoast's Best Candy Shop" having the best Dark Chocolate in the State of NH.
The first "Sanborn's Fine Candies" in 1957 was located in the basement of the Jennie & Bill Sanborn Family home in New Hampshire. Since it was a family business, all members contributed to the candy making effort. The generations learned the art of candy making by hand. Now four generations later and still using only the freshest ingredients, no preservatives, artificial flavorings or artificial colorings; only the finest chocolate, fruits, nuts, etc. will go into their candy. All generations of their family take pride in the products they make.
Sanborn's was the first Chocolate Shop on the internet to allow you to create your very own, personalized, custom assortment of your favorite Sanborn's chocolates. Try the on-premise made candies like the fudge in Chocolate, Chocolate Nut, Pennuchi, Pennuchi Nut, Peanut Butter, Chocolate Peanut and seasonal favorites like Pumpkin in the fall. Homemade Sugar Mints in 5 flavors, the best melt in your mouth Carmel corn with or without peanuts, Peanut Brittle and of course the hand dipped Chocolates, barks, Truffles and specialties. Choose from White, Milk or Dark Chocolate for the Barks and some of the specialties, Chocolate covered soft centers, crews & crisps, jellies and covered fruit are either Milk or Dark. Select exactly what you want in 1/2 lb. increments.
Sanborn's Fine Candies have cute and decorative seasonal candies. Have you ever eaten a White Chocolate Lobster?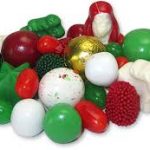 Do you remember those delicious hard candies at Christmas? Halloween pumpkins, goblins and ghosts, Thanksgiving foil leaves and solid house made turkeys in three Chocolate flavors. Christmas brings out Chocolate Santa's, snowmen, trees, bells and ornaments along with the ever favorite spice drops. Sanborn's has heart  shaped Valentine Boxes or select Cherry Chocolates, Easter brings floppy-eared bunnies, malted milk eggs, and jelly beans all available for you to make your Easter basket. Don't forget St. Patrick's Day, Sanborn's has special treat for the green also, and NH Maple products are on sale.
If you are looking for a special something for you weddings, birthday or anniversary, reunions they can create almost anything in chocolate. It is best if you call to discuss your ideas over the phone or stop by in person. Visit Sanborn's Fine Candies to satisfy your sweet tooth and your gift giving needs. After all, chocolate is always acceptable. Sanborn's Fine Candies such a fun place to visit online and in person.
inns | hotels | resorts | rentals | attractions | dining | real estate
NH Lodging Guide | Weddings
Products | NH Town Guides
Free World Mall

Country Weddings | New England Recipes
NH Inns | Boston Red Sox Gifts | Travel Destinations