Safe Shopping Online
Online Shopping Tips – Internet Shopping

Thousands people visit New Hampshire every day to go tax-free shopping. New Hampshire offers a tremendous selection of quality stores but the primary reason that brings shoppers to this Northern New England state is the absence of a sales tax. New Hampshire is the only New England state that does not impose a sales tax. NH also has a wide range of stores, malls, and factory outlets in nearly every area. So what are you waiting for? Visit New Hampshire for Tax-Free Shopping. Ask us about NH Shopping or share your NH Mall and Store reviews and comments. To feature your NH business, contact us.
Safe Shopping & Tax-Free Stores


Eastern Inns, Rt 16, 2955 White Mountain Hwy, North Conway NH 03860 | 800-628-3750 or 603-356-5447
Located close to North Conway Village and all valley attractions, and resorts. Offering a variety of rooms and suites. Free Wi-Fi, Indoor Pool/Hot Tub, Game Rooms, and Free Cont. Breakfast. Special Storyland packages available. On site hiking/mountain biking trails. Affordable, Clean, Comfortable.
Visit Eastern Inns North Conway
---


Sandy Martin Gallery, 17 Bay Street, Wolfeboro, NH 03894 | 603-569-9890
The Sandy Martin Gallery offers original fine art oil and watercolor paintings, photography, bronze sculpture, and hand crafted jewelry. Browse this destination fine art gallery in the beautiful Lake Winnipesaukee town of Wolfeboro. Shop for original oil paintings, watercolors, photographs, custom prints, and bronze sculputure depicting the beauty of the New Hampshire Lakes Region by the artists who love it.
Visit Sandy Martin Art - Wolfeboro, NH
---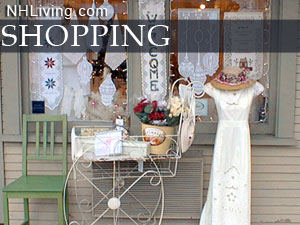 The world-wide-web is spreading across the globe with information on anything and everything. With technology growing like it is, it's hard for people to not "get in on the action." Lately, online shopping has become increasingly mainstream. And why not, it's simple for most users to do, it allows you to shop in the comfort of your own home, and it is something that can be done at any time of the day or night. Point, click and your product arrives on your doorstep!
But make no mistake there are potential flaws and faults in even the best laid plans. The web is largely unregulated and there are some people who may attempt to take advantage.
With the growth of Multi-Level Marketing ("Internet Pyramid Schemes"), fly-by-night companies, and bad businesses practices, reputable web companies are fighting back. New organizations have been created to combat unscrupulous operators. There are business bureaus, scam reporting agencies, and websites that offer background checks.
Use your good judgement when shopping online (or anywhere else for that matter) and remember the old adage "if an offer sounds too good to be true, it probably is." Shop online from trusted retailers and from internet shopping malls that feature brand name stores and services. Free World Mall, and many other online shopping sites, carefully select online merchants to offer internet shoppers value, convenience, and security.
Some websites offer you assistance in getting your money back; some can help educate you before you buy online. Shop around with consumer education agencies to shop more effectively.
For more information read Shopping Tax Free NH or Shopping Tips.
NH Lodging Guide | Weddings
Products | NH Town Guides
New England Living
Free World Mall

Country Weddings | New England Recipes
NH Inns | Boston Red Sox Gifts | Travel Destinations