New Hampshire Skijoring
A Unique Winter Activity

What do you get when you cross dog sledding with nordic skiing? Skijoring, of course. The word skijoring is Norwegian in origin and quite literally mean "ski driving. Although most skijoring in American is done with dogs, horses have been used as well. Competitive skijoring usually involves one to three dogs, and the dogs are controlled solely by the skier's voice alone. Ask us about NH Skijoring Vacations or share comments. To feature your business, contact us.


Best Western White Mountain Resort, 87 Wallace Hill Road, Franconia, NH 03580 | 603-823-7422
A distinct New Hampshire hotel where great accommodations and low discounted hotel rates are always found! Unique and charming, this White Mtn lodging facility is guest friendly, clean, comfortable and affordable. For Leisure, Holiday, Vacation, Business, Conference, or for Tour Bus operators this Franconia - Littleton New Hampshire hotel is the place for you and your family to stay for your White Mountain vacation.
Visit Best Western White Mountain Resort - Franconia, NH
---


Cabot Inn & Suites, 200 Main Street, Lancaster, NH 03584 | 603-788-3346
A four-season family resort located in the heart of the White Mountains, over-looking the Presidential Range. Cabin Inn & Suites features a fitness center, indoor pool, banquet hall, and 60+ acres, with breathtaking views of the mountains. Bretton Woods, Cannon, Wildcat, Attitash, Loon, Black Mountain, Cranmore ski areas nearby. Family restaurant and lounge. Indoor heated pool, game room, outdoor playground, video game hook-ups. Santa's Village, Six Gun City, Story Land, Whale's Tale Water park a short drive away.
Visit Cabot Inn & Suites - Lancaster, NH
---


Wildcat Inn & Tavern, Rte 16A, Jackson Village NH 03846 | 603-383-4245
Through the Jackson covered bridge is a place that just might be perfect... a place where candle light dances and the love and laughter of a hundred years of happy travelers is as rich as the wide pine floors. We invite you to take a step back in time. Come prepared to laugh, love, and smile so hard you might just cry. After all, as brilliant stars twinkle in the clear night sky... you just might find that the Wildcat is almost perfect. Lunch, Dinner, Entertainment in the Tavern.
Visit Wildcat Inn & Tavern - Jackson Village, NH
---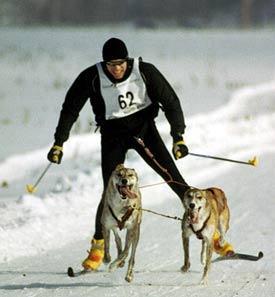 Sure, you could go home and tell your friends you went skiing or snowboarding on your trip to New Hampshire. But imagine the looks you'll get at the water cooler when you tell your co-workers you went skijoring! Yes, it's a real word, formed by joining "ski" and the Norwegian word for drive, "jor". The sport began in Scandinavia, where it has involved reindeer and horses as well as dogs, and it's becoming increasingly popular in this country.
Basically, a skijorer is a cross-country skier harnessed to one or more dogs. Skijoring is a sport, and it requires a team effort; skiers don't simply ride around while the dogs do the work. It isn't just for huskies, either– skijoring can be done with active dogs of any breed as long as they're not too small (under 30-40 pounds). Done right, skijoring is a great way for both you and your best friend to spend time together, enjoy the outdoors and stay in shape. And kids can do it, too!
Sound like fun? If you've already mastered the basics of cross-country skiing, all you need is a suitable dog and a few pieces of equipment. You should train the dog to use the harness before snow and skis enter the equation. You can also take lessons with experienced skijorers in the New England area. As with snowmobiling, don't assume that any trail will do; make sure you have permission before you take off skijoring on someone's property.
Interested in the idea, but don't want to try it yourself? You can still watch! The New England Sled Dog Club and the Down East Sled Dog Club both sponsor skijoring races in New England, and spectators are always welcome.
Did we miss something?Add your update or comment.
NH Lodging Guide | Weddings
Products | NH Town Guides
New England Living Magazine
Free World Mall

Country Weddings | New England Recipes
NH Inns | Boston Red Sox Gifts | Travel Destinations