Spring Fever on the Ski Slopes
NH Ski Resorts Spring Events

Northern New England ski resorts certainly know how to end the season with a bang! Pool parties, pond skimming, reggae bands and Hawaiian BBQ's – the list of festive events goes on and on! For those brave souls willing to risk their lives, there's always the crowd-pleasing shovel and cardboard sled races. Another fairly recent addition to this list of crazy year-end competitions is, of all things, snow golf! So what are these events all about? Here's a quick run-down. Ask us about NH Spring Ski Resort Events or share your NH ski area comments. To feature your business, contact us.
NH Spring Ski Area Events


Best Western White Mountain Resort, 87 Wallace Hill Road, Franconia, NH 03580 | 603-823-7422
A distinct New Hampshire hotel where great accommodations and low discounted hotel rates are always found! Unique and charming, this White Mtn lodging facility is guest friendly, clean, comfortable and affordable. For Leisure, Holiday, Vacation, Business, Conference, or for Tour Bus operators this Franconia - Littleton New Hampshire hotel is the place for you and your family to stay for your White Mountain vacation.
Visit Best Western White Mountain Resort - Franconia, NH
---


Cabot Inn & Suites, 200 Main Street, Lancaster, NH 03584 | 603-788-3346
A four-season family resort located in the heart of the White Mountains, over-looking the Presidential Range. Cabin Inn & Suites features a fitness center, indoor pool, banquet hall, and 60+ acres, with breathtaking views of the mountains. Bretton Woods, Cannon, Wildcat, Attitash, Loon, Black Mountain, Cranmore ski areas nearby. Family restaurant and lounge. Indoor heated pool, game room, outdoor playground, video game hook-ups. Santa's Village, Six Gun City, Story Land, Whale's Tale Water park a short drive away.
Visit Cabot Inn & Suites - Lancaster, NH
---


Wildcat Inn & Tavern, Rte 16A, Jackson Village NH 03846 | 603-383-4245
Through the Jackson covered bridge is a place that just might be perfect... a place where candle light dances and the love and laughter of a hundred years of happy travelers is as rich as the wide pine floors. We invite you to take a step back in time. Come prepared to laugh, love, and smile so hard you might just cry. After all, as brilliant stars twinkle in the clear night sky... you just might find that the Wildcat is almost perfect. Lunch, Dinner, Entertainment in the Tavern.
Visit Wildcat Inn & Tavern - Jackson Village, NH
---
Pond skimming / Slush Cups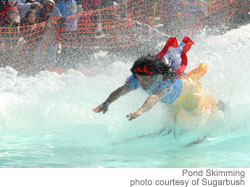 The competition where traditional skiing is fused with surfing. Brave souls, often in wetsuits, costumes or swimwear, ski down a slope with a large, cold pond waiting for them at the bottom. The competitor that can hit the water and skim it the furthest without sinking wins the event. Visit the King Pine website to learn about their annual Pond Skimming competition.
Shovel Races
Another fun costumed event, shovel races are also the riskiest! Participants don outrageous costumes and take a seat on their favorite waxed snow shovel for a fast slide down the slopes. There are very often anywhere between 4 and 6 competitors racing at once, making shovel races an exciting event to watch!
Dummy Races
Teams build their most creative "dummies", mount them on skis or snowboards, and launch them off large jumps for the grand prize. Prizes are usually awarded on biggest jump, most creative dummy, best crash landing and spectator approval.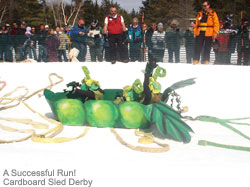 Cardboard Sled Races
Along with Slush Cups, this competition is by far one of the most beloved by participants and spectators alike. Depending on the resorts guidelines, teams of anywhere between 2 and 4 build sleds entirely of cardboard and duct tape, don costumes and launch themselves down the mountain in their contraptions. Some sleds arrive at the bottom of the slope intact, while others fly into pieces with brilliant crashes! Competitors are ranked on speed and creativity.
Snow Golf
Relatively new in the roster of spring snow events, snow golf is another outrageous costumed event. Teams bring their own clubs and balls for a challenging game in the snow.
Many resorts combine their crazy end-of-season events into one fun-filled weekend, while other resorts spread the fun out over several weekends. Check with the resort for event schedules and participation guidelines ahead of time. You're guaranteed a great time, as the Northern New England resorts know how to throw a party!

Did we miss something?
NH Lodging Guide | Weddings
Products | NH Town Guides
New England Living Magazine
Free World Mall

Country Weddings | New England Recipes
NH Inns | Boston Red Sox Gifts | Travel Destinations