New Hampshire State Police
NH State Trooper History & Information

The New Hampshire State Police history began around the year 1869. In that year, the first piece of legislation was drawn for the cause of creating a state-wide system of New Hampshire law enforcement. Ask us about visiting NH or share your business news, contact us.
New Hampshire State Police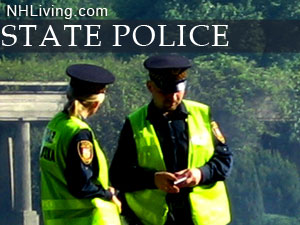 According to the New Hampshire Government website, New Hampshire State Police have the primary role of patrolling the state highways, enforcing the laws and regulations of the highway and motor vehicles, and regulations relating to the transportation of hazardous materials.
The jurisdiction of the NH State Police is limited to toll roads, interstate highways and towns or cities under 3,000 people.  Actually, the first conception of the New Hampshire State Police was more like a Constable to watch over the local police. This constable would hold all the power and responsibility of all the regional law enforcement agencies with the ability to deputize other agents of law enforcement as he saw fit. The proposed constable and deputies would have limited authority, in that they could only take action if the local laws had not been enforced. The legislature of New Hampshire did not give the necessary two-thirds backing needed for this proposal, but the interest in State Police for New Hampshire did not fade.
Many years and legislation came and went for the development of a "State Police" but not one of them had stayed; not until 1937. The first effective date of the law to create the New Hampshire State Police was July 1, 1937. At the time, New Hampshire was the fifteenth state of the union to create a State Police system.
Through the century, and into the start of a new one, the New Hampshire State Police underwent changes in uniform due to the shortages of WWII, changes in the use of unmarked cars due to public disapproval, and changes in communication from the development of the short-wave radio.
Today, the NH State Police have an official NH State Police Facebook page. If you see something, say something – report suspicious activity by calling  603-223-3860.  If you have a question about NH Laws and carrying a concealed weapon into New Hampshire your question(s) may be answered by visiting the official NH State Police Website.
NH Lodging Picks | Weddings
Products | NH Town Guides
Free World Mall

Country Weddings | New England Recipes
VT Inns | Red Sox Gifts | Travel Destinations