Historic Glen Lodge – Pittsburg, NH
Remembering The Glen Lodging, Northern NH Vacations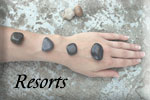 There are some amazing four season destination resorts in every region of New Hampshire. From the days of the NH Grand Resort Hotels to the sports lodges of the North Country, this northern New England state has a long history of first-class accommodations. Ask us about Pittsburg, NH Vacation Rentals or share your lodging reviews. To feature your business, contact us.
Glen Lodge: Pittsburg NH Cabins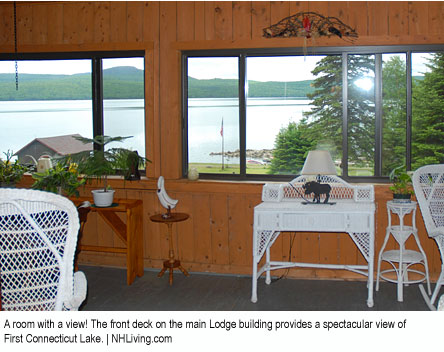 Editor's Note: Betty Falton, operator of the Glen for more than 50 years has retired. The Glen has been sold and is under new management.


Partridge Cabins, 3 Partridge Road, US Route 3, Pittsburg, NH 03592 | Ph: 603-538-6380
Visit Partridge Cabins and Lodge - the four season place to be. We have 600 feet of lake frontage, and offer housekeeping cabins situated amidst the shade of sheltering spruce and fir trees. Completely winterized cabins with gas heaters, private baths, with hot and cold running water, electricity, and full kitchen facilities. All cabins are attractively furnished, and accommodate 4-8 people. Snowmobile, cross-country ski, hike, moose watch, and let's not forget fishing and hunting! Summer, fall, winter, and spring, you will find Partridge Lodge & Cabins most pleasing.
Visit Partridge Cabins - Pittsburg, NH
---


Cabot Inn & Suites, 200 Main Street, Lancaster, NH 03584 | 603-788-3346
A four-season family resort located in the heart of the White Mountains, over-looking the Presidential Range. 60+ acres, breathtaking views of the mountains. Bretton Woods, Cannon, Wildcat, Attitash, Loon, Black Mountain, Cranmore ski areas nearby. Family restaurant and lounge. Indoor heated pool, game room, outdoor playground, video game hook-ups. Santa's Village, Six Gun City, Story Land, Whale's Tale Water park a short drive away.
Visit Cabot Inn & Suites Lancaster
---
The sign on Route 3 north says "The Glen – 15 miles" so keep driving and when the road sign says "The Glen" next right, you're nearly there. The dirt road off of Route 3 has remained pretty much the same as was nearly 50 years ago when Betty Falton and her late husband first ventured up this rural lakeside drive to see a lakefront estate and lodge that is now known simply as, The Glen.
Birdwatching & Sportsman Vacations
The Glen is a most unique resort. Not for the family looking for organized activities and built-in swimming pools, the Glen offers a chance to relax, connect with nature and enjoy the fantastic scenery, hiking, fishing, and wildlife watching that this northernmost region of New Hampshire offers. Many of the Glen's regular guests include; fly fisherman, Audobon Society Birdwatchers, writers,photographers and naturalists.
Birding Paradise
The Pittsburg, NH area is mecca for serious birdwatchers. On a recent visit some of the highlights included; Wilson's Snipe, Olive-side Flycatchers, Winter Wrens, Swainson's Thrushes, Common Loons, Black-backed Woodpeckers, Lincoln's Sparrow, Rose-breasted Grosbeak and many more.
Moose Viewing & Photographers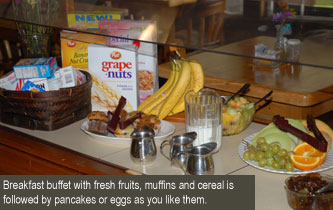 The Glen is in far northern New Hampshire, though the access to this north woods paradise is much easier now than it has ever been. US Route 3 has been completely resurfaced and the road in very nice condition all the way up to the Canadian and United States border, which is only about 15 miles north of where the turn is for the Glen.
The lure of seeing North America's largest land mammal, the moose, is what brings many photographers and families to this region. Moose are abundant here and can be seen enjoying the roadside mud holes and bogs along Route 3 and other area roadways. Moose can be unpredictable and we strongly suggest staying inside your vehicle to view them. Yes, moose have been known to charge without notice and the animals can weigh more than 1,200 pounds!
Home Cooked MealsOne of the best parts of a vacation at The Glen is the food. Real home cooking with dinner served "family style" in the lodge between 5pm and 7pm. Breakfast features a buffet of fresh fruits, cereal, breads, rolls and brewed coffee or tea. Then order your eggs or pancakes just as you like them.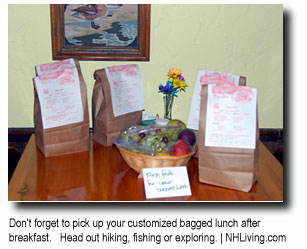 After breakfast don't forget to pickup your bagged lunch that will be waiting for you before you leave for your days adventure.
Historic NH Lakefront Lodging
The Glen is one of the oldest operating lodges in the east. The main building's interior is filled with museum quality mountings of area wildlife. The bear rug is real, the big moose is (was) local and the mounted fish came from the huge lake outside the window. That's one of the primary reasons to visit this beautiful part of the world – real beauty in an unspoiled, natural setting.
An Award Winning Innkeeper
The innkeeper at The Glen Resort is Betty Falton. Betty and her staff take great pride in the resort and in this amazing region. Betty was an excellent source of information with a fantastic photo collection of The Glen Lodge and surrounding Magalloway wilderness.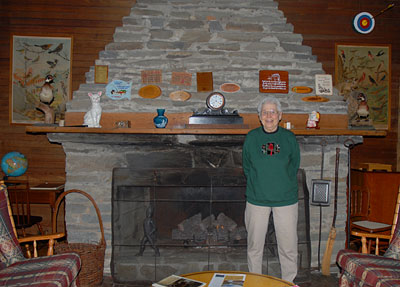 Betty Falton owner / innkeeper The Glen Resort, Pittsburg, NH | Photo NHLiving.com

Great North Woods NH


inns | hotels | resorts | rentals | attractions | dining | real estate
NH Lodging Guide | Weddings
Products | NH Town Guides
Free World Mall

Country Weddings | New England Recipes
NH Inns | Boston Red Sox Gifts | Travel Destinations