Hampton, New Hampshire 03842
Hampton, NH Lodging, Real Estate, Travel & Visitor Information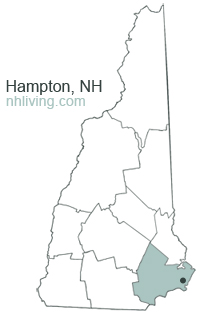 The seacoast town of Hampton, New Hampshire was first called Winnacunnet, the Indian name for pleasant pines. Hampton was one of four original New Hampshire towns established by the Massachusetts government.


The Old Salt Restaurant & Lamie's Inn, 490 Lafayette Road (Rte. 1), Hampton, NH 03842 | 603-926-8322
Lamie's Inn offers gracious hospitality in the best tradition of a New England country inn. Located in the heart of downtown Hampton, NH - two miles from Hampton beaches and centrally located for exploring the beautiful NH seacoast. Our friendly staff will make you feel right at home! Continental breakfast is included and our restaurant, The Old Salt, is open for lunch and dinner daily. Reservations Recommended.
Visit Lamie's Inn & Old Salt Restaurant, Hampton, NH
---
History of Hampton, NH
In 1638, the area, which included land now in Seabrook, Kensington, Danville, Kingston, East Kingston, Sandown, North Hampton, South Hampton, Hampton Falls, and Great Boar's Head, was settled by a group of parishioners led by Reverend Stephen Bachiler. The Reverend had previously preached in Hampton, England, and the town was incorporated as Hampton in 1639. Poet John Greenleaf Whittier was a direct descendant of Reverend Bachiler.
Construction of the railroad in the 1850's made Hampton's oceanfront a popular resort. Hampton beach features soft sand and is one of the widest ocean beaches in all of New England.
In 1656, Eunice "Goody" Â Cole, 64, of Hampton was convicted of witchcraft. Being spared from execution she spent most of her life in prison in Boston. She died in 1680 and was exonerated in 1938.
To share any Hampton, NH information, contact us. Learn more about advertising in NHLiving.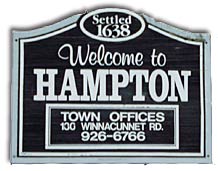 Incorporated: 1639
County: Rockingham
Hampton, NH Population:
2010: 14,976
GPS Coordinates:
Latitude: 42.5615
Longitude: -70.5020
Hampton, NH Local Information
Hampton Police Dispatch: 911
inns | hotels | resorts | rentals | attractions | dining | real estate
Exploring the Charming Town of Hampton, NH
Nestled along the scenic seacoast of New Hampshire, the town of Hampton beckons visitors with its rich history, picturesque landscapes, delightful culinary scene, and an array of recreational activities.
History of Hampton, NH:
Hampton boasts a captivating history that dates back to its settlement in 1638. Originally inhabited by the Pennacook Native American tribe, the area became known as "Winnacunnet" before being renamed Hampton. Over the centuries, Hampton played a significant role in the American Revolution and the development of the seacoast region. Visitors can delve into the town's past by exploring historical sites such as the Tuck Museum Complex and the James House.
Hampton NH Real Estate:
Hampton's real estate market offers a diverse range of options to suit different preferences. From charming historic homes to modern beachfront condos, there's something for everyone. The town features various architectural styles, including Colonial, Cape Cod, Victorian, and contemporary designs. Housing prices in Hampton, NH, vary depending on location, property size, and amenities. Working with local real estate agents can help prospective buyers navigate the market and find their ideal home.
Hampton NH Neighborhoods:
Hampton is comprised of distinct neighborhoods, each offering its own unique charm and character. Some notable neighborhoods include Hampton Beach, a bustling area known for its vibrant atmosphere and entertainment options, and North Hampton, a tranquil residential community with a rural feel. Other neighborhoods, such as Hampton Falls and Seabrook, also offer a mix of residential and rural settings, allowing residents to choose their desired lifestyle.
Hampton NH Restaurants:
Among Hampton's culinary gems, Lamie's Inn and Tavern stands out as a must-visit establishment. Located in the heart of the town, Lamie's Inn boasts a rich history and offers a cozy ambiance. The tavern's menu features a wide selection of delectable dishes, ranging from classic New England seafood specialties to mouthwatering comfort food. Whether you're looking for a relaxing dinner or a casual pub experience, Lamie's Inn is a true delight for food enthusiasts.
Hampton NH Historic Sites:
History buffs will find plenty to explore in Hampton. The Tuck Museum Complex houses exhibit that showcase the town's heritage, including artifacts and documents spanning several centuries. Another notable site is the James House, a preserved colonial-era residence that offers guided tours, giving visitors a glimpse into life during the town's early days. Exploring these sites provides a fascinating journey through Hampton's history.
Major Employers in Hampton, NH:
Hampton is home to several major employers across various industries. The town's proximity to the seacoast and access to major transportation routes make it an attractive location for businesses. Companies in sectors such as tourism, hospitality, healthcare, manufacturing, and retail contribute to the local economy and provide employment opportunities for residents.
Activities and Things to Do in Hampton, NH:
Hampton offers a wide array of activities to suit all interests. With its beautiful beaches, visitors can enjoy sunbathing, swimming, and beachcombing during the warmer months. Water sports enthusiasts can try their hand at surfing, paddleboarding, or kayaking. The town also hosts a range of events and festivals throughout the year, including the Hampton Beach Seafood Festival and the Hampton Beach Sand Sculpting Competition. Additionally, outdoor enthusiasts can explore nearby parks, hiking trails, and nature reserves, offering breathtaking views of the New England landscape.
The town of Hampton, NH, seamlessly blends its rich history with a thriving real estate market, outstanding dining options (such as Lamie's Inn and Tavern), numerous historic sites, and a wide range of activities for residents and visitors alike. Whether you're captivated by the town's fascinating past, its scenic coastal beauty, or its vibrant community spirit, Hampton offers an exceptional living experience that truly embodies the New England charm.
SHOP HAMPTON NH GIFTS – FREE WORLD MALL
| Photo | Title | Price | Buy |
| --- | --- | --- | --- |
| | Hampton and Hampton Beach (NH) (Images of America) | $24.99 | ON SALE NOW |
| | Hampton Beach New Hampshire NH Vintage Athletic Sports Desig Sweatshirt | $31.99 | ON SALE NOW |
| | Hampton Beach NH Hoodie for Women & Men | $37.75 | ON SALE NOW |
| | Vintage 70s 80s Style Hampton Beach NH T-Shirt | $16.89 | ON SALE NOW |
| | Hampton and Hampton Beach (NH) (Postcard History) | $24.99 | ON SALE NOW |
| | Hampton Beach New Hampshire NH Vintage Nautical Waves Design Pullover Hoodie | $31.99 | ON SALE NOW |
| | Hampton Beach New Hampshire NH Vintage American Flag Sports Pullover Hoodie | $31.99 | ON SALE NOW |
| | Hampton Beach NH Sweatshirt | $33.75 | ON SALE NOW |
| | Hampton Beach New Hampshire 4-Inch Vinyl Decal Sticker Latitude Longitude Compass Design | $4.99 | ON SALE NOW |
| | White Mountain Puzzles Best of New Hampshire - 1000 Piece Jigsaw Puzzle | $19.99 | ON SALE NOW |
| | Hampton Beach Hoodie Sweatshirt College University Style NH | $38.99 | ON SALE NOW |
| | Hampton Beach NH Sweatshirt | $33.75 | ON SALE NOW |
| | Oakley Flak 2.0 XL OO9188 918894 59M Polished White/Prizm Sapphire Sunglasses For Men+BUNDLE Accessory Leash Kit+ BUNDLE with Designer iWear Care Kit | $194.00 | ON SALE NOW |
| | Versace Woman Sunglasses Black Frame, Dark Grey Lenses, 59MM | $140.88 | ON SALE NOW |
| | Maui Jim Women's Nalani Polarized Fashion Sunglasses, Tort/White and Blue/HCL® Bronze, Medium | $291.95 | ON SALE NOW |
| | Prada PR01OS Sunglasses-Gray Gradient lens Black (1AB3M1)-55mm | $140.89 | ON SALE NOW |
| | Versace Sunglasses VE 2140 BLACK 1002/87 VE2140 | $106.00 | ON SALE NOW |
| | Versace Woman Sunglasses Black Frame, Light Grey Gradient Grey Lenses, 54MM | $151.00 | ON SALE NOW |
| | COACH HC8169-535313 Sunglasses BLACK w/BROWN GRADIENT 57mm | $183.00 | ON SALE NOW |
| | Oakley Radar Ev Path OO9208 920812 38MM Matte Black/Grey Square Sunglasses for Men + BUNDLE Accessory Leash + Designer iWear Kit | $201.00 | ON SALE NOW |
| | Kate Spade New York Women's Annika Polarized Rectangular Sunglasses, Brown Horn, 57 mm | $81.47 | ON SALE NOW |
| | Kate Spade New York Women's Hilde Cat-Eye Sunglasses, Olive & Tortoise & Turquoise Polarized, 54 mm | $67.95 | ON SALE NOW |
| | Tory Burch Women's 0TY7086 Black/Brown Gradient | $199.92 | ON SALE NOW |
| | Kate Spade New York Women's Cheyenne Rectangular Sunglasses, Havana & Brown Polarized, 55 mm | $66.61 | ON SALE NOW |
NH Lodging Guide | Weddings
Products | NH Town Guides
Free World Mall

Country Weddings | New England Recipes
NH Inns | Boston Red Sox Gifts | Travel Destinations