Meriden, New Hampshire 03770
Meriden, NH Lodging, Real Estate, Travel & Visitor Information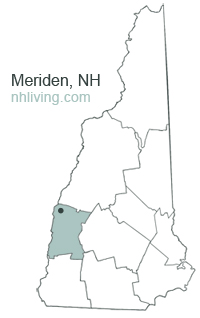 Meriden New Hampshire is a village in the town of Plainfield, NH. Meriden is located on Route 120 on the eastern side of Plainfield, just west of Grantham. Kimball Union Academy – a private boarding school, is located in Meriden.
A lost New Hampshire ski area once operated on Frenchs Ledge in Meriden. The ski area was a Kimball Union Academy slope, the school is located about one mile to the west. Kimball Union had a reputation as a skiing prep school back in the 1930's, 40's and 50's.
Many Kimball Union graduates went on to the Dartmouth Ski Team and even the US Olympics. KU students now refer to this area as the Ledges and it's a popular climbing spot with a good view.
Meriden, NH: A Charming New England Town with Rich History and Endless Opportunities
Introduction: Meriden, New Hampshire, is a picturesque town nestled in the heart of the Upper Valley region. Surrounded by stunning natural beauty, this small community has a lot to offer its residents and visitors alike. From its rich history to its diverse businesses, numerous attractions, and thriving real estate market, Meriden provides an exceptional quality of life that attracts people from all walks of life. In this comprehensive guide, we will explore the fascinating history of Meriden, its vibrant business community, notable attractions, various neighborhoods, recreational areas, real estate options, educational opportunities, employment prospects, town offices, and the overall quality of life in this charming New England town.
History of Meriden: Meriden's history dates back to the late 18th century when the area was first settled. The town's name is believed to have been inspired by the village of Meriden in West Midlands, England. Early settlers were drawn to the fertile land and access to water resources, which facilitated farming and other agricultural activities. Over the years, Meriden grew steadily, and its location along important transportation routes contributed to its economic development. The town played a role in the industrial revolution, with small mills and factories emerging along the rivers.
Meriden Businesses: Despite its small size, Meriden boasts a dynamic and diverse business community. Local entrepreneurs, artisans, and small businesses contribute to the town's unique character. Visitors can explore charming boutiques, art galleries, specialty shops, and farm stands, offering a wide range of locally-made products. The community's support for small businesses fosters a sense of pride and fosters a strong sense of community.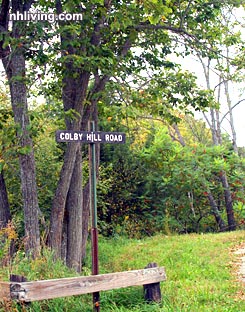 Attractions: Meriden offers a host of attractions that cater to various interests:
Kimball Union Academy (KUA): Founded in 1813, KUA is a renowned independent boarding school located in Meriden. It provides exceptional educational opportunities and adds to the town's cultural vibrancy.
Storrs Pond Recreation Area: A favorite among locals, Storrs Pond is a beautiful recreational spot where residents can swim, fish, hike, and enjoy picnics with family and friends.
Meriden Town Library: The town library offers a peaceful haven for book lovers and provides various community programs and events.
Rollins Chapel: This historic chapel on the KUA campus is an architectural gem and serves as a venue for concerts and events.
Villages, Districts, and Neighborhoods: Meriden encompasses several charming villages and neighborhoods:
Meriden Village: The heart of the town, Meriden Village, features quintessential New England architecture and is home to many local businesses and services.
Lower Plain: Located south of Meriden Village, Lower Plain offers a mix of residential and commercial properties.
Huntley: A picturesque neighborhood known for its serene landscapes and rural charm.
KUA Campus: The Kimball Union Academy campus is an integral part of Meriden, boasting beautiful grounds and historical buildings.
Parks, Recreation Areas, Hikes, and Historic Sites: Meriden's natural beauty and recreational opportunities are plentiful:
French's Ledges: This popular hiking spot offers stunning views of the surrounding countryside.
Mink Brook Nature Preserve: A peaceful sanctuary for nature enthusiasts, offering walking trails and wildlife observation.
Dartmouth Skiway: Just a short drive away, this ski resort provides winter fun for residents.
Meriden Bridge: An iconic covered bridge that serves as a reminder of the town's historical heritage.
Real Estate Values and Options: Meriden's real estate market offers a mix of historic homes, modern residences, and picturesque properties with beautiful views. The town's desirability as a residential destination has contributed to a steady appreciation in property values over the years. Prospective homebuyers can find a variety of options, from cozy New England-style houses to spacious country estates.
Opportunities: Meriden presents numerous opportunities for personal and professional growth. The town's supportive community and proximity to major urban centers offer an ideal environment for entrepreneurs and creative individuals. Additionally, Meriden's commitment to education, with KUA at its center, provides a nurturing environment for intellectual development.
Kimball Union Academy (KUA): As one of the country's oldest private schools, KUA offers a world-class education to its students. The academy's strong sense of community and diverse academic and extracurricular programs attract families seeking an exceptional educational experience.
Employment: While Meriden offers a tranquil lifestyle, employment opportunities can be found both within the town and in the surrounding area. Industries such as education, healthcare, small businesses, and remote work opportunities contribute to the local economy.
Town Offices: Meriden's town offices are located at [Insert Address]. The friendly town staff provides essential services and information to residents and visitors alike.
Quality of Life and Meriden NH Living: Meriden's quality of life is exceptional, with a close-knit community that takes pride in preserving its natural surroundings and rich history. Residents enjoy a laid-back lifestyle while having access to cultural and recreational activities. With a strong sense of community, low crime rates, and excellent schools, Meriden is a wonderful place to raise a family or enjoy retirement.
Meriden, New Hampshire, is a hidden gem offering the perfect blend of history, nature, and community spirit. From its fascinating history and vibrant businesses to its beautiful attractions and charming neighborhoods, the town provides a unique living experience for all who call it home. Whether you're drawn to its tranquil lifestyle, educational opportunities, or natural beauty, Meriden has something special to offer every resident and visitor.
To share your Meriden, NH business information, please contact us.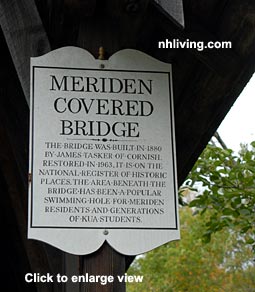 Incorporated: 1761
County: Sullivan
Meriden, NH Population:
2010: —
GPS Coordinates:
Latitude: 43.3238
Longitude: -72.1509
Meriden, NH Local Information
Meriden Police Dispatch: 911

NH Dartmouth / Lake Sunapee Region
inns | hotels | resorts | rentals | attractions | dining | real estate
SHOP NH PRODUCTS & GIFT SALE

| Photo | Title | Price | Buy |
| --- | --- | --- | --- |
| | Meriden New Hampshire NH Vintage T-Shirt | $16.99 | ON SALE NOW |
| | General Catalogue of Kimball Union Academy, Meriden, N.H., 1813-1930 | $24.95 | ON SALE NOW |
| | SHAMBLES TEES Straight Outta Kimball Union Academy Funny Graduation Parody T Shirt Black | $23.49 | ON SALE NOW |
| | (Reprint) 1950 Yearbook: Kimball Union Academy, Meriden, New Hampshire | $79.95 | ON SALE NOW |
| | Totally Bamboo Destination New Hampshire State Shaped Serving and Cutting Board, Includes Hang Tie for Wall Display | $29.99 | ON SALE NOW |
| | New Hampshire Hoodie. Vintage New Hampshire Sweatshirt Retro | $32.98 | ON SALE NOW |
| | Retro New Hampshire T-shirt Vintage Athletic Sports Design | $16.99 | ON SALE NOW |
| | New Hampshire State Outline Stemless Wine Glass - State Themed Drinking Decor and Gifts for New Hampshirite Women & Men - Large 17 Oz Glasses | $18.95 | ON SALE NOW |
| | New Hampshire Love Someone In New Hampshire Loves Me Heart in New Hampshire Gift Miss You Gift Long Distance Gift Candle Gift Scented Candle | $26.00 | ON SALE NOW |
| | Lantern Press 10x15 Inch Wood Sign, Ready to Hang Wall Decor, New Hampshire, Retro Ski Resort | $24.99 | ON SALE NOW |
| | 603 New Hampshire product - Live Free or Die T-Shirt | $20.99 | ON SALE NOW |
| | John Deere Build State Pride Cap-Black and Gray-New Hampshire | $27.99 | ON SALE NOW |
| | New Hampshire Flag Protective Cover Case for Switch Lite Game Controller Holder Stand | $20.99 | ON SALE NOW |
| | Covered Bridges of New Hampshire | $37.15 | ON SALE NOW |
| | College Style Live Free or Die New Hampshire Souvenir Gift Sweatshirt | $36.99 | ON SALE NOW |
| | New Hampshire Christmas Ornament Wooden Tree Decoration, 4 3/4 Inch | $15.93 | ON SALE NOW |
| | N is for New Hampshire: Alphabet Photo Book for Kids About New Hampshire | $11.91 | ON SALE NOW |
NH Lodging Guide | Weddings
Products | NH Town Guides
New England Living Magazine
Free World Mall

Country Weddings | New England Recipes
NH Inns | Boston Red Sox Gifts | Travel Destinations