New London, New Hampshire 03257
New London NH Vacations, Real Estate, Lodging, Dining, Travel & Information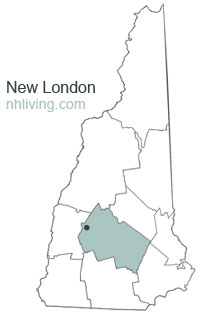 Welcome to New London, NH. New London includes the villages of Crocket Corner, Otterville, Lakeside, Hastings, and Soo Nipi Park.
New London, New Hampshire was first granted in 1753 as Heidelberg, in honor of George II's visit to his German possessions at the time.
The town of New London was granted again in 1773 as Alexandria Addition, but the name didn't last long. It was incorporated as New Londonderry, shortened to New London, in 1779.
New London is home to Colby-Sawyer College and includes the Village of Elkins and the hamlet known locally as Scytheville on Pleasant Lake.
Also, The New London Barn Playhouse is located here – one of the oldest summer theatres in the country. Bodies of water located at least partially in New London include; Lake Sunapee, Little Lake Sunapee, Pleasant Lake, Messer Pond, and Clark Pond.


Milestone Team - Better Homes and Gardens Real Estate, 224 Main Street, New London, NH 03257 | 603-526-4116
Teamwork means working together to accomplish a goal. The Better Homes and Gardens Real Estate - Milestone Team can help to insure that you will achieve your goals. Let us put our proven Team to work for you! We brainstorm, share problems and successes, look to each other for advise and opinion...help each other all the time. For our clients and customers, this means that there is always someone available to make life easier!
Visit Milestone Team Better Homes & Gardens Real Estate
---


The Flying Goose Brew Pub & Grille, 40 Andover Road, New London, NH | 603-526-6899
The Flying Goose Brew Pub is a family run restaurant with 17 of our Handcrafted Brews on tap with panoramic views of Mt. Kearsarge in the quaint town of New London. Whether it be for a quick bite, a cold brew, or a place for family and friends to gather, we extend our "home" to you. Voted Best of NH Regional Favorite Restaurant, we offer a relaxing environment to all who walk through our doors. The Flying Goose Brews are also available to take home in Growlers!
Visit Flying Goose Brew Pub & Grille - New London
---
Exploring the Beauty of Scenic New London, New Hampshire
Nestled in the picturesque state of New Hampshire, the town of New London is a hidden gem that offers a charming blend of history, natural beauty, and small-town charm. With its rich heritage, historic sites, and an abundance of recreational activities, New London is an idyllic destination for both residents and visitors alike.
New London History: Founded in 1779, New London has a long and fascinating history that dates back to the days of the American Revolution. The town was originally settled as a land grant to veterans of the war, and its name was inspired by the London, England, of that time. Throughout the years, New London has retained its small-town character while embracing progress and development.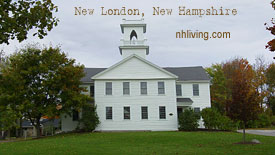 Historic Sites: New London is home to several historic sites that provide a glimpse into its rich past. The New London Historical Society operates the New London Historical Village, which showcases a collection of historic buildings and exhibits dating back to the 18th and 19th centuries. The iconic New London Town Bandstand, constructed in 1890, serves as a symbol of community pride and hosts concerts and events during the summer months.
Things to Do: Despite its small size, New London offers a plethora of activities for outdoor enthusiasts and culture seekers alike. Residents and visitors can enjoy swimming, boating, and fishing on the pristine waters of Pleasant Lake. The town also boasts an extensive network of hiking and biking trails, including the popular Andrew Brook Trail and the Colby-Sawyer Trail. In the winter, nearby ski resorts provide excellent opportunities for skiing, snowboarding, and snowshoeing.
Life and Living: New London exudes a friendly and welcoming atmosphere, making it an ideal place to live or visit. The town's strong sense of community is evident through its numerous annual events, such as the New London Hospital Days and the New London Barn Playhouse, a summer theater tradition. The town's commitment to education is exemplified by Colby-Sawyer College, a liberal arts college located in the heart of New London.
New London Real Estate Options: New London offers diverse real estate options to suit various preferences. From charming New England-style homes to modern lakefront properties, there is something for everyone. The town's real estate market boasts a range of prices, accommodating different budgets and lifestyles. Local real estate agencies can assist individuals in finding their dream homes in New London.
New London NH Neighborhoods, Villages, and Places: New London comprises several distinct neighborhoods and villages, each with its unique charm and character. The Village of New London, located in the town center, features a collection of historic homes and charming shops. Other notable areas include Elkins, with its beautiful countryside vistas, and the lakeside community of Blodgett Landing, offering stunning views of Pleasant Lake.
Major Employers: Despite its rural setting, New London boasts a thriving economy with a diverse range of major employers. Colby-Sawyer College is a significant employer, providing educational opportunities and contributing to the local economy. New London Hospital, a leading healthcare facility, and Lake Sunapee Region VNA & Hospice are also major employers in the area.
Lodging and Dining: New London offers a variety of lodging options to accommodate visitors. From cozy bed and breakfasts to modern hotels, travelers can find comfortable accommodations that suit their needs. Local dining establishments like The Flying Goose, Tucker's Restaurant, Peter Christian's Tavern, and The Millstone at 74 Main offer delectable cuisine ranging from classic American dishes to upscale dining experiences.
With its rich history, breathtaking scenery, and small-town charm, New London, New Hampshire, captivates visitors and residents alike. From tasting a new brew at the solar-powered Flying Goose Pub and Brewery to exploring its historic sites to engaging in outdoor activities, this scenic town offers a wide range of attractions and experiences. Whether you're seeking a tranquil retreat or a vibrant community, New London is a place where natural beauty and New England heritage converge, creating a truly remarkable New England destination.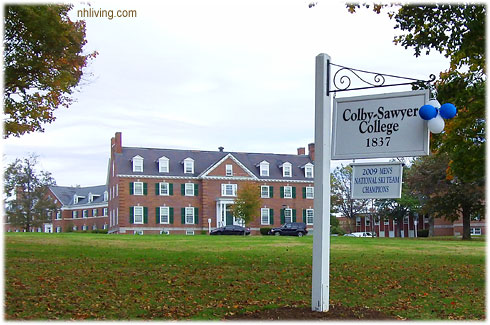 To share your New London, NH business information.  contact us.
Incorporated: 1779
County: Merrimack County, NH
New London, NH Population:
2010: 4,397
GPS Coordinates:
Latitude: 43.2450
Longitude: -71.5907
New London, NH Local Information
New London Police Dispatch: 911

NH Dartmouth / Lake Sunapee Region
inns | hotels | resorts | rentals | attractions | dining | real estate
NEW LONDON NH GIFTS

| Photo | Title | Price | Buy |
| --- | --- | --- | --- |
| | New London (Postcard History Series) | $24.99 | ON SALE NOW |
| | Totally Bamboo Destination New Hampshire State Shaped Serving and Cutting Board, Includes Hang Tie for Wall Display | $29.99 | ON SALE NOW |
| | New Hampshire The Granite State Est. 1788 Mountains Gift T-Shirt | $17.90 | ON SALE NOW |
| | City of NEW LONDON New Hampshire | NH Novelty Merch Gift - Pullover Hoodie | $32.99 | ON SALE NOW |
| | Local Hometown Pride Gifts Zipcode London New Hampshire Hometown Zip 03257 Throw Pillow, 18x18, Multicolor | $21.99 | ON SALE NOW |
| | City of NEW LONDON New Hampshire | NH Novelty Merch Gift - T-Shirt | $14.99 | ON SALE NOW |
| | City of NEW LONDON New Hampshire | NH Novelty Merch Gift - Long Sleeve T-Shirt | $22.99 | ON SALE NOW |
| | Homesick Premium Scented Candle, New Hampshire - Scents of Apple Cider, Clove, Amber, 13.75 oz, 60-80 Hour Burn, Natural Soy Blend Candle Home Decor, Relaxing Aromatherapy Candle | $38.00 | ON SALE NOW |
| | New Hampshire State Map Wall Art Print - 8x10 Silhouette Decor Print with Coordinates. Makes a Great Granite State-Themed Gift. Shades of Grey, Black & White. | $11.95 | ON SALE NOW |
| | New Hampshire State Retro Vintage T-Shirt | $19.99 | ON SALE NOW |
New London, NH Living Resources

New London, NH Airports
New London, NH Art Galleries
New London, NH Autos
New London, NH Camping
New London, NH Golfing
New London, NH Microbreweries
New London, NH Shopping
New London, NH Theaters
New London, NH Antiques
New London, NH Attorneys
New London, NH Classifieds
New London, NH Hiking
New London, NH Inns
New London, NH Museums
New London, NH Skiing
New London, NH Weather
New London, NH Apple Orchards
New London, NH Attractions
New London, NH Beaches
New London, NH Dining
New London, NH Hotels
New London, NH Radio Stations
New London, NH State Parks
NH Lodging Guide | Weddings
Products | NH Town Guides
New England Living Magazine
Free World Mall

Country Weddings | New England Recipes
NH Inns | Boston Red Sox Gifts | Travel Destinations