Weirs Beach, New Hampshire 03246
Weirs Beach, NH Lodging, Real Estate, Travel & Visitor Information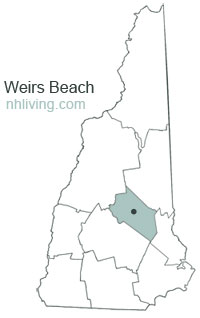 Weirs Beach, NH is a village located in the greater Lakes Region community of Laconia and rests on the shores of Lake Winnipesaukee. Known as "The Weirs" by the locals – the weirs beach region was a popular fishing destination for Native Americans. Weirs Beach is home to Laconia Bike Week, one of the largest annual motorcycle rallies in America.
Weirs Beach is a popular travel destination. The village offers the MS Mount Washington cruise ship, a sandy beach and boardwalk, arcades, water slides, a drive-in theater, a playhouse, and multiple lodging accommodations including the nearby Steele Hill Resort, Margate Resort, Naswa Motor Lodge, and others. There are a large number of lakeside cottages, vacation home rentals, marinas, and restaurants in this area.


Adam Dow, ABR - Keller Williams - Dow Realty Group, 136 South Main Street, Wolfeboro, NH 03894 | 603-569-4664
My properties include New Hampshire Lakes Region Real Estate; homes, inns, business and investment property, waterfront, luxury vacation homes, condos, cottages, land, lots and more. Born in Wolfeboro, NH - 10th generation in the New Hampshire Lakes Region. Search all Lakes Region Listings by Town or Lake.
Visit Adam Dow Group - Keller Williams Real Estate - Wolfeboro, NH
---

Berkshire Hathaway HomeServices Verani Realty, 60 Whittier Highway, Unit 3, Moultonboro, NH 03254 | 603-253-7766
On this web site you can search for homes or land, review subdivisions and new construction, preview virtual tours and access upcoming open houses. Berkshire Hathaway Verani Realty is committed to providing remarkable value in real estate services that exceeds the expectations of our clients and customers. 
Visit Berkshire Hathaway Verani Realty Website
---


Badger, Peabody & Smith Realty | 1-603-823-6700
New Hampshire, Western Maine & Eastern Vermont Real Estate Services. With eight conveniently located offices, we offer full-service real estate services to the Great North Woods, Mt. Washington Valley, White Mountains, Central, Lakes Region, and the Upper Valley. In addition, we specialize in the Northeast Kingdom of Vermont and Western Maine. We also have a team dedicated to commercial real estate. If you are looking for commercial lease space in Plymouth, a development opportunity in Littleton, a hospitality property for sale in North Conway, or a business opportunity in Berlin, we can assist. Visit our website to view listings.
Badger Peabody Smith Realty
---


At The Lake Vacation Rentals LLC, 60 Whittier Highway # 6 Moultonboro, NH 03254 | 603-253-9871
We feature the finest selection of New Hampshire Lake Winnipesaukee Region Vacation Rentals. All of our rental listings are on-line "live" means that up to the minute availability information is just a click away. Complete your search for the perfect NH vacation getaway. Book online with confidence. One of our reservationists will provide follow up contact to answer any questions you might have or to modify your booking if needed.
Visit At The Lake Vacation Rentals - Moultonborough, NH
---


New Hampshire Log Cabin Homes | 1-774-228-2898
NH LOG CABIN HOMES serves all of Massachusetts and New Hampshire with custom built cedar log homes to fit your lifestyle and budget. Our first quality Moosehead Cedar Log Homes are available in several styles, prices, and are delivered pre-cut to save you time and money. The insulation factor of White Cedar is among the highest of any wood species. Call 1-774-228-2898 for Naturally environmentally safe housing for you and your family.
Visit NH Log Cabin Homes
---
Share your Weirs Beach, NH business information, please contact us.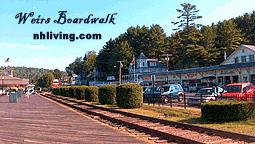 Exploring the Charms of Weirs Beach: A Fusion of History and Excitement
Nestled along the scenic shores of Lake Winnipesaukee in New Hampshire, Weirs Beach beckons visitors with its rich history, vibrant atmosphere, and an array of exciting activities. From the early days of the Abenaki Indians to the modern adventures of fishing enthusiasts and motorcycle enthusiasts, Weirs Beach has something for everyone. Join us as we dive into the captivating story of Weirs Beach and discover the wonders that await in this delightful lakeside destination.
History of Weirs Beach Weirs Beach carries a profound historical significance, tracing its origins back to the time when the Abenaki Indians thrived in the Lakes Region. The Abenaki people skillfully fished using the "weirs," a traditional fishing method that employed fish traps along the shoreline. These ancient fishing weirs provided sustenance and a means of survival for the indigenous communities, leaving a lasting cultural legacy in Weirs Beach.
Weirs Beach Today: Stepping into the present, Weirs Beach has transformed into a vibrant hub of activity, drawing in visitors from near and far. Whether you seek a peaceful lakeside retreat or an action-packed adventure, Weirs Beach caters to all tastes and preferences. The most popular months for swimming at Weirs Beach are July and August.
Fishing Tales and Landlocked Salmon: Weirs Beach has witnessed its fair share of captivating fishing stories. One notable tale revolves around local celebrity Rick Roland, a one-time morning DJ at WEMJ in Laconia. In pursuit of the perfect catch, Rick embarked on a memorable fishing expedition at Weirs Beach during a cold, wet early morning adventure, and reeled in a sizable Landlocked Salmon, creating a buzz of excitement among locals and visitors alike. Winnipesaukee is home to large Lake Trout and some Landlocked Salmon. Visit our NH Lakes Region Fishing section for more information.
Popular Weirs Beach Activities: Weirs Beach offers an abundance of recreational activities to keep visitors entertained. The sandy shores invite sun-seekers to bask in the warmth, build sandcastles, and take refreshing dips in the pristine waters of Lake Winnipesaukee. Adventurous souls can rent kayaks, canoes, or paddleboards to explore the vast lake or try their hand at waterskiing and tubing. Local marinas provide boat sales, watercraft repairs, and fuel.
A Majestic Icon: MS Mount Washington: No visit to Weirs Beach is complete without a cruise aboard the majestic MS Mount Washington. This grand ship glides gracefully across the lake's surface, offering breathtaking views of the surrounding natural beauty. Whether you embark on a scenic tour or savor a delectable meal on one of its dinner cruises, MS Mount Washington ensures an unforgettable experience and truly scenic vistas.
Motorcycle Week and the Annual Bike Rally: Weirs Beach is also renowned for its thrilling events, with one standout being the annual Bike Rally during Motorcycle Week. Each year, motorcycle enthusiasts flock to Weirs Beach, revving their engines and showcasing their two-wheeled marvels. This NH annual summer event is a spectacle of camaraderie, featuring roaring bike parades, lively music, and an electrifying atmosphere that fills the air with excitement.
Visiting Weirs Beach: If you're planning a visit to Weirs Beach, be sure to bookmark https://nhliving.com for more information, tips, and recommendations to make the most of your experience. Embrace the history, soak in the natural beauty, and partake in the myriad of activities that Weirs Beach has to offer. Whether you're seeking adventure or relaxation, this captivating destination is sure to leave an indelible mark on your memories.
Incorporated: 1855
County: Belknap
Weirs Beach, NH Population: 2010: —
GPS Coordinates: Latitude: 43.3632 Longitude: -71.2738
Weirs Beach, NH Local Information
Weirs Beach Police Dispatch: 911
inns | hotels | resorts | rentals | attractions | dining | real estate
WEIRS BEACH NH GIFTS ON SALE
| Photo | Title | Price | Buy |
| --- | --- | --- | --- |
| | Weirs Beach New Hampshire T Shirt Weirs Beach TShirt Tee NH | $19.75 | ON SALE NOW |
| | Patriotic USA Flag Stencil Weirs Beach NH T-Shirt | $18.99 | ON SALE NOW |
| | Biker Life Clothing 2023 Laconia Motorcycle Week Weirs Beach Neon Sign Long Sleeve Black / 2XL / Regular | $24.99 | ON SALE NOW |
| | Wekapo Beach Blanket Sandproof, Extra Large Oversized 10'X 9' for 2-8 Adults, Big & Compact Sand Free Mat Quick Drying, Lightweight & Durable with 6 Stakes & 4 Corner Pockets | $38.98 | ON SALE NOW |
| | Sand Cloud Turkish Beach Towel - Sand Free - 100% Organic Turkish Cotton Yarn - Quick Dry Towel for Beach, Picnic, Blanket or Bath Towel - As Seen on Shark Tank - Marine Life (Whale Shark) | $50.00 | ON SALE NOW |
| | SUN NINJA Sand Free Beach Blanket - Outdoor Blanket, Beach Mat & Accessories - 10ft X 9ft Lightweight Blanket with Storage, Bottle Opener, Carabiner, Shoulder Strap, Corner Sand Pockets & 4 Stakes | $34.95 | ON SALE NOW |
| | Sport-Brella Super-Brella SPF 50+ Sun and Rain Canopy Umbrella for Camping, Beach and Sports Events (8-Foot, Blue) | $54.99 | ON SALE NOW |
| | AMMSUN 7ft Heavy Duty High Wind Beach Umbrella Parasols with sand anchor & Tilt Sun Shelter, UV 50+ Protection Outdoor Sunshade Umbrellas Carry Bag for Patio Garden Pool Backyard Stripe Blue | $49.99 | ON SALE NOW |
| | Tommy Bahama Beach Umbrella 2020 Blue | $48.99 | ON SALE NOW |
| | AMMSUN 7ft Patio Umbrella with Fringe Outdoor Tassel Umbrella UPF50+ Premium Steel Pole and Ribs Push Button Tilt,White Cream | $96.85 | ON SALE NOW |
| | Sport-Brella Premiere UPF 50+ Umbrella Shelter for Sun and Rain Protection (8-Foot, Blue) | $49.47 | ON SALE NOW |
| | QIRLOEU Vintage Motorcycle Decor for Home, Motorcycle Gifts for Men Unique, Birthday Gifts for Motorcycle Lovers & Riders, Office Desk Decor for Men | $42.95 | ON SALE NOW |
| | Motorcycle Blanket Gifts for Men and Women Throw Blanket for Couch Sofa Bed Plush Throw Fleece Blanket Soft Cozy Bedding for Kids and Adults Bedroom Size 50"x40" | $21.69 ($3.10 / count) | ON SALE NOW |
| | Motorcycle Sign | $18.00 | ON SALE NOW |
| | Scrap Cycles Hand Welded Motorcycle Gifts for Men, Man Cave Decor, Vintage Art for Home Office, Birthday, Christmas, Harley Davidson Riders | $49.95 | ON SALE NOW |
| | X-PRO Hawk DLX 250 EFI Fuel Injection 250cc Endure Dirt Bike Motorcycle Bike Hawk Deluxe Dirt Bike Street Bike Motorcycle,Blue | $2,059.00 | ON SALE NOW |
| | X-PRO Roadster 250 250cc 6 Speed EFI Fuel Injection Dirt Bike Motorcycle Bike Street Bike Motorcycle Assembled in Crate (Blue) | | ON SALE NOW |
| | Motorcycle Gloves for Men and Women Full Finger Touchscreen Mountain Dirt Bike Gloves for Powersports BMX ATV MTB Driving Motocross Cycling Gloves(M, Black) | $20.99 | ON SALE NOW |
| | Smart DEALSNOW Brings VITACCI Roma 150 Street Motorcycle Upgraded GY6 150cc Fully Automatic with CVT Transmission Hornet Motor Scooter, 4 Stroke Street Bike (Sporty Black) | $1,629.00 | ON SALE NOW |
| | J.A.G. Leather Motorcycle Motorbike Knuckle Protection Powersports Gloves - Motorcycle Gloves Touchscreen for Men (Black/Zip, Large) | $32.99 | ON SALE NOW |
NH Lodging Guide | Weddings
Products | NH Town Guides
Free World Mall

Country Weddings | New England Recipes
NH Inns | Boston Red Sox Gifts | Travel Destinations