New Hampshire Tracks – OTB Betting Wagering
NH Horse Tracks | Dog Tracks | Off Track Betting | Poker Rooms

Watching the greyhounds rip up the turf at "The Rock" or at Hinsdale may be no longer, but New Hampshire does offer OTB wagering in several locations. Poker rooms have replace racing greyhounds at New Hampshire betting palaces. Greyhound, harness and horse racing action is viewed on the big screen. The history of wagering on both greyhound and thoroughbred horse racing in this northern New England state spans nearly one hundred years. Each New Hampshire race track has its own unique story to tell. Ask us about NH Activities or share comments. To feature your business, contact us.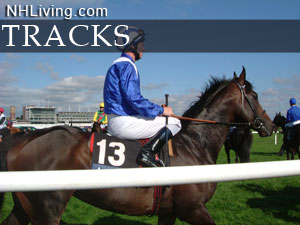 Rockingham Park originally opened in 1906. Rockingham – which is also known as "The Rock" is New England's First Race Track. When Rockingham opened betting on horses was illegal in New Hampshire. After police closed the track down to horse racing, Rockingham lent itself to fairs and expositions, a layover site for military in the first world war, and a automobile racing track.
In 1933, Rockingham was… [ read more ]
Seabrook Greyhound Park was built in 1973 and opened in 90 days; from the moment the first bulldozer set its treads on the plot of land to the moment the track opened. Originally, Seabrook Greyhound Park was only supposed to be a seasonal track, but the demand from the patrons and the need of revenue for New Hampshire persuaded the owners to keep it open year-round.
The Greyhounds no… [ read more ]
Hinsdale Greyhound Park (formerly Hinsdale Raceway) had nearly fifty years of wagering history in Hinsdale. Hinsdale was originally was a seasonal harness horse racing track. The Hinsdale Raceway closed in 2009. The contents of the building were sold at auction in the spring of 2009.
Later in its development, Hinsdale started… [ read more ]
Did You Know? Greyhound racing is the sisxth largest spectator sport in the United States of America? That there are over 50 greyhoud tracks in North America? That most greyhounds began racing at… [ read more ]
Did we miss something? Add your update or comment.
Seabrook | Rockingham Park | Hinsdale | Greyhound Facts
NH Lodging Guide | Weddings
Products | NH Town Guides
Free World Mall

Country Weddings | New England Recipes
NH Inns | Boston Red Sox Gifts | Travel Destinations