New Hampshire Tracks – Greyhound Racing Facts
Dog Track Racing – Greyhound Racing in America

Watching the greyhounds rip up the turf at "The Rock" or at Hinsdale may be no longer, but New Hampshire does offer OTB wagering in several locations. Poker rooms have replace racing greyhounds at New Hampshire betting palaces. Greyhound, harness and horse racing action is viewed on the big screen. The history of wagering on both greyhound and thoroughbred horse racing in this northern New England state spans nearly one hundred years. Ask us about NH Activities or share comments. To feature your business, contact us.
NH Greyhound Facts & Tracks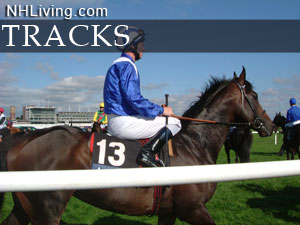 Greyhound Racing Facts
Did you Know?
Greyhound racing is the sixth largest spectator sport in the United States of America.
There are 57 greyhound tracks in North America.
Most greyhounds begin racing at about 18 months old and continue until they are over four.
Plastic muzzles are worn by greyhounds to protect one another and help determine the outcome in a photo finish.
The average weight of a greyhound is between 65 and 75 pounds.
Greyhounds have been clocked at speeds of over 45 miles per hour.
Babe Ruth had a greyhound as a pet and sometimes took it toYankee Stadium on game days.
The largest payoff for a single ticket is $1,127,268 for a Pick 8 at Tampa Greyhound Track Dec. 30, 1985.
The largest purse was $152,800 by Bomb Threat in the 1996 Great American Futurity at the Woodlands in Kansas City, Kansas.
The most money paid for a stud greyhound was $500,000 for P's Rambling who was syndicated in 1987.
NH Tracks | Rockingham Park | Seabrook | Hinsdale
Did we miss something?
NH Lodging Picks | Weddings
Products | NH Town Guides
Free World Mall

Country Weddings | New England Recipes
VT Inns | Red Sox Gifts | Travel Destinations