New Hampshire Television Stations
NH TV & Cable Broadcasting Stations

There is always something happening in New Hampshire Broadcasting. The TV business in the Granite state is dominated by Manchester's Channel 9 (WMUR). WMUR is the only local statewide commercial television station. NH television stations bring local news, weather, sports and entertainment programming to the Granite State. New Hampshire is also served TV broadcasting from stations located in neighboring states. Many of the Boston MA TV stations are available over the air in southern New Hampshire, some are carried on CATV systems in the state. Vermont TV channels are also available along with several Maine TV stations. The far northern regions of New Hampshire can receive TV signals from Quebec, CA. Ask us about NH TV or share comments. To feature your business, contact us.
TV Stations In New Hampshire


Multimedia - Webhosting, Dedicated Servers, Hosting Plans for Small Business
Find unparrelled webhosting plans and web servers with full bandwidth to the WWW. For a no-obligation discussion of your website hosting needs contact Multimedia. Providing local New Hampshire businesses with web hosting and other web site services since 1995. Member HTML Writers Guild. Ask about discounts for Chamber of Commerce Members, New Hampshire small businesses and non-profit organizations. Contact us for a free, no-obligation website review and analysis.
Visit Multimedia - internet results
---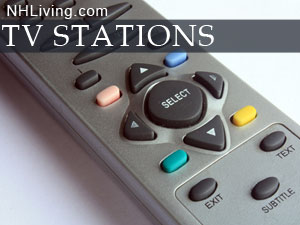 WMUR
WMUR-TV – Channel 9
100 South Commercial Street
Manchester, NH 03101
Ph: 1-800-257-5151
Hearst-Argyle Television, Inc.
An ABC network station located in New Hampshire. WMUR-TV is carried on many of New Hampshire's cable TV systems. The station produces local news, Chronicle (a local feature show) , and broadcasts ABC network programs.
WNNE-TV31
WNNE-TV – Channel 31
Hearst Television, Inc.
"Where the News Comes First" is this TV stations slogan. An NBC affiliate with a sister station in the Plattsburgh, NY/Burlington, VT market. This station is owned by Hearst Television Stations – which also owns WPTZ, WMUR-TV, WCVB-TV, WMTW. The primary broadcast tower is located on Mt. Ascutney in Vermont. The station studios are located in a former motel building in Hartford, VT.
WBIN-TV
WBIN-TV – Channel 50
11 A Street
Derry, NH 03038
Ph: 603-845-1000
Web: www.wbintv.com 
Carlisle One Media Inc.
"BIN-TV is an Independent Television station that is part of Bill Binne's Carlisle One Media Inc. The station was formerly known as: WXPO-TV, WNDS-TV50 and WZMY-TV. The station is now airing syndicated programing. TV shows include:  Family Feud, Better, Maury, The People's Court, and Cheaters. WBIN can generally be seen on Comcast cable channel 18 (outside of downtown Boston) and Verizon FiOS cable channel 6 (506 in HD). It is offered on cable systems throughout New Hampshire, southern Vermont and southern Maine. "Watch and See" is the station slogan – we will be looking for increased local programming – including High School and UNH sports. WBIN is now the only locally owned, locally operated TV station in the Manchester/Boston television market.
WNBX-TV32 | WPXG-TV
Concord, NH 03101
Ph: 888-467-2988 – tollfree viewer hotline
WBPX-TV, digital channel 32, is the Ion Television station owned by ION Media Networks (formerly Paxson Communications), serving the Boston, Massachusetts, market.
Valley TV
Valley-TV – Channel 30
49 Main Street
Lincoln, NH 03251
Ph: 866-543-7471
Tone Multimedia
A regional tv network with information on life in the White Mountains of New Hampshire. VALLEY TV 30 is carried on the Time Warner cable network from greater Plymouth to greater Lincoln-Woodstock.
WENH
WENH-TV – Channel 11
286 Mast Road
Durham, NH 03824
Ph: 603-868-1100
Fax: 603-868-7552
New Hampshire Public Television; PBS; Corporation for Public Broadcasting.
A PBS network station located in New Hampshire. WENH-TV is carried on many of New Hampshire's cable TV systems. The station broadcasts many PBS shows and does some local programming. WENH relies on low-power UHF and cable systems to expand their coverage.
BCTV
WENH-TV – Channel 11
10 Meeting House Road
Bedford, NH 03301
Ph: 603-472-8288
This local channel is streaming video on Channels 16, 22, and 23.
Did we miss something? Add your update or comment.
NH Lodging Picks | Weddings
Products | NH Town Guides
New England Living
Free World Mall

Country Weddings | New England Recipes
VT Inns | Red Sox Gifts | Travel Destinations