A Visit to the Upper Valley
Upper Connecticut River Valley NH

This river valley is scenic, historical and an ideal destination for your next New England vacation. The Connecticut River Valley presents an array of vacation activities and attractions as New England's longest river winds from the far northern tip of New Hampshire towards the sea. The Upper Valley Region consists of the area north of Bellows Falls Vermont / Walpole New Hampshire to St. Johnsbury, Vermont and Woodsville, New Hampshire. Ask us about the Upper Valley of NH & VT or share comments. To feature your business, contact us.


The Norwich Inn, 325 Main Street, Norwich, VT 05055 | 802-649-1143
The Norwich Inn is a historic Vermont inn located just across the river from Hanover, New Hampshire. An Inn has been on the site since 1797; the current Victorian Structure since 1890. We offer 38 guestrooms, Pub, Dining Room, and Microbrewery.
Visit Norwich Inn - Norwich, VT
---
UPPER VALLEY POINTS OF INTEREST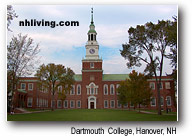 The booming West Lebanon / Hanover New Hampshire area is located here. Dartmouth College provides educational opportunities and entertainment venues while downtown Hanover offers plenty of dining and shopping options.
The entire Lebanon area is growing.
MUSEUMS AND HISTORIC SITES
This region is rich in history and art. The inventors and manufacturers in the area assisted in someof the major advances in the Industrial Revolution. You can explore some "inventive genius" by visiting the Precision Museum in Windsor, Vermont.
Farther north, you'll find St. Johnsbury and the wonderful Fairbanks Museum and Planetarium. St. Johnsbury was the site of the first platform scale manufacturing facility in the world. Fairbanks Scales began the world's largest producers of platform scales from its humble beginnings on hillsides above the Passumpsic River. The platform scale was invented by Thadeus Fairbanks in 1830. Thadeus and his brother, Erastus, owned and operated an iron foundry in 1823. The Fairbanks family appreciated art and architecture and built several unique buildings and public institutions; including St. Johnsbury's Athenaeum and Art Gallery.
Across the river from Hanover, NH in Windsor, Vermont you'll find a more recently built museum – The Montshire Museum of Science. The Montshire Museum features hands-on exhibits of science, nature, animals, astronomy, walking trails, a picnic area, and gift shop. This museum is especially popular with children.
No visit to the "upper valley" is complete without a stop at Saint Gaudens. This amazing place was the home of famous American painter, sculpter and artist Augustus Saint Gaudens. Saint Gaudens is a National Historic Site and hosts a classical concerts series Sundays during July and August.
UPPER VALLEY LODGING – WHERE TO STAY

Fortunately the traveler has some fantastic lodging options in the Upper Valley. There are outstanding and historic inns and moderate priced hotels located here. 
ROADS TO TRAVEL
On the New Hampshire side of the river, take scenic Route 10 from Hanover to Woodsville – splendid scenery and wonderful country inns like the Breakfast on the Connecticut, Chase House, Alden Country Inn, and Candlelite Bed and Breakfast. Find more lodging info by visiting our recommended area inns,hotels, and vacation rental listings.
On the Vermont side Route 5 is the way to go. North through towns like Ascutney, Hartland, and White River Junction. There are several hotel chain lodging available in White River Jct.
Did we miss something? Add your update or comment.

NH Dartmouth / Lake Sunapee Region
inns | hotels | resorts | rentals | attractions | dining | real estate
NH Lodging Guide | Weddings
Products | NH Town Guides
Free World Mall

Country Weddings | New England Recipes
NH Inns | Boston Red Sox Gifts | Travel Destinations