New Hampshire Waterfalls

Visit New Hampshire to witness natural attractions like some sensational 'year-round waterfalls.  There are dozens of refreshing and beautiful and scenic waterfalls in New Hampshire. We have included several of the more accessible and popular NH waterfalls, flumes, and water cascades in our list. Ask us about NH Waterfalls or share your NH waterfall photos and comments. To feature your business in NHLiving, contact us.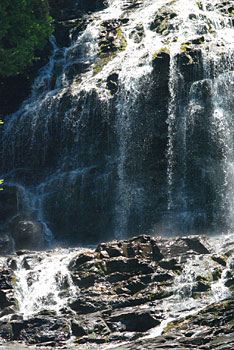 ARETHUSA FALLS
1.5 miles south of Wiley House off Route 302 in Crawford Notch.
AGASSIZ BASIN
Route 112, just East of the Junction of Rts. 112 and 118. This ten-foot waterfall is also known as Indian Leap.
LOWER AMMONOOSUC FALLS
Old Cherry Mountain Road, off Rt. 302 between Twin Mountain and Fabyans Station. Left before the RR Tracks, park in the area at the end of this paved road. Walk down the dirt road at the end of the parking lot – about a tenth of a mile.
BEAVER BROOK FALLS
On Route 145 between Colebrook and Stewartstown Hollow. 40-foot high tumble. A great place for a picnic.
BRIDAL VEIL FALLS
Coppermine Trail off Route 116 near Easton. 80-foot falls are a 2.5-mile hike in.
CASCADE BROOK
The trail departs near the restaurant at Waterville Valley Ski area. The easy walk is about 1.2 miles to the falls.
CRYSTAL CASCADE
.3 mile trail from the Pinkham Notch Camp of AMC, off Route 16 in Gorham. 80-foot dramatic falls.
DIANA'S BATH
.5 mile from the turn to Cathedral Ledge on West Side Road, Bartlett. Cascading falls, waterspouts, and granite basins along Lucy Brook.
DIXVILLE FLUME and HUNTINGDOM CASCADES
East of Dixville Notch on Route 26. There are picnic tables near these two falls.
FALLING WATERS TRAIL
Opposite Lafayette Campground in Franconia Notch. Three separate waterfalls vary from 20 to 80 feet.
FLUME GORGE
Beside Route 3 in Franconia Notch State Park 5 miles north of Lincoln. A fee is charged to walk the boardwalks.
GLEN ELLIS FALLS
.7 mile south of Pinkham Notch on Route 16. Use the parking area for the Glen Boulder and Wildcat trails.
JACKSON FALLS
Beside Carter Notch Road off Route 16A near the center of Jackson Village. Roadside falls are popular for swimming, picnics, sunbathing, and weddings. The falls are created by the Wildcat River – the first federally designated "Wild and Scenic River" in New Hampshire.
PARADISE FALLS
Kinsman Notch, 7 miles west of North Woodstock on Route 112. Admission is charged at this White Mountain Attraction known as Lost River.
LOWER FALLS, ROCKY GORGE and SABBADAY FALLS
On the Kancamagus Highway 7 miles west of Conway and more. A busy spot on a hot summer day. Sabbady Falls is located 3.5 miles west of the junction of Bear Notch Road and the Kancamagus Highway. 25 foot falls an easy .3 mile hike in.
NANCY CASCADE
Nancy Pond Trails begins off Route 302, south of Crawford Notch. A 2.4-mile hike in.
RIPLEY FALLS and KENDRON FLUME
Take the Arethusa – Ripley Falls trail from the Wiley House on Route 302 in Crawford Notch. The Kendron Flume trail begins near the gift shop.
SILVER and FLUME CASCADE – BEECHER CASCADES – PEAK CASCADE – GIBB FALLS
North of Route 302 in Crawford Notch. Park in the lots near the falls on Route 302 and take a closer look. You will have to hike .4 mile on the Avalon Trail to reach Beecher and Pearl Cascades.
SWIFTWATER
2 miles east of the junction of Routes 112 and 302 in Bath. A good spot for swimming.
THOMPSON'S FALLS
A series of waterfalls along Thompson Brook at Wildcat Ski Area, Route 16 Pinkham Notch. Take the Way of the Wildcat Nature Trail from the ski area's parking lot; at the far end of the trail's loop, you will find the path to the falls. Views of Mount Washington.
NH Lodging Guide | Weddings
Products | NH Town Guides
Free World Mall

Country Weddings | New England Recipes
NH Inns | Boston Red Sox Gifts | Travel Destinations