NH WX Summary
NH Weather Overview

If you are planning a visit to New Hampshire and would like to get an idea of what to expect weatherwise – take a look at our New Hampshire Weather Summary. Ask us NH weather questions or share comments. To feature your business in NHLiving, contact us.
New Hampshire Weather Summary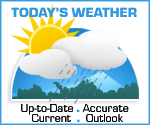 Summer brings pleasant days and cool evenings. Days are usually sunny and comfortable, low humidity is the norm. Temperatures reach the upper 70's to mid 80's. Light clothing for days; sweaters or light jackets for evenings.
Autumn and Spring months typically have highs in the mid 50's with a variety of casual dress suitable. Evening lows can be below freezing, especially during early Spring and late Autumn.
Winter is New Hampshire's longest season. Winter months require coats, heavy jackets, gloves and warm, dry boots. Below freezing temperatures are common from November – March.
New Hampshire receives much snowfall, with many areas getting more than 100 inches annually. This usually abundant snowfall contributes to the state's economy. Snowmobile trails and New Hampshire ski areas attract thousands of visitors annually. Annual precipitation is about 40 inches and is fairly evenly distributed throughout the state.
Current weather conditions and forecasts
New Hampshire temperature averages
New Hampshire, one of the six New England states, experiences the greatest variety in weather and widest differences in temperature than nearly any other part of New England. New Hampshire has long, snowy winters and short, sweet summers. You may find the current weather conditions, temperatures and forecasts for every NH town by visiting the town you are interested in.
NH Weather Information Forecasts & Summary
SHOP FREE WORLD MALL

| Photo | Title | Price | Buy |
| --- | --- | --- | --- |
| | Ambient Weather WS-2902 WiFi Smart Weather Station | $189.99 | ON SALE NOW |
| | AcuRite Iris (5-in-1) Indoor/Outdoor Wireless Weather Station for Indoor and Outdoor Temperature and Humidity, Wind Speed and Direction, and Rainfall with Digital Display (01512M) | $129.99 ($1.35 / oz) | ON SALE NOW |
| | Sainlogic WiFi Weather Station, 10.2 inch Large Display Wireless Weather Station, Weather Stations Wireless Indoor Outdoor with Rain Gauge and Wind Speed, Weather Forecast, Wind Gauge, Wunderground | $179.99 | ON SALE NOW |
| | Tempest Weather System with Built-in Wind Meter, Rain Gauge, and Accurate Weather Forecasts, Wireless, App and Alexa Enabled | $339.00 | ON SALE NOW |
| | La Crosse Technology 308-1417 Forecast Station, Silver | $41.47 | ON SALE NOW |
| | La Crosse Technology 328-10618-INT Wireless WiFi Professional Weather Center, Black | $112.84 | ON SALE NOW |
| | AcuRite 01535M Iris (5-in-1) Weather Station with HD Display, White Black | $154.99 | ON SALE NOW |
| | WINDSTRONG 7 FT Presidential Deluxe U.S. Indoor Flag Pole Set With 3x5 FT Gold Fringed Nylon Flag, Embroidered Stars Sewn Stripes, Gold Eagle, Gold Weighted Base, Premium Oak Pole and Tassel | $214.88 | ON SALE NOW |
| | Yeshom 20ft Telescopic Aluminum Flag Pole Free 3'x5' US Flag & Ball Top Kit 16 Gauge Telescoping Flagpole Fly 2 Flags for Yard Outdoor Garden | $69.90 | ON SALE NOW |
| | WINDSTRONG 25 FT Heavy Duty 14 Gauge Tapered Commercial Flagpole Outdoor Sectional Residential Flag Pole Gold Eagle Top 4x6 US American Flag Sewn Stars Stripes Hardware for Holding Two Flags Included | $299.99 | ON SALE NOW |
| | Newentor Weather Station Wireless Indoor Outdoor Thermometer, Color Display Digital Weather Thermometer with Atomic Clock, Forecast Station with Calendar and Adjustable Backlight, Black | $43.99 | ON SALE NOW |
| | Indoor Outdoor Thermometer Wall Large Numbers Thermometer No Battery 10" Wireless Hanging Digital Weather Hygrometers for Home Garden Outside Patio Decor (White) | $15.99 | ON SALE NOW |
NH Lodging Picks | Weddings
Products | NH Town Guides
Free World Mall

Country Weddings | New England Recipes
VT Inns | Red Sox Gifts | Travel Destinations