Top 10 Marriage Proposal Ideas in NH
Making Your NH Wedding Proposal A Memorable One

You've found the person you were meant to share the rest of your life with. Congratulations! Now that you're ready to propose marriage, you want to make sure the setting is perfect. After all, she'll remember this moment for the rest of her life.

New Hampshire has hundreds of romantic places to propose. With our rich mix of coastline, mountains, historic villages and year-round natural wonders, New Hampshire has romance practically everywhere you look. Whether you're planning an elaborate surprise or a simple, casual moment, the right location can help set the mood. To feature your NH Wedding venue or business in NHLiving.com – New Hampshire's Internet Magazine, please contact us.

New Hampshire Marriage Proposal Ideas


Owl's Nest Resort, 40 Clubhouse Lane, Thornton, NH 03285 | 603-726-3076
We've got it all in the heart of the White Mountains. We'll help plan your wedding from beginning to end - catering, music - and our wedding planners are in the business of making memories. Golf, fine dining, 5-star accommodations, tennis, tubing & 10 minutes to major ski resorts.
Visit Owl's Nest Resort - Thornton, NH
---


Mystic Sugar Bakery, 2386 White Mountain Highway, North Conway, NH 03860 | 603-383-3067
Mystic Sugar Bakery specializes in hand-crafted treats made from high-quality, fresh, seasonal, and local products whenever possible. Mystic Sugar Bakery is the lifelong dream and creation of Proprietor Christy Skinner. Originally from Virginia Beach, Christy has spent her life traveling the United States exploring the sweet regional variations on culinary classics, only to add her own touch to these timeless treats. Inquire about Special Orders.
Visit Mystic Sugar Bakery - North Conway, NH
---


Country Weddings |
Country Weddings is your guide to planning the perfect Country Wedding or romantic honeymoon vacation getaway. Discover sensational wedding destinations and lodging venues in New Hampshire and across the country.
Visit NH Country Weddings
---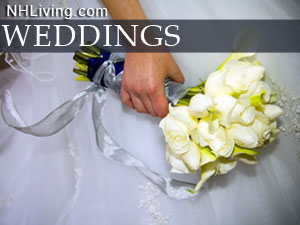 Here are a few suggestions for magical and memorable marriage proposals in New Hampshire.
Pulled gently upward on a ski lift… flakes caught in her eyelashes… the sense that you have the entire mountain to yourselves… all other sounds muffled by the falling snow
A country field… surrounded by fall foliage and stone walls… the crunch of your shoes on leaves… a bottle of wine and a picnic basket full of cheddar cheese, fresh-picked apples and chocolates
Sleigh bells ringing… toasty warm under a blanket as the sleigh glides over the snow… sipping hot chocolate… watching your breath mingle with the steam rising into the crisp winter air
A beach at sunrise… listening to the waves crash against the rocks… the salty scent of the sea in the air… as the horizon begins to glow pink and orange
Resting at the top of a mountain, high above the rest of the world… the cool breeze ruffling her hair… the breathtaking sight of a panoramic vista… the fresh scent of pine trees
While camping out under the stars… the clear mountain air… the sound of brooks and waterfalls in the distance…. the shadows of pine trees stretching up into the sky
Inside a covered bridge… the scent of old wood… the echoes of your footsteps… running your fingers along the carved initials of long-ago lovers… water running over stones below… children playing by the water's edge
Coming indoors after a day on the trails… a roaring fire in the living room of a bed and breakfast… slipping off gloves to hold a mug of hot apple cider… the glow of the fire on her skin
A cozy bistro… a bottle of champagne… the freshest seafood… a view of the harbor, boats rocking to and fro… the gentle illumination of candlelight
An art museum… the click of your heels on the floor… the curves of fine sculptures… beauty made eternal by an artist's knowing brush
We hope that your proposal will be the first step on the long, happy journey you will share together.

NH Weddings | NH Country Weddings
NH Lodging Picks | Weddings
Products | NH Town Guides
Free World Mall

Country Weddings | New England Recipes
VT Inns | Red Sox Gifts | Travel Destinations