New Hampshire Wineries
Made in NH Wines & Vineyard Wine Tasting

Wine lovers may not think of New England as the place to find great wines, as most wine enthusiasts think of California vineyards. New Hampshire vineyards are stepping up to the plate and creating some fine wines with unique New England style. These wineries may be small in size, but they are big when it comes to the taste of their wines. To feature your business in NHLiving.com – New Hampshire's Internet Magazine, contact us
New Hampshire Wineries & Vineyards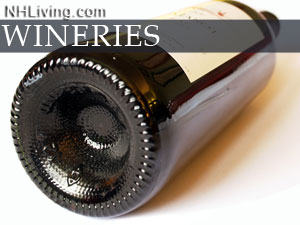 Flag Hill Winery
297 North River Road
Lee, NH, 03861
Ph: 603-659-2949
Flag Hill Winery produces various types of wines including grape, fruit, and dessert wines as well as NH's first port.
Jewell Towne Vineyards
183 Whitehall Rd.
South Hampton, NH
Ph: 603-394-0600
The physical address of the vineyard is located in South Hampton, NH. NH made wines such as Seyval, Cayuga White, Chardonnay, Maréchal Foch, and Vidal Ice wine have won acclaim from consumers and critics alike.
Poocham Hill Winery
226 Poocham Road
Westmoreland, NH
Ph: 603-399-4496
Local vines with varietals that grow the vigor: Frontenac, Seyval, LaCrosse, St. Croix, Frontenac Gris, Marquette, Foch, Noiret, and La Crescent. Tasting barn.
LaBelle Winery
345 State Street. Route 101
Amherst, NH 03031
Ph: 603-672-9898
Zorvino Vineyards
226 Main St
Sandown, NH 03873
Ph: 603-887-8463
Farnum Hill Cider
Poverty Lane Orchards
98 Poverty Lane
Lebanon, NH 03766
Ph: 603-448-1511
Silver Mountain Ciders
223 South Road
Lempster, NH 03605
Ph: 603-477-2026
Haunting Whisper Vineyards
77 Oak Ridge Road
Danbury, NH 03230
Ph: 603-768-5506
Missing Something? Share your comment or business review
NH Lodging Guide | Weddings
Products | NH Town Guides
New England Living Magazine
Free World Mall

Country Weddings | New England Recipes
NH Inns | Boston Red Sox Gifts | Travel Destinations