NH Wine
Winemaking in New Hampshire

Wine lovers may not think of New England as the place to find great wines, as most wine enthusiasts think of California vineyards. New Hampshire vineyards are stepping up to the plate and creating some fine wines with unique New England style. These wineries may be small in size, but they are big when it comes to the taste of their wines. To feature your business, contact us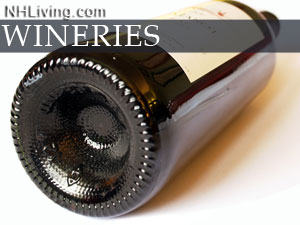 Vineyards and wineries are usually associated with California and the West Coast. What many people don't realize however is that there's at least one vineyard in all 50 states, and that more than half of all American vineyards are located in states other than California. New Hampshire is not exempt from this statistic, and offers several vineyards and wineries that produce award winning wines.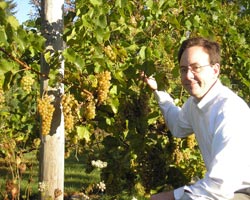 Candia Vineyard is a boutique vineyard that specializes in fine table wines. Bob Dabrowski, owner of Candia Vineyard, is dedicated to the art of growing and harvesting a vineyard that produces fine wines. Bob says, "I operate in NH simply because it's about the best place to live that I can think of. I wouldn't have it any other way." Candia Vineyard is available for wine tasting by appointment only, as it is a boutique winery and the wines sell out very quickly. Several of the wines Bob creates are made with 100% NH grapes. Because Candia Vineyards is one of the smallest vineyards in the US, some of their wines are quite rare. Candia Vineyard has participated in wine competitions since 2003 and has been awarded 12 silver and bronze medals. Their Noiret is one of the highest rated of this varietal in the world.
Another great New Hampshire vineyard is Flag Hill. Frank Reinhold, Jr. planted the first acre of grapes in 1990, on what was once the family farm. Now the vineyard covers 20+ acres and offers six varieties of grapes. Flag Hill is open to the public Wed.-Sun. and offers a wine tasting room. Nearly all of the wines produced by Flag Hill are from grapes grown in New Hampshire. Flag Hill Winery produces many types of wines including grape, fruit, and dessert wines as well as NH's first port. Flag Hill is also the home of General John Stark Vodka, unique because it is made from only 100% NH apples (specifically from Apple Hill Farm in Concord, NH).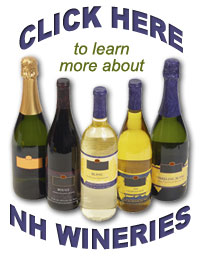 NH Lodging Guide | Weddings
Products | NH Town Guides
Free World Mall

Country Weddings | New England Recipes
NH Inns | Boston Red Sox Gifts | Travel Destinations